Visitors to Discovery Cove will have the ability to swim with sharks and stingrays in a new exhibit announced by SeaWorld Parks. The exhibit comes in honor of Shark Awareness Day giving visitors the opportunity to have "closer-than-ever encounters," allowing them to swim with five different species of sharks.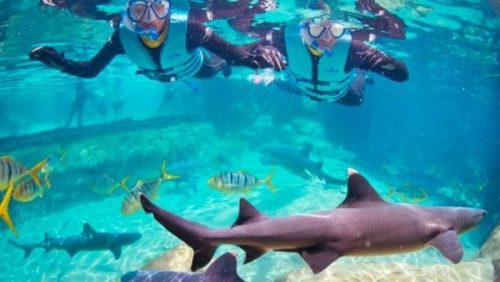 This Include the Pacific blacktip, reef whitetip, nurse shark, zebra shark and the spotted woebegone (that's a new one on us!). Guests will be able to learn about the sharks' anatomy and the issues the species faces in the wild.
The experience is for guests ages 10 and older and costs $85 per person. According to SeaWorld, 5 percent of all the proceeds will be donated to the Guy Harvey Ocean Foundation, an organization supporting shark conservation and research.
In addition to swimming with the sharks, visitors can also take part in a new ray feeding exhibit, giving guests the chance to feed stingrays during a private tour. Costing $50, guests ages 6 and older can learn about the species while hand-feeding the creatures.
[ult_buttons btn_title="BUY DISCOVERY COVE TICKETS" btn_link="url:https%3A%2F%2Fwww.orlandoattractions.com%2Forlandoattractiontickets%2F|title:Book%20Now|target:%20_blank|" btn_title_color="#ffffff" btn_bg_color="#e524c2″ btn_hover="ubtn-top-bg" btn_bg_color_hover="#c0f1f7″ btn_title_color_hover="#358ee8″ icon="none" icon_size="32″ btn_icon_pos="ubtn-sep-icon-at-left" btn_border_style="solid" btn_color_border="#d023e0″ btn_color_border_hover="#26b9de" btn_border_size="1″ btn_radius="5″ btn_font_family="font_family:Nunito|font_call:Nunito|variant:700″ btn_font_style="font-weight:700;"]
Here's the official info from Discovery Cove:
Have the experience of a lifetime by getting up-close and swimming with sharks. Your full experience includes a shallow water shark talk and training session with Discovery Cove's expert aquarists. You will also have the opportunity to swim freely alongside several species of sharks in the deeper part of their habitat.
This experience can be added onto both All-Inclusive Dolphin Swim and Day Resort packages and takes place at 11:30am. If you're participating in 3 or more add-on experiences during your visit to Discovery Cove, please plan to arrive by 7:30am for check-in and proper scheduling of your day. All participants must be at least 10 years old and comfortable swimming in water. Children ages 10-13 must be accompanied by a paying adult who is also participating in the Shark Swim experience.