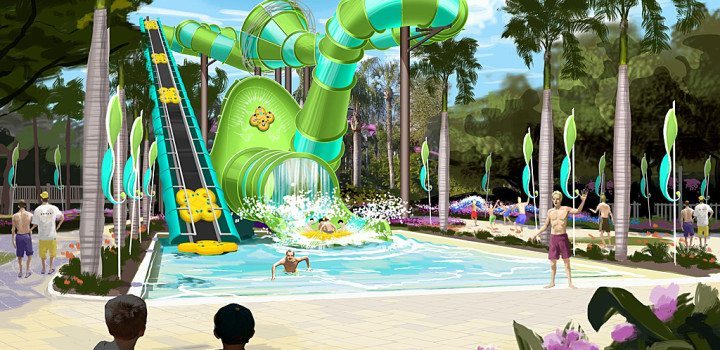 Orlando Attractions Update — Busch Garden's very popular water park Adventure Island has announced plans for Colossal Curl, a thrill ride opening next spring that would be the tallest ride in the Tampa water park and would be the first new attraction there since 2006.
The four-passenger slide will stand nearly 70 feet high (more than six stories) and run 560 feet long, Adventure Island officials said in a news release. Construction will begin in the coming weeks and by early 2015 many of the ride's features will be visible.
It will have a combination of corkscrews, waterfalls and high speeds in a tropical setting and combine funnel and wave elements for "a feeling of weightlessness," the park release said. This is the first new ride to open there since Riptide, the four-lane mat slide, opened eight years ago in 2006. Colossal Curl will be in the center of the park, next to Mango Joe's Cafe, and will take the place of Gulf Scream.
Adventure Island admission in 2014 was $47 for adults, $43 forchildren for the Florida resident Fun Card that included unlimited admission through October. The park is closed for the season now, and the 2015 admission prices have not been announced.