Come be inspired and learn about the ongoing work of rescue, rehabilitation, and release at Clearwater Marine Aquarium. Not your typical aquarium, this rescue center is home to Marine Life featured, in the Dolphin Tale movies, filmed on location in Clearwater, Florida near the sandy shores of America's #1 Beach.
Clearwater Marine Aquarium staff and volunteers work each day to rescue marine life and provide the most advanced and effective care to maximize the opportunity to return sick or injured animals to their homes. Recently, two lucky sea turtles and 25 sea turtle hatchlings were fortunate enough to return to the Gulf of Mexico after rehab at CMA, once being cleared by the Fish & Wildlife Commission for release. Here are their inspiring stories so you can discover the magic of CMA.
Focaccia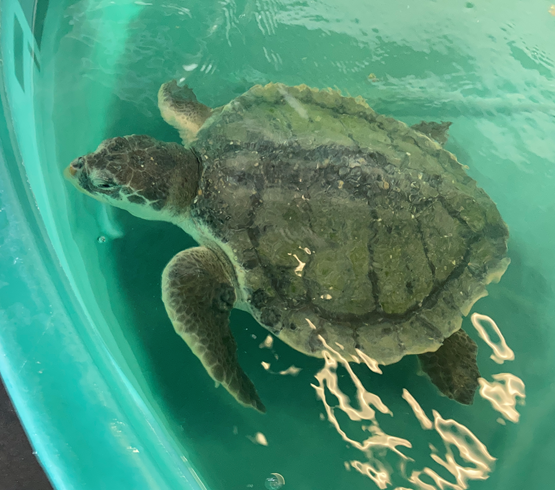 Focaccia is a sub-adult Kemp's ridley sea turtle who was found near Sand Key Beach, FL on June 20th. Upon intake, Focaccia was displaying neurological symptoms which could indicate red tide exposure. She was immediately placed on a treatment plan of fluids and IV fat solutions that could clear the toxin out of her system. A lab analysis conducted by FWRI confirmed brevotoxin in Focaccia's blood samples. Focaccia recovered quickly and has now been cleared for release by our veterinarian and Florida Fish and Wildlife!
Dhebra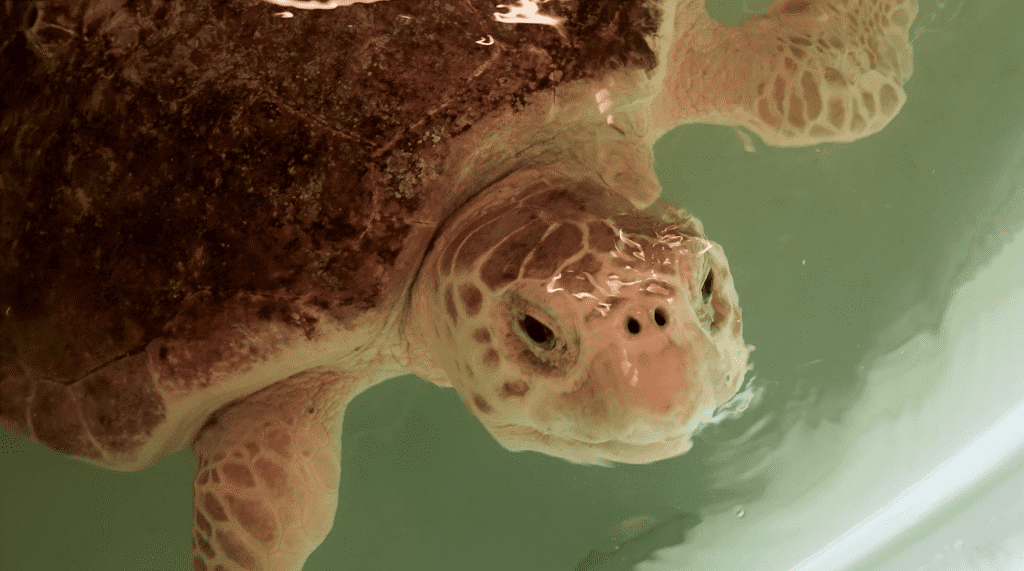 On Wednesday, July 26, Clearwater Marine Aquarium released a loggerhead sea turtle, Dhebra, back into the wild in Fort De Soto after almost three months of rehabilitation. This female loggerhead sea turtle was found floating offshore near Fort De Soto in May and was rescued by the Coast Guard. Dhebra was found floating, lethargic, and with a thin body condition. In our care, she has gained 20 pounds. Dhebra recovered quickly and was cleared for release by CMA's veterinarian and Florida Fish and Wildlife and returned home! She has been satellite tagged with the help of Sea Turtle Conservancy and her movements will be tracked for scientific purposes.
Hatchling Disorientation
Recently, CMA's sea turtle nesting team released 25 hatchlings following a disorientation event. The hatchlings followed artificial lighting away from the ocean instead of being guided by the moon to the water. Disorientation events can be fatal to hatchlings as they are more susceptible to predation by coyotes and raccoons, or can be desiccated in the sun. Thankfully, the nesting team was able to recover the hatchlings and provide them with proper care!
Sea Turtle Nesting Season
Nesting season is well underway and the Sea Turtle Conservation Team at CMA has brought 15 sea turtle hatchlings to the rehabilitation hospital so far. Many hatchlings come into our care as a result of disorientation events. Disorientation can occur when hatchlings mistake artificial light for moonlight and crawl away from the ocean. These events can often result in hatchling injuries and mortalities!
Remember when you visit the beach, you can help sea turtle hatchlings by turning off beach lighting, filling in holes in the sand, knocking down sand castles, and by leaving the beach cleaner than you found it!
Protect a Nest!
Did you know you can help protect sea turtle nests? When you donate to the Protect the Nest program your plaque, with a personalized message of your choice, will be placed at a sea turtle nest for the entire season! You will receive updates on the season and at the end of the nesting season, we will mail you your plaque to keep!
Go Wild for Conservation!
Every Friday – Sunday from 12:30 p.m. to 5 p.m., Go Wild for conservation at CMA! During this program, included with admission, you'll have the opportunity to meet a variety of incredible animals, brought to you in partnership with Amazing Animals Inc.! Learn about important conservation efforts to protect these species and create memories that will last a lifetime!
Join Us for Latin Night!
Experience the sizzling rhythm of Latin Night at CMA! Join us for an exclusive 21+ adults-only evening filled with vibrant music, dance, and delightful marine wonders. Enjoy the Latin beats, exotic cocktails, and captivating marine life as you dance the night away under the stars. Mark your calendar for an unforgettable night of fun and excitement!
Manatee Rehabilitation Center Coming Soon
Clearwater Marine Aquarium held a groundbreaking ceremony for a new Manatee Rehabilitation Center in April. This center will allow CMA to accept manatees recovering from the effects of food and habitat loss, red tide exposure, boat strike wounds, cold stress, and more. Conservation of this species is vital as manatees are vulnerable to extinction and serve an important role in maintaining the health of their ecosystems. This new center will offer manatee rehabilitation and care while giving guests the opportunity to learn more about the species and view stable rehabilitated manatees as they prepare to be released back into the wild.
Funding for this project is made possible by the State of Florida, Florida Fish and Wildlife Commission, Duke Energy Foundation, John H. Prescott Marine Mammal Rescue Assistance Grant Program, and private donors.
Come see the rescue work in person and visit Clearwater Marine Aquarium during your time in Florida, best known for rescued resident bottlenose dolphins featured in exciting events all summer long.
Get ready to hear firsthand about resident-rescued animals with our new audio tour! The self-guided tour is included with admission and has 26 curated stops which are marked throughout the facility. Guests also have the option to select a children's or adult version, sponsored by BayCare, while braille devices and headsets for individuals with hearing impairments are also available.
Upcoming Events & Programs:
Special August Programs:
Fridays – Sundays in August: Sloth Meet & Greet
Fridays – Sundays in August: Go Wild Days
September 8: Latin Night