Come be inspired and learn about the ongoing work of rescue, rehabilitation, and release at Clearwater Marine Aquarium. Their marine life rescue center is home to Winter the Dolphin, star of the popular Dolphin Tale movies, filmed on location in Clearwater, Florida — just 90 minutes from Orlando. Clearwater Marine Aquarium staff and volunteers work each day to rescue marine life and provide the most advanced and effective care to maximize the opportunity to return sick or injured animals to their homes. Most recently Nitro, a sub-adult loggerhead was released on September 12, 2019, on Clearwater beach, after a short rehab period at CMA. Clearwater Marine Aquarium to the rescue.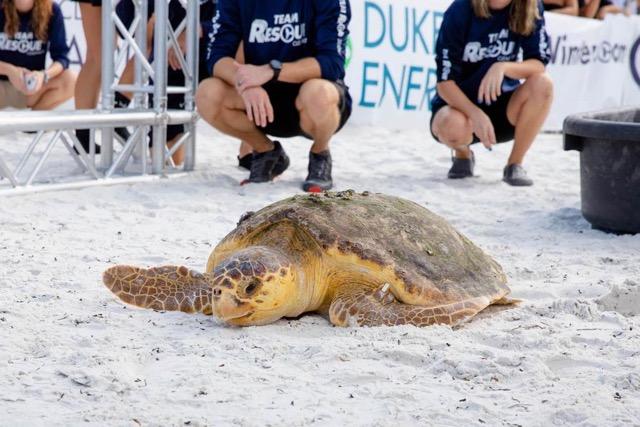 The rescued loggerhead sea turtle was found floating on August 13 by a Sea Tow vessel on patrol near Hurricane Pass in Pinellas County, Florida. The Sea Tow captain contacted CMA's Rescue Team and brought the animal directly to CMA. Upon intake, Nitro appeared lethargic and slightly thin, weighing 107 pounds. She had thick algae coverage and several barnacles on her carapace (shell). Nitro had some gastrointestinal issues, which were resolved with a treatment protocol that included fluids, a special diet, exercise, and vitamins. Nitro recovered quickly and, after gaining 20 pounds during a short period in rehab, she was cleared for release back into the wild by Florida Fish and Wildlife Conservation Commission and the veterinary staff at CMA.
Nitro was successfully released off Clearwater Beach on Thursday, September 12, 2019, in front of a crowd of beachgoers and CMA staff, volunteers, and supporters. Clearwater Marine Aquarium to the rescue, indeed.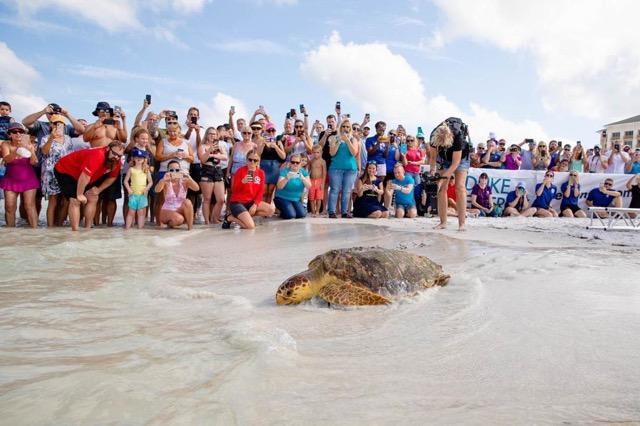 Join CMA for a month of fun as they celebrate Winter's 14th and Hope's 9th birthdays October 1-13! Later in the month, they will kick off Halloween festivities with Winter's Trick or Tweet October 15-November 3rd. CLICK HERE for hours and information, or to add on an educational boat tour on Clearwater Bay! CMA is located adjacent to TripAdvisor's #1 Beach only 90 miles from Orlando.
All marine turtle footage taken in Florida was obtained with the approval of the U.S. Fish and Wildlife Service and the Florida Fish and Wildlife Conservation Commission (FWC) under conditions not harmful to marine turtles. The footage was acquired while conducting authorized conservation activities pursuant to FWC MTP-19-172.