Welcome to Chicken Guy! Disney Springs. This new(ish) restaurant features one-of-a-kind all-natural fresh chicken tenders, hand-pounded to maximize crunch and paired with a wide selection of delicious sauces. Brined in fresh lemon juice, pickle brine, and buttermilk, and infused with fresh herbs, these tenders deliver on flavor and texture. All items come with a wide array of sauces created by Chef Guy Fieri to enjoy with your meal and sides. Located right next to the iconic Planet Hollywood sphere, you will find a meal here just as out of this world.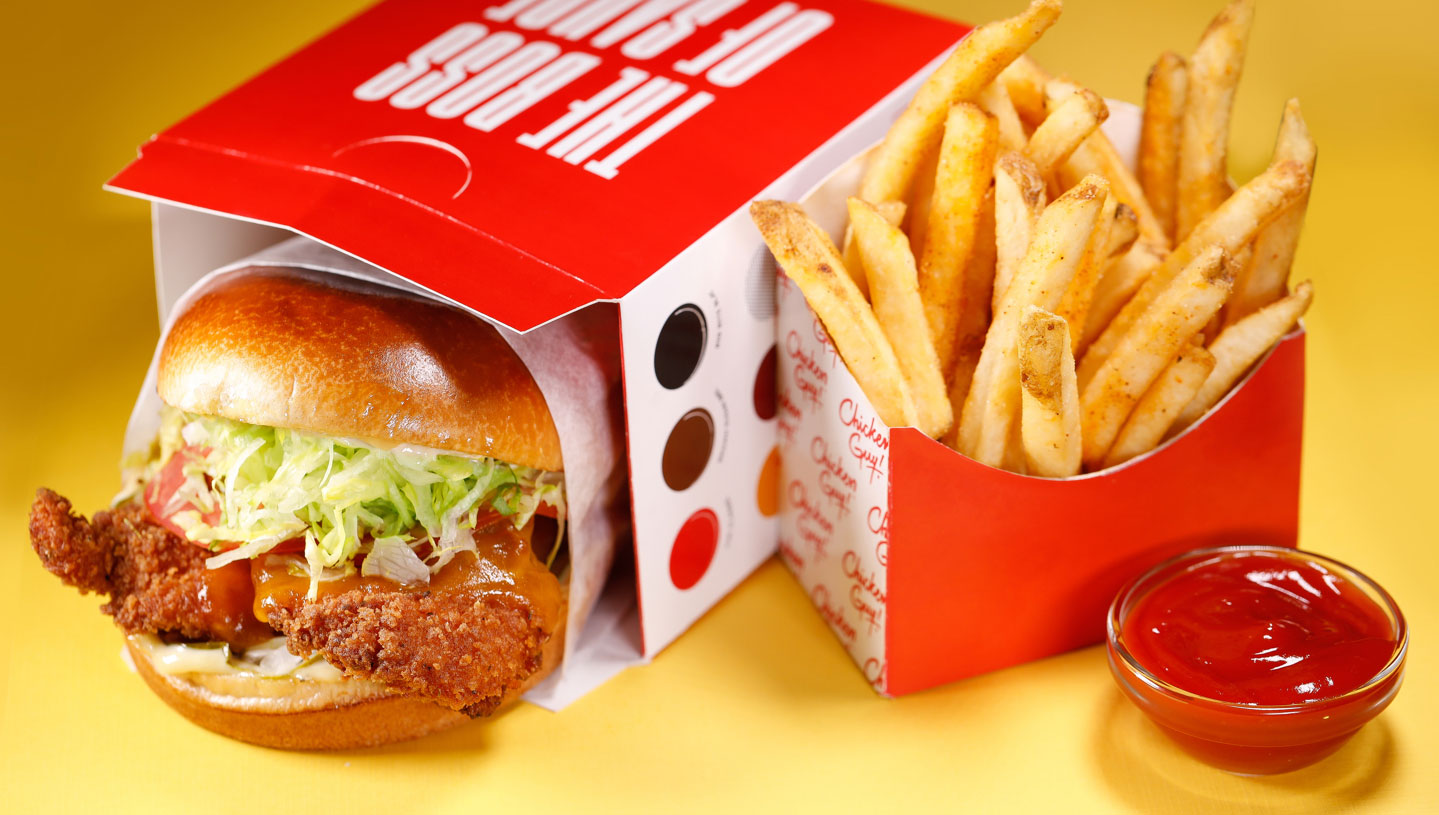 What to Expect
Chicken Guy! is a fast-casual chain dedicated to serving delicious, succulent chicken tenders paired with a wide variety of flavorful sauces meant to please all palates.  The menu at Chicken Guy! Disney Springs features one-of-a-kind antibiotic-free juicy chicken tenders will be thinly pounded by hand, then tenderized in a brine of lemon juice, pickle juice, and buttermilk before they are grilled or breaded and deep-fried. Customers will be able to order the tenders plain, skewered, on top of salads and in sandwiches like the Big Bite B.L.A.T., which is topped with bacon, lettuce, avocado, tomato, and buttermilk ranch sauce. The menu features the tenders—grilled or fried—in sandwiches, straight up on skewers, or in meal-sized salad bowls, and a wide array of sauces to enjoy with the chicken. Side items include french fries topped with "Super Melty Cheese!", signature Mac Daddy Mac 'n' Cheese, fried pickles and coleslaw. And of course, there are lots of great desserts! Pricing is expected to be under the $10 mark which for a 'Disney' lunch is quite a find!
In true Fieri style, the restaurant's cashiers give customers fist bumps when they order and there is a selfie wall with an image of Fieri for guests to pose while clutching their fried tenders
Signature Sauces
They don't call Chicken Guy! the Boss of Sauce for nothin'! From chef Guy's greatest hits to internationally inspired culinary creations, they have an array of sauce combinations for you and are happy to help you try 'em all. There will also be a designated "sauce slinger" wearing a 'loaded' holster who will apparently walk around the restaurant to dispense a squirt of sauce to anyone needing an extra 'kick' to their tenders. Get your sauce on at Chicken Guy! Disney Springs.
Want more than Chicken? Visit Planet Hollywood for some other Guy Fieri inspired dishes!
Who IS Guy Fieri?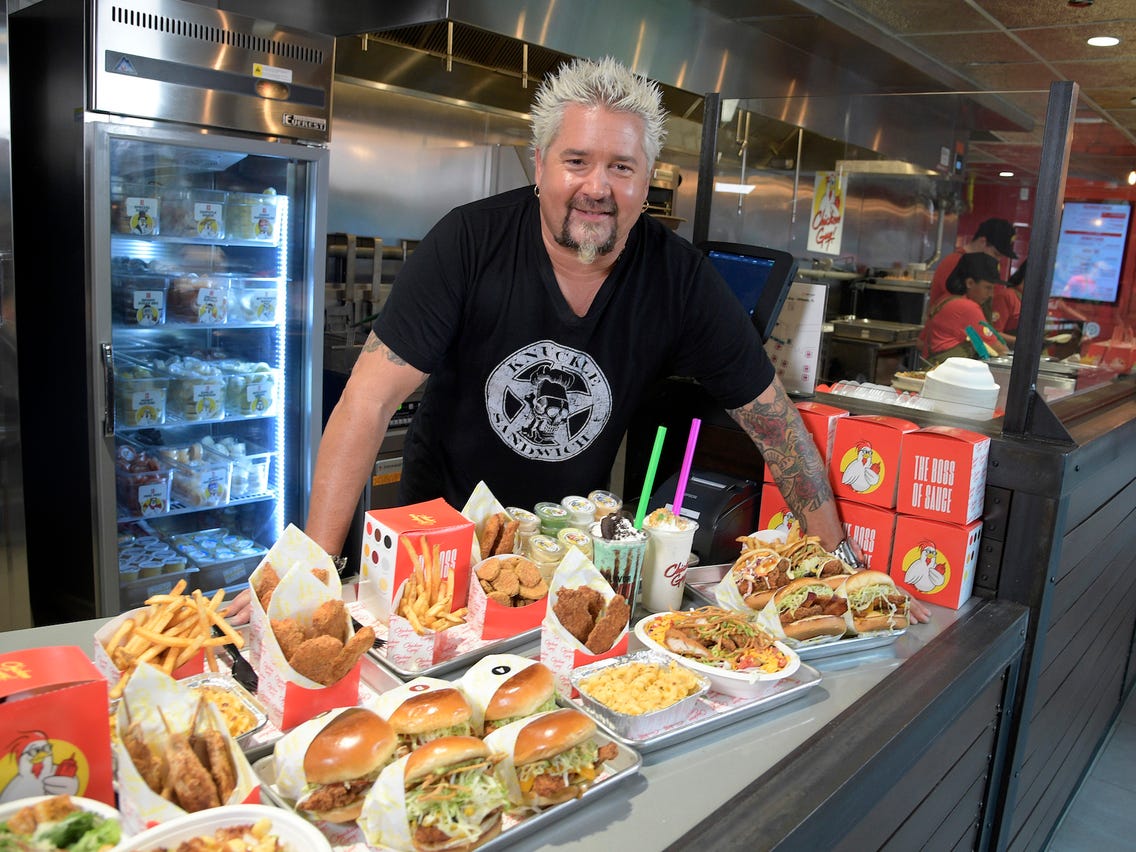 Guy Fieri, chef, restaurateur, New York Times bestselling author and Emmy Award-winning host began his love affair with food at the age of ten, selling soft pretzels from a three-wheeled bicycle cart he built with his father called "The Awesome Pretzel Cart." After selling pretzels and washing dishes for six years, Guy earned enough money to pursue his dream of studying abroad as an exchange student in Chantilly, France. There he gained a profound appreciation for international cuisine that further strengthened his passion for food. He returned to the U.S. and graduated from the University of Nevada Las Vegas with a degree in Hospitality Management.
In 2006, Guy won the second season of "Food Network Star" and was awarded a six-episode commitment for his own show, "Guy's Big Bite." Since that time, Guy has created a thriving culinary empire as the host of top-rated TV shows including the Emmy-nominated "Diners, Drive-Ins and Dives," "Guy's Grocery Games," "Guy's Family Road Trip," and most recently, "Guy's Big Project" and "Guy's Ranch Kitchen." In addition, he has opened over 63 restaurants around the world and at sea, from the Las Vegas strip to the Atlantic City boardwalk; from South Africa and Dubai; as well as authored six best-selling cookbooks.