Thanksgiving is a day when we gather around the table with friends and family to enjoy a delicious meal and give thanks, and there isn't a better way to enjoy the holiday than to celebrate Thanksgiving on I-Drive.
Making Thanksgiving in Orlando this year a celebration to remember for years to come is easy thanks to the many restaurants offering special Thanksgiving Feasts.
If you'll be celebrating Thanksgiving in Orlando's Most Dynamic Neighborhood, be sure to check out these special offers for a stress-free, no clean-up required Thanksgiving Feast with family and friends.
Celebrate Thanksgiving in Rosen Style!
Rosen Hotels are known for their serene accommodations, luxurious amenities, 5-star service, and world-class on-site restaurants, and this year they've put together some drool-worthy Thanksgiving specials that will have everyone in the family smiling.
Rosen Shingle Creek

Return to a wonderful tradition this Thanksgiving, as the Rosen family welcomes you to their exquisite buffet at Rosen Shingle Creek, all that you have to do is decide whether you want brunch or dinner.
Head to Cafe Osceola on November 25th from 11:30 am to 7 pm to enjoy bottomless brunch as you've never experienced before! With so many buffet items, we're sure everyone in the family will find something delicious to dig into, plus, endless champagne mimosas for the adults 21+.
You can see the whole brunch menu here.
P.S. If you're a Florida resident, be sure to take advantage of a special 25% discount.
But, if you're looking to enjoy some fine dining with the family, Rosen Shingle Creek's, A Land Remembered Steakhouse, has put together an especially delicious Thanksgiving menu this year that will be available on Thanksgiving Day from 5:30 pm to 10 pm. Enjoy 3 courses of yum, with the entree being an option between traditional Herb Roasted Turkey or an 8 oz. Harris Ranch Filet Mignon. See the full menu here.
Rosen Centre Hotel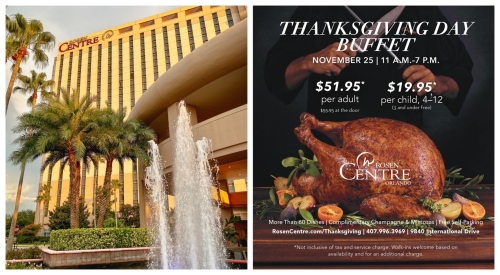 A beautiful, bountiful buffet right in the heart of Orlando; Rosen Centre Hotel is taking your favorite Thanksgiving classics and pairing them with exotic new favorites.
Give thanks for perfectly roasted turkey, the creamiest mashed potatoes infused with garlic-herb Boursin cheese, and other timeless classics. But if you're feeling like switching things up this Thanksgiving, they'll also be offering a large variety of global cuisine. From green-lipped mussels from New Zealand, fresh-made sushi, personally made tacos filled with crispy chicken carnitas topped with tangy pickled cabbage slaw and so much more!
Then, it's time for dessert, and you may be saying grace twice just for the smorgasbord of sweet indulgences that you'll have to choose from, like apple streusel pie and cinnamon cheesecake.
If your family considers themselves foodies, this may be the perfect way to celebrate Thanksgiving on I-Drive this year. Get all the details here, and reserve your spot today!
Rosen Plaza Hotel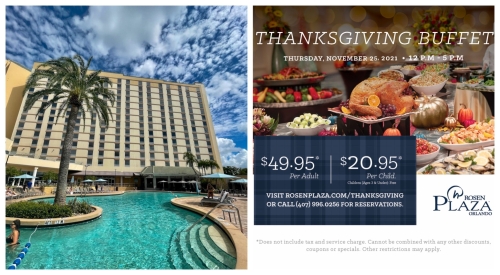 A popular annual Thanksgiving Day dining experience; the Thanksgiving Feast at Rosen Plaza will not disappoint.
Enjoy a cornucopia of delicious delights that have been expertly prepared by the talented Rosen Plaza chefs that are sure to bring happiness to all of the hungry bellies gathered around the table this year.
Indulge in your classics, alongside many new, unexpected favorites like tender cuts of Mediterranean grilled swordfish steak, al dente Vesuvio pasta with your choice of sauce from the pasta station, and a slew of other savory items, like seafood salad, steamed shumai and so much more.
All followed by an incredible offering of desserts including various cakes and pies.
Get all the details today!
A Rockin' Thanksgiving

The Hard Rock Cafe has put together a special offering for Thanksgiving that is sure to make this Thanksgiving with friends and family a rockin' one! And since classic rock shows us why the classics are so good, Hard Rock has put together a delicious classic Thanksgiving dinner that they'll be serving up from 11 am to 11 pm on Thanksgiving Day.
Dig into the slow-roasted turkey breast, roasted fresh vegetables, home-style classic stuffing, creamy sweet potato mash, and cranberry sauce finished with traditional turkey gravy. For dessert, enjoy a slice of Pumpkin Pie, and if you really want to top off your feast with something special, order up an espresso martini with Grey Goose Vodka, Kahlua, and freshly brewed espresso.
Get all the details here!
For the Wine Lover

Cooper's Hawk Winery has put together a special Thanksgiving Dinner Package this year that is sure to make your taste buds tingle.
Check out this menu:
Butternut Squash Soup with Spiced Pumpkin Seeds and Sour Cream
Slow-Roasted Turkey with Pan Gravy
Traditional Stuffing
Roasted Green Beans & Carrots
Mary's Potatoes
Cranberry Sauce
Pumpkin Praline Cheesecake, a collaboration with Eli's Cheesecake of Chicago, with Vanilla Whipped Cream and Vanilla Sauce
You can also add on their delicious wines to pair with your meal, like their November Wine of the Month; Grateful Red, Grapefruit White, or switch things up with a freshly made Cranberry Sangria.
They also have a delicious heat-and-serve meal option this year for $174.99. It serves 6 and you can simply pick it up and heat it up to enjoy it with friends and family in the comfort of your own home. See what items are part of this dinner package, and pre-order today, as quantities are limited.
Wine Club Members enjoy 10% off and earn points!
Get all the details about how to celebrate Thanksgiving on I-Drive with Cooper's Hawk Winery this year.
The Capital Grille

The Capital Grille invites your family to the table for a delicious, seasonally fresh, Thanksgiving Feast this year, no clean-up required. The plate features for this year's Thanksgiving Feast includes Slow-Roasted Turkey with Brioche Stuffing, French Green Beans with Marcona Almonds, Cranberry-Pear Chutney, Sam's Mashed Potatoes for the table because… you can never have enough mashed potatoes, and of course a sweet slice of Pumpkin Cheesecake to finish your feast on a sweet note.
Thanksgiving is a time to enjoy gathering around the table with friends and family for a delicious meal and giving thanks, and many restaurants along International Drive have put together delicious, special menus for you to enjoy a stress-free, no clean-up required Thanksgiving Feast with the people that matter most.
Be sure to check the calendar of upcoming events to browse all of the ways to celebrate Thanksgiving on I-Drive this year, and choose the one that suits your family best for an unforgettable holiday in Orlando.