Halloween is right around the corner, and if you'll be here on I-Drive there are plenty of spooks to be had both leading up to Halloween, and on the spookiest night of the year!
Whether you're looking for family-friendly spooks or adult-only chills and thrills, there is something for everyone on International Drive this spooky season.
SeaWorld Orlando
Spooktacular

SeaWorld Orlando's Halloween Spooktacular event is in full swing and will run through Halloween night.
This family-favorite event brings spooks that everyone can enjoy. Children are encouraged to dress up in their Halloween costumes to take part in fun-filled trick-or-treating around the park. Aside from the trick-or-treat trail, this year they also have a new Halloween Maze that will have you twisting and turning through a silly maze for a fun family experience.
You can also upgrade your Spooktacular Day at SeaWorld with special activities like Cookie Decorating with Cookie Monster, and Count Von Count's Spooktacular Breakfast!
More details about this family-favorite annual event can be found here.
Howl-O-Scream

For those searching for thrills this spooky season, SeaWorld Orlando is hosting Howl-O-Scream for the first time ever, and it is sure to leave all attendees with chills.
Evade roaming haunts rampaging through scare zones, and seek shelter indoors only to find you've entered a house of horrors! Beyond all of the scare zones and ghoulish surprises around the park, the bravest of guests can deepen their thrills with terrifying coaster rides in the dark. Quench your thirst with something from the fiendishly interactive bar, enjoy feeling the monstrous electricity of a live show – however you Halloween, if you're looking for a good scare, you're sure to get it and some at SeaWorld Orlando during Howl-O-Scream this year!
Get all the details here.
Speaking of horrors, another fan-favorite Halloween event returned to Orlando this year!
Universal Orlando's Halloween Horror Nights

Returning for its 30th year, Universal Orlando's Halloween Horror Nights is back with a vengeance and is sure to terrify and haunt guests.
Experience terrifying haunted houses, sinister scare zones, outrageous live entertainment, and some of the park's most exhilarating attractions. The only recommendation is that you bring someone along… as you'll undoubtedly need someone to cling to, hide behind, and panic with. Just as we know from horror films, the first to wander off tend to meet a terrible fate. Get all the details about this gruesome Halloween event here!
Fun Spot America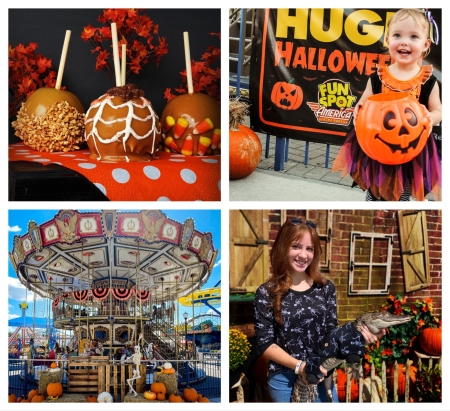 Fun Spot America invited you to their frighteningly fang-tastic HUGE Halloween Event for a good time that everyone in your group will enjoy.
In addition to your favorite rides and games, Fun Spot America has decorated the park with spooky decor and 'Foto' Spots so guests can capture the moment! You'll also be able to enjoy a delicious selection of fright bites, themed food and beverage options that are devilishly delicious, free trick-or-treating on Saturdays and Sundays through Halloween night from 4 to- 6 pm, and so much more!
If you're looking for a fun Halloween-inspired time that the whole family can enjoy, Fun Spot America's huge Halloween event has it all. Details can be found here.
Spooky Seas

SEA LIFE Orlando has put together a fun and educational Halloween-inspired event that you and the kiddos are sure to enjoy every Tuesday and Thursday this October at 1 pm.
Enjoy watching their divers carve jack-o-lanterns underwater in a 160,000-gallon oceanic tank surrounded by sharks, rays, sea turtles and other marine life, then enjoy testing yourself with an exciting scavenger hunt to win a prize all the while discovering spooky sea creatures that will leave you in awe along the way.
Event activities are included with general admission to the museum, so round up the family and enjoy a day of fun at SEA LIFE Orlando this fall, get all the details here.
WonderWorks Outta Control Spooktacular Magic Show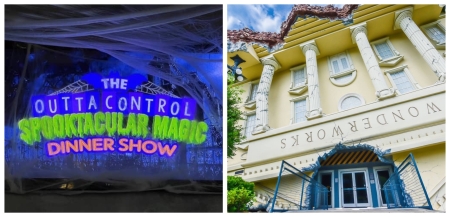 Everyone knows the Outta Control Magic Comedy Dinner Show, but now it's received a festive makeover that will put everyone in the Halloween spirit.
Join Jack the Trickster and Kevin as they present their frighteningly funny, family-friendly, monster-mashup of magic and comedy with a special Halloween flair. Objects will move on their own, the lights will flicker, and tables will even levitate inches away from your face. Enjoy it all as you dig into a delicious dinner of pizza, salad, and of course, beer, wine, soda, and even Halloween-themed desserts.
Guests are encouraged to dress up in their costumes, and there will even be Halloween-themed drinks and cupcakes, as well as face painting available on select nights for an additional fee.
This family-friendly dinner show experience will prove to be a great night out for the whole family this fall. Get the details and find upcoming showtimes here.
Museum of Illusions

If you're looking for a good mix of tricks and treats, Museum of Illusions has the perfect trick-or-treating opportunity for your family this year!
Museum of Illusions is Central Florida's newest mind-bending "edutainment" destination, where tricks of perception combine with treats in the form of complimentary candy and reimagined Halloween-themed exhibits that will offer the perfect photo ops and snaps.
The event will take place each Wednesday evening from 5-8 p.m. throughout the month of October. Guests of the Museum are encouraged to dress in their "Best Costume" and will receive free candy throughout the Museum, while supplies last. Many of the Museum's iconic rooms including the Ames Room, Color Room, Reversed Room, and Head on the Plate exhibit will be reimagined with Halloween themes.
This will surely be an event that will have the whole family talking, but admission tickets are required to participate, so your tickets and mark your calendar for a Wednesday this month!
Halloween Fun for the Adults
Two of Orlando's favorite nightlife spots are throwing special Halloween-inspired parties this month, and if Halloween means party-time to you, you're not going to want to miss these hot events!
Sinful Kittens Halloween Night at Mango's Orlando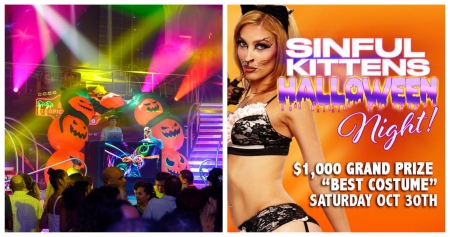 On Halloween Eve, October 30th, head to Mango's Orlando dressed in your Halloween best!
Live entertainment by Sinful Kittens, the sounds of the DJ, unique and exotic cocktails, and even a chance to win $1,000 for best costume, Mango's is bringing the heat this Halloween. This is a ticketed event, so be sure you reserve a spot for yourself and your crew and get in on the festivities!
Dia De Los Muertos at Ice Bar Orlando

On Halloween night, head to ICEBAR Orlando for a Halloween party complete with bone-chilling cocktails, and an atmosphere to match! Enjoy competing in costume contests as you sip on Halloween-inspired cocktails, and snuggle up with friends to keep warm in this bar full of ice and ice sculptures. Event admission starts at $15. Get all the details today and plan to have a chilling Halloween at IceBar Orlando this year.
Whatever your idea of the perfect Halloween celebration is, we're sure you'll find the spooks and scares for the occasion right here on International Drive. Celebrate the spookiest time of the year right here in Orlando's Most Dynamic Neighborhood! Check out all of the upcoming events happening on I-Drive this month, and get in on the spooktacular fun!