Get your red, white, and blue on for a bonanza of Fourth of July celebrations across West Volusia County. From freedom festivals and Mainstreet parades to massive 3-day long festivals with carnival rides and funnel cakes, West Volusia has something for everyone. Regardless of where you decide to celebrate America's birthday in West Volusia, at the end of the night, you'll be treated to spectacular fireworks displays at each of these events.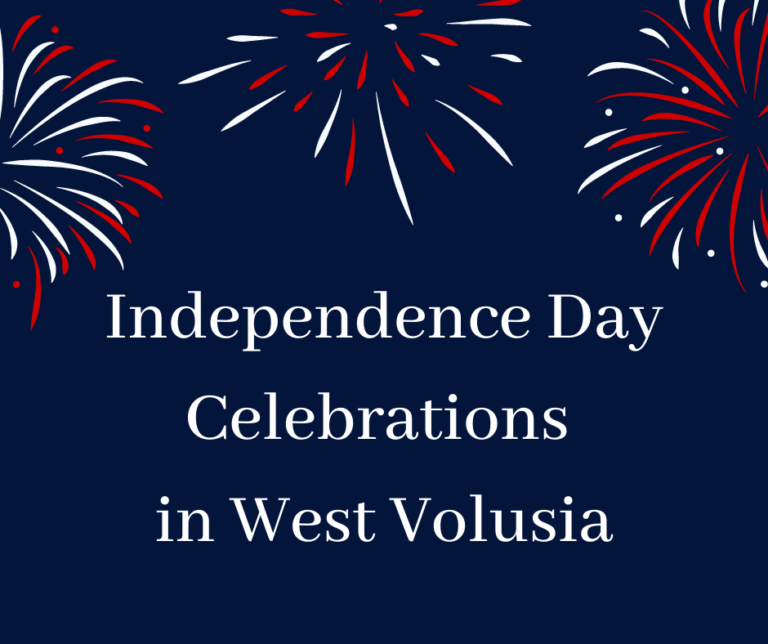 1. Deltona's All-American Celebration
Celebrate the 4th of July the All-American way at Deltona's Dewey O. Boster Park during their four-day-long carnival and fireworks event. Experience the attractions of Magic Midways, including carnival favorites like the Century Ferris Wheel, the Ciclone, a giant slide, bumper cars, and more. Gather together with family and friends and grab a bite of carnival food, including everything from popcorn and cotton candy to fried Oreos and funnel cakes. On July 4th, explore some of the area's favorite food trucks along with a face painter, a caricature artist, and bounce houses, courtesy of Deltona Parks and Recreation. End the All-American celebration with the spectacular annual fireworks display guaranteed to light the night's sky up.
Firecracker Festival
Celebrate Independence Day in a way you can only find in DeLand with the 6th Annual Firecracker Festival. Less than a mile from Historic Downtown DeLand, the Firecracker festival will take over Earl Brown Park for this family-fun event. Jam out to live music at a free concert featuring the Buzzcatz or browse through a selection of amazing vendors. Save room for local eats from your favorite food trucks. Don't miss the food, fun, and, of course, fireworks!
DeBary Freedom Fest
Everyone is invited to this day of family fun organized by the citizens of DeBary at Gemini Springs Park. Fun activities for all ages will be available, including a kids zone with games and prizes for little ones, sponsored by Grace Baptist Church, and live music by DeBary's own Grindstone Sinners and Rockit Fly. Save your appetite for a bite to eat from local restaurants and vendors on location, or grab a refreshing beverage from the beer garden. At the end of the evening, sit back with your family and celebrate America's birthday with a dazzling synced fireworks spectacle.
Orange City Fireworks and Fun
Commemorate America's independence and freedom with a night of family fun at Valentine Park in Orange City. Browse vendors, check out the live band, try tasty food options, and let the little ones enjoy the kids' zone. Then, watch the sky light up with the best fireworks show Orange City has to offer to start at 9:15 pm. This event celebrating America's birthday offers free admission and parking.
Lake Helen Fourth of July Parade & Celebration
Get your red, white, and blue on at this Fourth of July Parade and Celebration in Blake Park in Lake Helen. First, take in the sights of the parade beginning at 4 pm. Then, as you navigate through music, vendors, and festivities, celebrate with tasty eats like BBQ from the Cracker Boy & Cracker Girl Cook Shack, fresh empanadas from Nydia's Empanadas, and refreshing treats from the Kona Ice truck. Don't miss the fireworks show at 9 pm to end your 4th of July with a bang!
Pierson's July 4th Family Fun Fest
Travel over to the Fern Capital of the work for a day off, get this, family fun! For their 11th Annual Family Fun Fest, the town of Pierson will have kid-friendly regulars like Hannah the Clown and the Choo Choo train, which the kids all love! Visit Pierson's website for more information: https://www.townofpierson.org/
More information on celebrating America's birthday in West Volusia County can be picked up at the Visitor Center located at 116 W. New York Avenue in Downtown DeLand, FL, or can be found online at www.visitwestvolusia.com. Please call 386-734-0162 for more information.