Did you even visit Orlando's Most Dynamic Neighborhood if you didn't enjoy any world-class entertainment?
Whether you're looking for a night out dancing to the sound of live music, or you're looking for an evening dinner show experience that leaves you full of laughter, Orlando is the perfect spot to enjoy amazing live entertainment.
During your next trip to I-Drive, experience some of the best entertainment Orlando has to offer with a trip to one of these popular entertainment destinations!
Improv Orlando: 40 Years. Millions of Laughs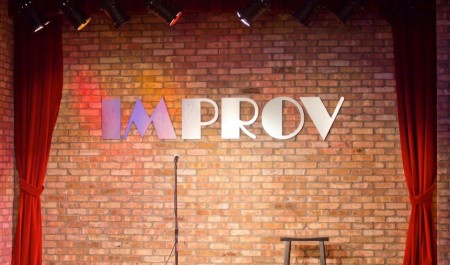 Orlando Improv is a comedy club that welcomes the biggest names in comedy, in addition to up-and-coming local talent right here in Central Florida!
Select an item from their menu that features a variety of American favorites, like burgers, chicken sandwiches, chicken entrees, salads, shareable apps, desserts, and more. Order a cocktail of your choosing from their long list of specialty drinks, ranging from Hurricanes to martinis and everything in between. Then, simply sit back and wait for your show to start!
Each month Orlando Improv stacks its calendar full of talented artists set to hit the stage, and you can find a full listing of them in advance here.
This month you can look forward to catching headliners:
Steve Hofstetter on January 18th
David Nihill on January 19th
Michael Rapaport on January 20th & 21st
Pinky Patel on January 22nd
Emma Willmann on January 24th
Brad Upton on January 25th
Michael Blackson on January 26th – 28th
Trae Crowder on January 29th
Don't miss a meal, or a laugh, at Orlando Improv during your next visit. See a full schedule of upcoming performances here!
Hard Rock Live – "Coliseum of Rock n' Roll"

Universal Orlando's Hard Rock Live hosts some of the biggest names in music, ranging from new emerging artists, to musicians we all know and love, and their Classic Albums Live that gives audiences a chance to hear classics performed note for note, and cut for cut! Plus, they welcome all kinds of entertainment to their stage, including comedy groups, award shows sporting events, nationally televised programs, and more!
Since Hard Live opened its doors in 1999, it has had sold-out crowds and standing ovations. Primed as the epicenter of South Florida entertainment, the venue hosts state-of-the-art technical capabilities, acoustically pure listening, and unobstructed sight lines – making it a stand-out option for entertainers and tours across the country, even drawing internationally acclaimed acts.
Never miss a beat! Each month Hard Rock Live fills up its calendar with upcoming performances, but they sell out fast, so you don't want to delay snagging those tickets to see your favorite artist. Luckily, each month you can find a full lineup of performances happening at Hard Rock Live here, so you can find a show you want to attend and purchase your tickets! Here's a sneak peek at who is taking the stage at Hard Rock Live this month:
Classic Albums Live: Fleetwood Mac 'Rumors' on January 20th
Kathleen Madigan: Boxed Wine and Tiny Banjos on January 21st
Alter Bridge: Pawns and Kings Tour with Mammoth WVH and Red on January 27th
Tedeschi Trucks Band on January 28th
See who else will be coming to Hard Rock Live and start making plans for an unforgettable night out in Orlando!
Live Entertainment at ICON Park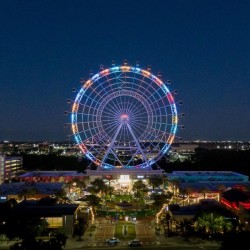 Not a huge plan maker? No worries! There are two restaurants that offer live entertainment right in ICON Park, and they happen to be within walking distance from one another!
Tin Roof Orlando: Where Everybody is Somebody.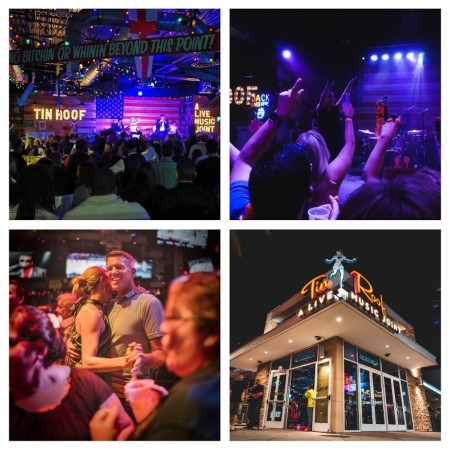 Your wish has been granted. Tin Roof Orlando offers NIGHTLY live entertainment in the heart of Orlando!
Tin Roof is all about giving musicians a place to play and a place to hang out when they aren't on stage. Their offerings of tasty food and fun in an eclectic environment have drawn a community of regulars and helped Tin Roof establish itself as the place to be, for musicians and music lovers alike!
Over the years, their stages have hosted the famous, the should-have-been famous, and everyone in between. Aside from nightly live music, they also host recurring weekly events like:
Post Brunch Beats with DJ PopRoxXx every Saturday
Reggae Brunch on select Sundays
Music Bingo every Tuesday
Dueling Piano Show on select Sunday Nights
Sin Sundays Industry Night every Sunday
Whether you're coming for the tunes, the food, a drink, or just a good time, enjoy the Roof, 'Where Everybody is Somebody.'
Ole Red Orlando – Blake Shelton Approved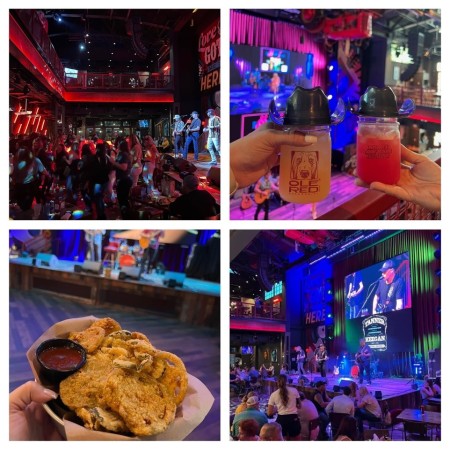 Country music fans! Take a stroll over to Old Red Orlando at ICON Park to enjoy a true honky tonk!
Every Wednesday through Sunday, you can enjoy live music at Blake Shelton's Ole Red, in addition to drool-worthy, twisted, southern-American cuisine, and of course, a full list of cocktails that will have you strapping on your boots and hitting the dance floor in no time! Order up a cocktail in a mason jar with a cowboy hat that you can bring home with you as a souvenir from your night, because we're sure you'll want to remember your visit here for years to come.
Are you a hospitality employee? Hit Ole Red on a Thursday with your employee ID, paystub, or business card and enjoy 20% off food and non-alcoholic beverages and 10% off retail merch for you and up to four guests!
Ole Red is known for featuring the best in live country music in a laid-back environment, featuring performances from country celebs to smaller acts, and everything in-between. So order up some finger-lickin' good grub, sit back, and enjoy the best live country entertainment venue in Orlando! Learn more today!
Mango's Tropical Cafe – The Ultimate Nightout in Orlando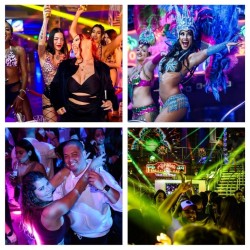 Mango's is International Drive's most exciting dining and entertainment experience, with a focus on creating new memories through award-winning dining, shows, and nightlife in its state-of-the-art facility.
This uniquely Latin-themed entertainment experience will shock and surprise you, featuring various kinds of entertainment throughout the week, like:
I Love Fridays every Friday with DJ Leony
Ladies' Night every Sunday
Go Viral Event featuring Hip-hop, Reggae, R&B, and Afrobeats every Saturday
Viva La Fiesta featuring the best promoters in town every Thursday
Drag Me Out hosted by Ms. Tora Himan with sounds by DJ Scott Robert. Get Ready to laugh, Dance and Sing all night long every Wednesday
From the award-winning Latin cuisine on the menu to the strong, flavorful cocktails and the variety of talented entertainers, a trip to Mango's is a must during your next night out on International Drive.
There are so many amazing, unique experiences to enjoy on I-Drive, but make sure you don't sleep on experiencing Orlando's live entertainment scene at these popular entertainment destinations along International Drive. Experience live entertainment like never before, right here in the heart of Orlando!
Browse a calendar of events happening in Orlando's Most Dynamic Neighborhood during your next visit, and plan to enjoy top-notch live entertainment during your trip!