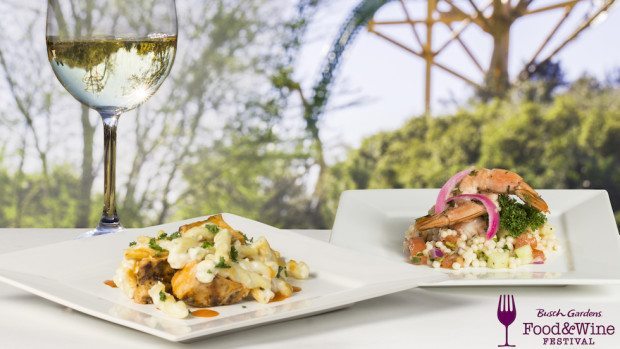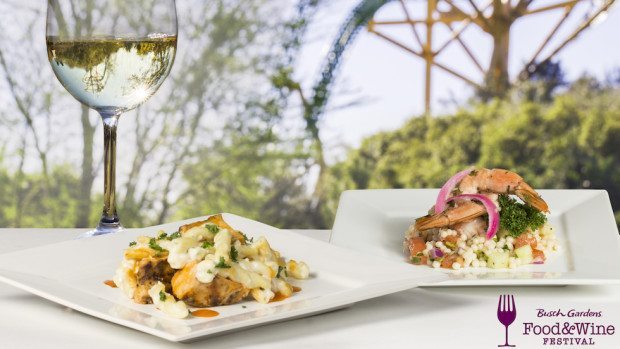 Orlando Attractions Update – It's that yummy time of year again! Busch Gardens Tampa is ready for guests to enjoy their 2016 Food & Wine Festival returning this Spring. It features new culinary creations including a menu of more than 35 dishes designed specifically for the event; an expanded line up of more than 120 wines, craft brews and cocktails; and performances from musical artists including Andy Grammer, Lynyrd Skynyrd, Meat Loaf, The All-American Rejects, O.A.R, Gente de Zona and many more.
The Festival takes place on weekends March 5 through April 24, and is included with park admission. For a limited time, as a special incentive for those who plan early, guests who buy a 2016 Fun Card to Busch Gardens also will receive a free 2016 Adventure Island Fun Card.
In addition to new food and beverage options, the Food & Wine Festival also offers new ways for guests to savor the event:
Food Sampler:
Guests with interests in culinary offerings can purchase the all-new Food Sampler, which includes any five food samples of choice throughout the Festival and starts at $24.99.
Wine by the Bottle:
This year, guests can take home a part of the Food & Wine Festival with wine available for purchase by the bottle in select merchandise locations throughout the park.
The Food & Wine Festival spices up the menu with more than 15 all-new dishes, including duck tacos, lobster ravioli, truffle fries and almond coconut truffles. Plus, Festival classics like bacon mac and cheese and the griddle cheese cake sandwich are back by popular demand.
The Festival features 11 different culinary cabins that guests can experience throughout the park, each with its own special menu:
NEW! Artisan Eats:
Artisan Eats introduces sophisticated flavors crafted to treat guests' appetites, including truffle fries, shrimp & grits and pan-fried bread pudding with Nutella-mascarpone drizzle.
NEW! Garden Gate Cafe:
Garden Gate Café joins the Festival this year with pheasant sausage flatbread topped with filet de pomodoro and tuna poke.
Gourmet Lodge:
The exotic flavors of Gourmet Lodge feature smoked beef brisket, pickled shrimp over couscous salad and a guest-favorite griddled cheese cake sandwich.
Savory Tavern:
The rich flavors of Savory Tavern tempt taste buds with coconut shrimp cigars, espresso flan and a goat cheese polenta cake topped with olives and tomatoes.
Chef's Plantation:
Chef's Plantation is home to hearty flavors, including pan-seared salmon cakes, beef short ribs and duck tacos with sweet chili sauce.
Coast to Coast Cookery:
Tastes of the land and sea come together at Coast to Coast Cookery, featuring green peppercorn-seared hangar steak, bacon-wrapped prawns and chilled smoked chicken with apples, sundried cranberries and walnut quinoa.
Field House Eatery:
The Field House Eatery is the Festival's biggest location, offering pan-seared diver scallops and lamb chops with tabouleh and tatziki sauce.
Southern Station:
Southern Station tantalizes taste buds with all-new bison sliders, pan-fried cod over fennel risotto, roasted pork belly with red pepper jam, and venison chili with roasted corn, black beans and lime sour cream.
Comfort Kitchen:
The Comfort Kitchen fuses classics like the famous bacon mac and cheese with contemporary eats like lobster ravioli over tomato basil sauce.
Light Fare Canteen:
The Light Fare Canteen freshens the palate with returning favorites like scallop ceviche, a potato and goat cheese tart, and a cheese plate to accompany a glass of wine.
Blazin' Bistro:
Blazin' Bistro breaks out the grill for island-inspired cuisine, featuring jerk chicken sliders, roasted cauliflower hummus and a vanilla Cigar City Maduro ice cream float with caramel.
Food and beverage is not included with park admission and is available for an extra fee. Guests must be 21 years of age or older to consume alcoholic beverages. For more information, visit BuschGardens.com.