There are lots of burger joints on I-Drive that bring the sizzle, and with National Burger Month in full swing, it is only fitting that we dedicate a blog post to the iconic hamburger that we all know and love. Keep reading for an inside scoop on some of the best spots to stop and grab a burger on International Drive!
Hopdoddy Burger Bar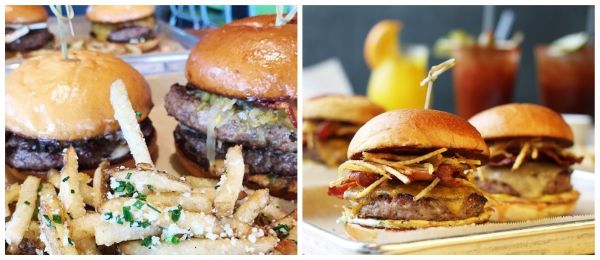 Hopdoddy Burger Bar recently hopped its way into Pointe Orlando, where they opened their first Florida location in February! So, what makes them different than any old burger joint? To start, they grind all their meat in-house, daily, using only natural meats! Their menu also offers a variety of protein options aside from the traditional beef burger; like Angus Beef, grass-fed Kobe beef, chicken, turkey, and sushi grade tuna! All their buns are baked from scratch and the fries are hand-cut and made to order! There really is not much debating that whatever you order at Hopdoddy, it will be fresh and delicious! Pair your burger with the perfect beverage, whether it be a selection of one of their many craft beer options, or something from the full liquor bar. And finish off your meal with a refreshing handcrafted milkshake made with Jersey Cream Custard. Next time you are craving a juicy burger, hop over to Hopdoddy and see for yourself why they were named one of "The Best Burgers in America" by Food and Wine!
The one, the only.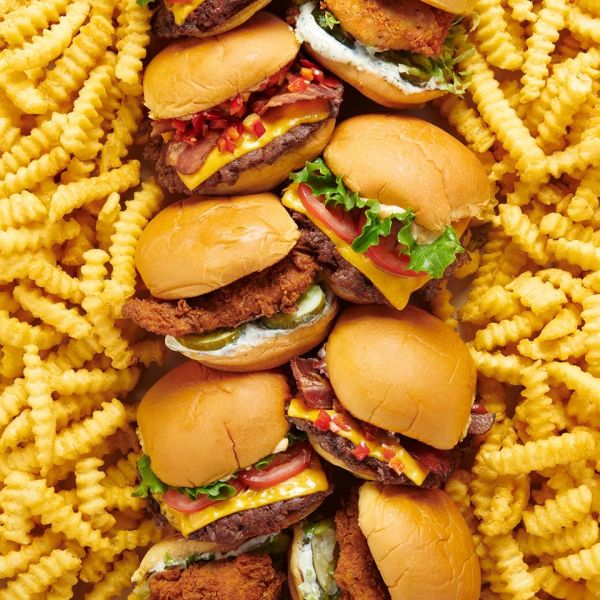 This modern day "roadside" burger stand that everyone has come to love was sprouted from a hot dog cart in Manhattan to support the Madison Square Park Conservancy's first art installation. Shake Shack had lines of Shack fans back then, and that trend has continued as they have opened storefronts across the United States. Serving up 100% all-natural Angus Beef with no hormones or antibiotics, ever, they know how to create the perfect pairing of golden buns, high-quality meat, lettuce, tomato, pickle, onion, cheese and sauces that will make your mouth water! Their menu houses many variations of the classic burger that we all love, but don't forget to grab some cheesy bacon crinkle fries to really complete the experience! From delicious burgers, fries, hot dogs, frozen custard, beer, wine and more, Shake Shack has something delicious for everyone to bite into!
King's Point Ice Cream & Burger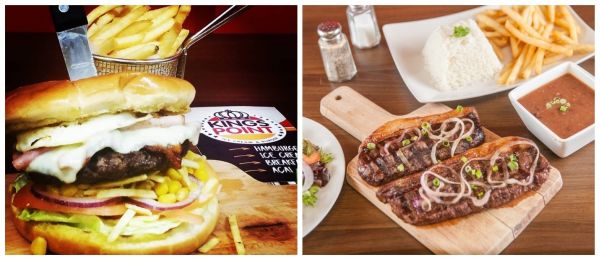 A combination not seen often, King's Point Ice Cream & Burger offers its customers a mix of delectable American and Brazilian food crafted using only the freshest and finest ingredients! With a burger menu that is boasting with a variety of flavors, like their super burger, complete with homemade 100% prime beef, egg, ham, bacon, cheese, onions, tomato, corn, lettuce, potato sticks and homemade sauce, a BBQ steak sandwich, veggie burger, and for you pineapple lovers, their Kings Special, loaded with shredded chicken, special cheddar and bacon sauce, and grilled pineapple. Their menu offers plenty of burger options, plus tons of other Brazilian inspired dishes, so no matter what everyone in your group is craving, they'll find the perfect choice!
Cowfish Sushi Burger Bar

Take a walk on the wild side when you take your burger cravings to Cowfish Sushi Burger Bar. You honestly can't go wrong. Who doesn't love Sushi, better yet, who doesn't love burgers? It only makes sense to combine the two! Focused on offering both the best sushi and burger in town, each of which is all-natural, creative, hearty, and crafted using fresh, never frozen ingredients and are stock full of bold flavors! Their menu will please your whole group, offering everything from scrumptious appetizers, salads, homemade desserts, and of course their cutting-edge fusion of burger and sushi: burgushi! Their burgushi items include sushi rolls created using burger components and pick-up sandwiches created using sushi ingredients; but, don't just take our word for it. Come check out this unusually delicious destination located in the heart of Universal's CityWalk and see just how scrumptious a walk on the wild side can be!
Fuddruckers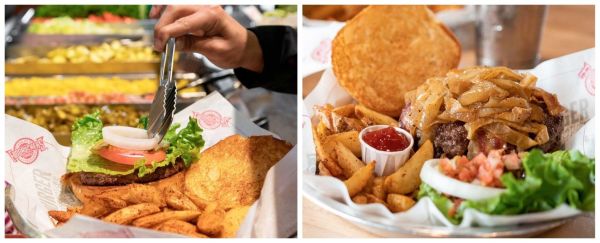 With an obsession for quality and detail, Fuddruckers has been dedicated to doing one thing better than anyone else since the day they started in 1980, and that is making the world happy, one hamburger at a time! Freshly baked buns and 100% fresh beef that is only ever grilled to order are the two foundations to an amazing burger; the rest is up to you! They offer a full condiment and produce bar so you can create the perfect burger to satisfy your hamburger craving, every time! Whether you want to indulge in one of their speciality burgers, create your own masterpiece, or indulge in a plate of nachos, salad, or chicken tenders; we're sure you will be impressed…and full!
The hamburger is a statement piece in American Cuisine, and whether you like to keep your hamburger classic with traditional toppings or go all out with crazy concoctions and special sauces, the right burger will always satisfy! If you're on International Drive this month, be sure to celebrate National Hamburger Month with a stop to one of these delicious burger spots!