Orlando Attractions Update – Brightline is the name of a new express train service that will connect South Florida to Orlando, a name that officials hope people will associate with a smart, new way of getting around Florida and an optimistic view of the future.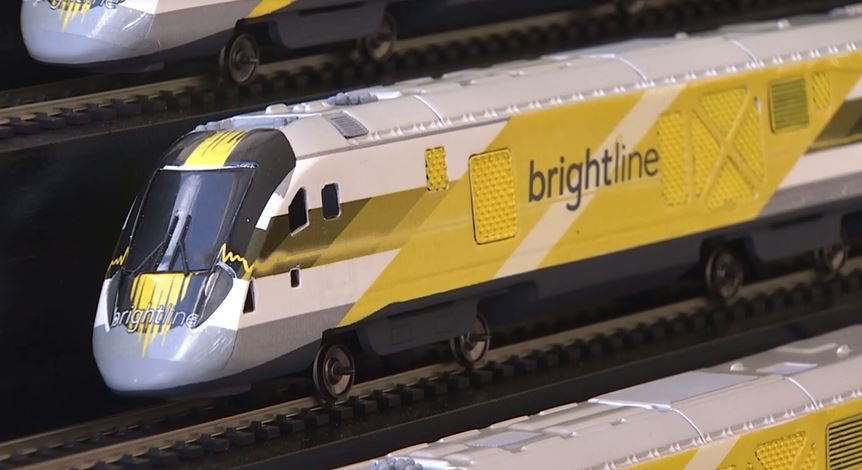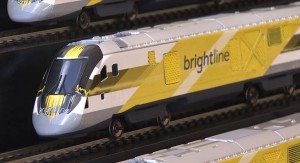 Officials for the private company All Aboard Florida unveiled the name and the first images of the futuristic looking trains at a news conference Monday in downtown Miami, on the site of the still-being-built new station.
When the service starts in mid-2017, expect to see eye-catching silver trains accented in a spectrum of five colors — red, orange, green, blue and pink — and each pulled by a yellow locomotive. A ribbon of yellow with the train's "brightline" logo will adorn each car, tying the color scheme to the locomotives.
A total of 10 train sets are being built at a Siemens plant in Sacramento, Calif. The first trains will be delivered this summer and begin undergoing tests.
The locomotives will have sleek lines reminiscent of bullet trains in Europe, crafted to support the image of speed and quickness. The same colors will be an integral part of stations in Miami, Fort Lauderdale and West Palm Beach with lighting and signs.
"Typically, trains have been one color, either gray or silver, and tend to blend into the background," said Michael Reininger, All Aboard Florida's president. "As our trains pull into the stations, their colorful entry will be another way that Brightline takes the gray out of travel."
The Rockwell Group, which has designed hotels, restaurants and Broadway productions of Hairspray and Kinky Boots, developed the service's logo, train exteriors and interiors and the insides of the new stations. Also introduced Monday are the train's new website — www.gobrightline.com — along with social media sites on Facebook and Twitter.
Officials say the Brightline name was chosen about two years ago to underscore that it is a consumer-oriented hospitality service closely tied with the tourism industry.
"We believe that our holistic and collaborative approach will result in an entirely new travel experience that is welcoming, comfortable, fun, and seamless from departure to arrival," said David Rockwell, founder and president of Rockwell Group.
Using color isn't unusual for passenger trains. Tri-Rail, the commuter line that runs mostly west of I-95 between West Palm Beach and Miami International Airport, has locomotives and cars wrapped in images of turquoise blue skies, white clouds and palm trees. Its name refers to the three counties it serves. SunRail, the new commuter railroad in central Florida, uses a blue color scheme with yellow and orange highlights to mimic the rays of the sun.
Brightline is set to begin running only in South Florida by mid-2017, with 32 trains a day — 16 in each direction. By the end of 2017, a second phase will open from West Palm Beach to Orlando, continuing north along the coastal tracks that parallel U.S. 1 to Cocoa, then west on new tracks along the BeachLine Expressway to Orlando International Airport.
The train's customer base would be split between tourists, business travelers and others making trips to visit family or friends or attend special events.
Amenities onboard include reserved seating, free wireless internet and gourmet food and beverages.
Ticket prices haven't been announced, but officials have said fares will be competitive with what it costs to drive or fly between South Florida and Orlando. Trains will make the trip from Miami to Orlando in 3 hours; under ideal conditions, that drive takes about 3 hours and 20 minutes.
A study earlier this year estimated the new service would eventually attract 7 million riders a year and generate $400 million in revenue. Trains would initially carry 1 million riders a year, ramping up to 5.3 million by 2020 and 7 million by 2030, the study said.
Ridership will be evenly split between those traveling locally between Miami, Fort Lauderdale and West Palm Beach and long distance trips between South Florida and Orlando. Officials insist Brightline won't compete with Tri-Rail.
For the past year, most of the construction at the three South Florida stations has involved underground installation of utilities, foundations and pilings. But by the end of the year, the first vertical construction will begin.
Construction of a second track between Miami and West Palm Beach will also start before the end of the year. Until now, track work has focused on rebuilding rail crossings and building bypass tracks so trains can skirt the construction sites for the new stations.