Monstrous family fun arrives at LEGOLAND@ Florida Resort this fall, bigger than ever when Brick-or-Treat presents Monster Party, select Saturdays and Sundays, Sept. 16 to Oct. 29. Families can experience all the thrills of the Resort's signature Halloween party, featuring new ghoul-tastic shows, spirited LEGO@ décor, and candy-coated fun – all included with general park admission and select Annual Passes.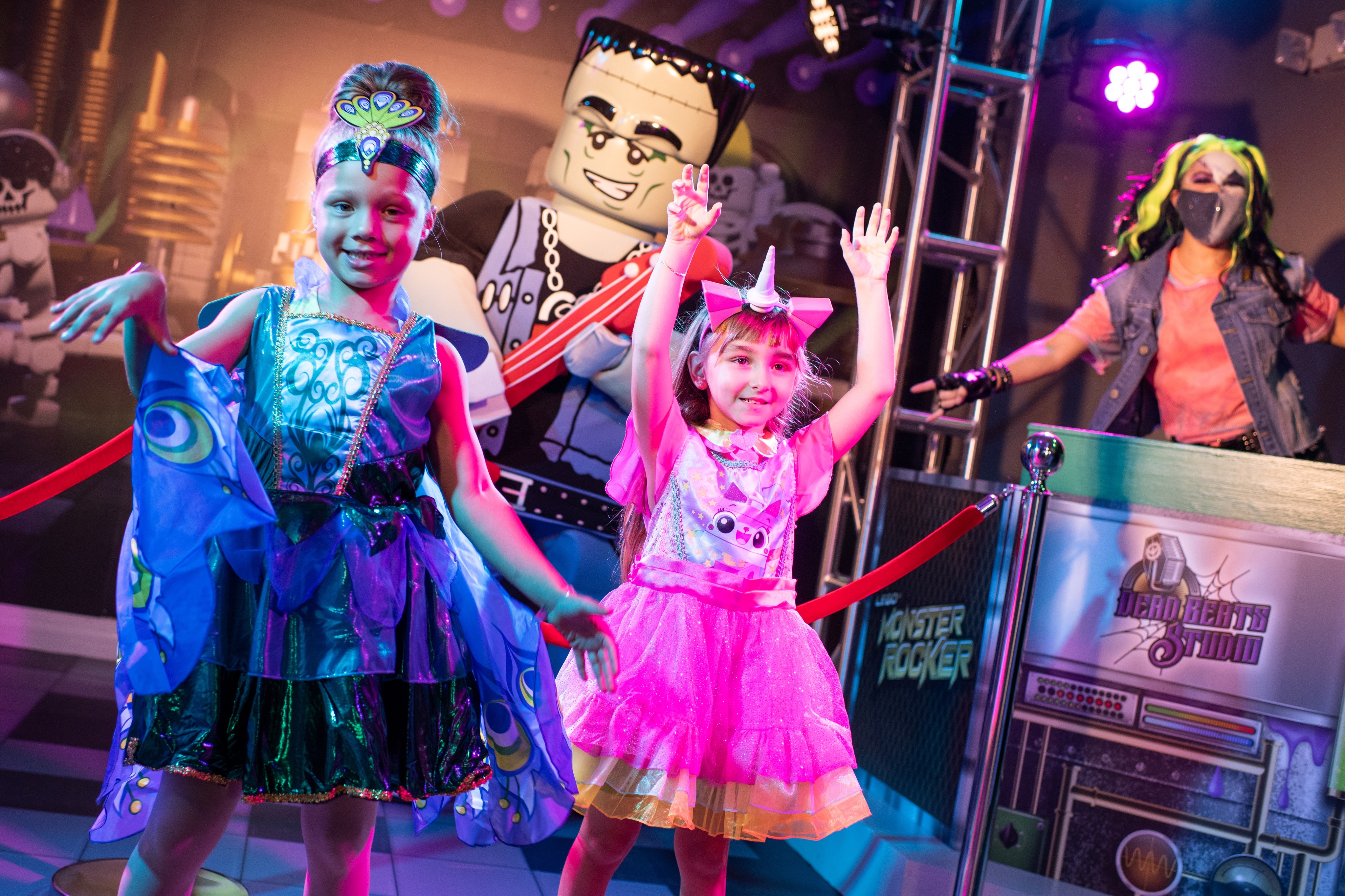 NEW! Spellbinding Shows & Fireworks
There's a host of eerily awesome entertainment in store, including a newly designed fireworks show hosted by LEGO@ Lord Vampyre. He is casting a spell to make this Monster Party last forever with 3D LEGO brick-bursting fireworks, music, and lights that will leave everyone "Spellbound"! Families can bring their spirit to the ALL-NEW Zombie Pep Rally led by LEGO Zombie Cheerleader and her cheer crew. The V.I.M. (Very Important Monster)
Dance Party is returning with a chance for all the little skeletons to show off their ghoulish grooves. The Jammin' Jacks are back for another round of monstrous melodies and families can once again boogie to a groovy monster jam aboard The Disco Dragon coaster.
In a Candy Trance!
Ready your souls for a monstrous tidal wave of candy! Enjoy Brick-or-Treat throughout the entire Park in completely transformed candy zones. Sail through Shipwreck Alley and plunder all the candy ye' can hoist! Skip through Happy Harvest Trail, visit Graveyard of Ghouls, and wander through Wicked Sweet Way, where atmosphere performers and creatures rise to the occasion and join the party! While snagging tons of candy, snap a photo with all the LEGO monsters, like LEGO Monster Rocker and LEGO Mummy, at themed meet and greets across the Park. Also, be on the lookout for the newest Monster Party guest: LEGO Square Foot.
Monstrous Morsels
This year's party features a monstrous menu of limited-time bites just for the season, with frightfully delectable treats and sweets across the Resort. Try the Ghoulishly Hot Chicken Sandwich topped with a hot honey barbeque sauce and pimento cheese spread on a potato bun. Taste the Witch's Brew with lime soft serve in a witch's cauldron and topped with all the ingredients for a perfect spell – bats, spiders, worms, and Halloween sprinkles.
SCARY GOOD DEAL ALERT: Trick-or-treat yourself to limited-time savings just in time for the Monster Party.
About LEGOLAND@ Florida Resort
LEGOLAND@ Florida Resort is the ultimate vacation destination for families with kids. Located 45 minutes from Orlando and Tampa, the Resort features an interactive, 150-acre Theme Park with more than 50 rides, live shows, and themed attractions inspired by popular LEGO@ brands and characters, a seasonably heated Water Park, that is open year-round, with more than a dozen family water slides, and three uniquely themed on site accommodations. Located 130 kid-steps away from the Theme Park's front gate, LEGOLAND@ Hotel and the new LEGOLAND@ Pirate Island Hotel bring the Theme Park fun into the hotel with nightly entertainment, resort pools, and guest rooms with separate adult and child sleeping areas, and in-room treasure hunts. Just across the street, LEGOLAND@ Beach Retreat features beach-themed bungalows in village-style layouts centered around outdoor play areas and unforgettable Florida lake views.
See www.LEGOLAND.com/Florida for more information and follow @LEGOLANDflorida on social media.