Justin Bieber's new look — right down to his freshly added tattoo — has finally arrived at Madame Tussauds in Orlando. The true-to-life wax figure was unveiled this week at the International Drive attraction. The singer is portrayed in ripped jeans and plaid yellow shirt.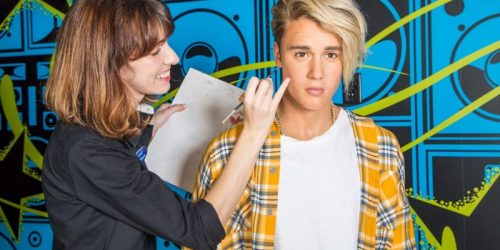 The reveal was postponed while Tussauds artists added a tattoo that the actual Bieber had recently. It reads "Better at 70," and it can be seen through a rip in the figure's jeans.
"I know that fans are going to be looking for every last detail," said Ashley Priselac, studios manager for the attraction.
Madame Tussauds visitors have consistently made Bieber their No. 1 poll choice to be added to the attraction since it opened two years ago, said Todd Andrus, regional head of marketing for the Southeast U.S. for Merlin Entertainments Group, who operates Madame Tussauds.
[ult_buttons btn_title="BUY TICKETS" btn_link="url:https%3A%2F%2Fwww.orlandoattractions.com%2Forlandoattractiontickets%2F|title:Book%20Now|target:%20_blank|" btn_title_color="#ffffff" btn_bg_color="#e524c2″ btn_hover="ubtn-top-bg" btn_bg_color_hover="#c0f1f7″ btn_title_color_hover="#358ee8″ icon="none" icon_size="32″ btn_icon_pos="ubtn-sep-icon-at-left" btn_border_style="solid" btn_color_border="#d023e0″ btn_color_border_hover="#26b9de" btn_border_size="1″ btn_radius="5″ btn_font_family="font_family:Nunito|font_call:Nunito|variant:700″ btn_font_style="font-weight:700;"]
Worldwide, there are 11 wax Biebers in Madame Tussauds attractions. The model revealed in Orlando is the first of its kind. Other figures of Bieber, now 23, have him as a floppy-haired teen and in a "wet and shirtless" look.
"We decided this one with this outfit, with more semblance of what he wears on tour, was the best option," Andrus said.
Bieber topped the Billboard singles chart with three consecutive singles in 2015 ("What Do You Mean?" "Love Yourself" and "Sorry"), has had recent success with "featuring" roles. He's part of "Despacito" (by Luis Fonsi and Daddy Yankee) and "I'm the One" by DJ Khaled, the No. 1 and No. 2 songs on the current Billboard Hot 100 chart.
Teen and twentysomething fans have been lining up to get a close-up look at the figure. Some raise the shirt to inspect the tatted-up abs meaning all the attention to detail will be appreciated!
"I can expect that there's going to be a lot of love to him, but we're going to make sure that he looks perfect every day," Priselac said.
It took artists 6 months to create the new figure, including the sculpting of the figure's clay head, the insertion of thousands of individual hairs and the reproduction of those tattoos, Tussauds says.
Among the other singers already installed at the popular I- Drive location are Beyonce, Rihanna, Pitbull, Madonna, Miley Cyrus, Ricky Martin, Katy Perry, Michael Jackson and Elvis Presley.