Florida. The word fires off images of sun, sand, palm trees, and crystal clear water. But it is so much more. To explore authentic Florida fun, visit Polk County. Home to fabled architecture, a singing tower, and the living story of a daredevil sport that continues to evolve, Central Florida's Polk County is the perfect mix of local flavor for your vacation – especially if you like citrus. You'll quickly learn why we're Florida's Sweetest Spot.
From the breathtaking Guggenheim Museum in New York City to the world-renowned Fallingwater – a home built over a waterfall – fabled architect Frank Lloyd Wright's legacy continues today. To explore the largest one-site collection of the architect's work in the world, you must come to his "College of Tomorrow," Florida Southern College in Lakeland. You'll have plenty of company when you visit – the still-thriving college remains a must-see stop for architects and enthusiasts from around the world. Tour options include self-guided tours, guided tours, or a favorite of the locals, a tour at dusk.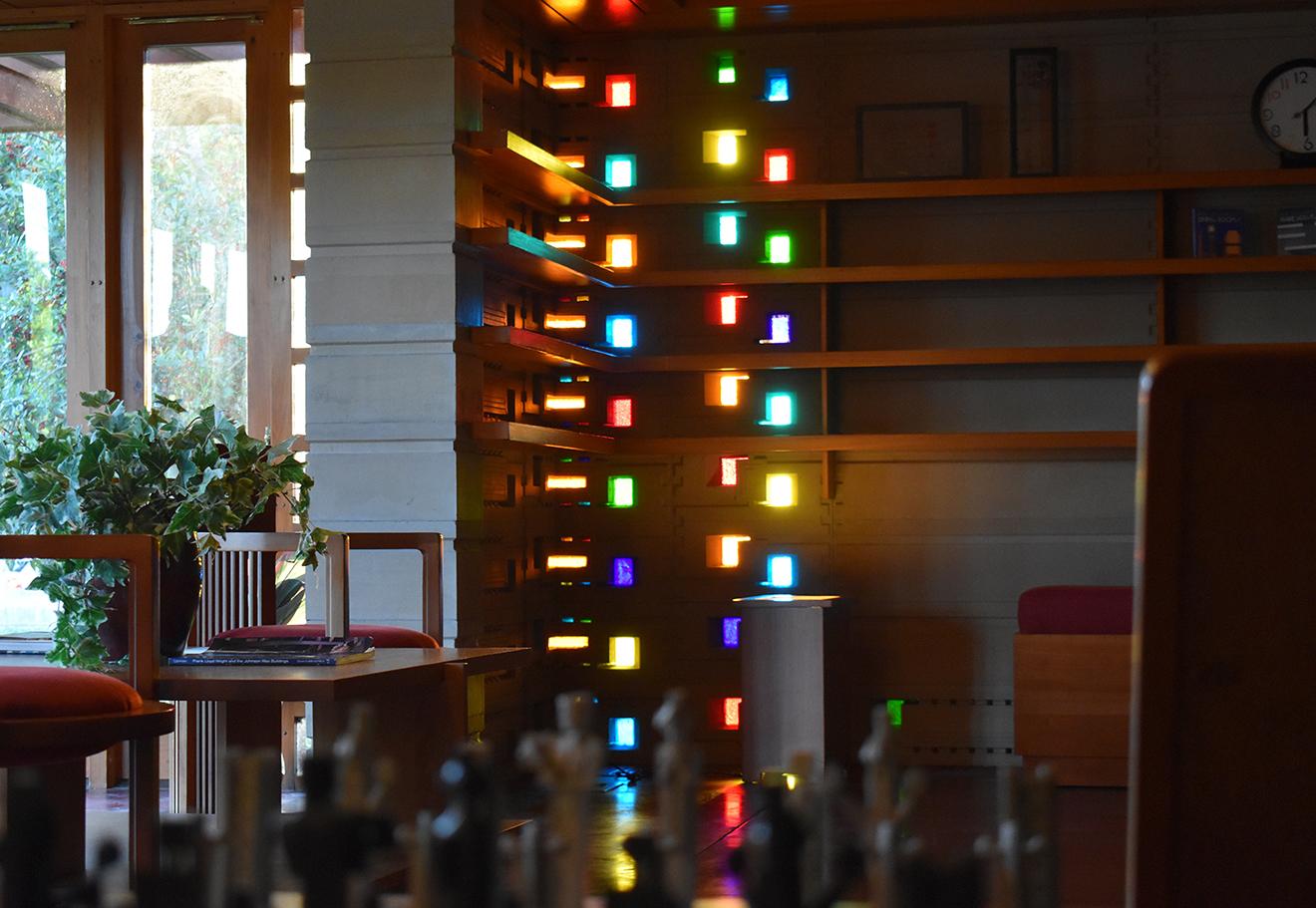 Envisioning the campus rising out of the ground and inspired by his walks through the orange groves that then surrounded the campus, Wright dubbed it the "Child of the Sun." Even the buildings themselves reflect their surroundings since they were constructed of concrete blocks with native sands and shells added. Inside the buildings, arrays of kaleidoscopic beams of light gleam from the walls themselves, thanks to the square pieces of glass embedded in the blocks.
The crown jewel of the campus is the Annie Pfeiffer Chapel. Finished in 1941 thanks to student labor, the chapel is designed to seat 1,000 people no more than 50 feet from the pulpit. Natural light flows into the building from all angles, and the steel construction on top of the tower allows the chimes to resonate throughout campus.
Just over 30 miles away, the music from another tower echoes through the hills. Hills? That's right! ANother way to enjoy authentic Florida fun. Built upon Iron Mountain, one of the highest points in peninsular Florida, you'll discover Bok Tower Gardens. Situated upon the Lake Wales Ridge – a 150-mile white sand ridge that runs south to north in the middle of the state – this is as close as the Sunshine State comes to mountains. Towering an additional 200 feet above the Central Florida landscape, Bok Tower Gardens opened in 1929. Once no more than a sandy spit of land, this lush 250-acre tropical landscape is both a contemplative garden as well as a bird sanctuary. And in the middle of it all is the world-famous art deco and neo-Gothic legend, Bok Tower, one of the world's largest musical instruments. Inside the tower is a carillon – an instrument comprised of a series of bells played by a keyboard.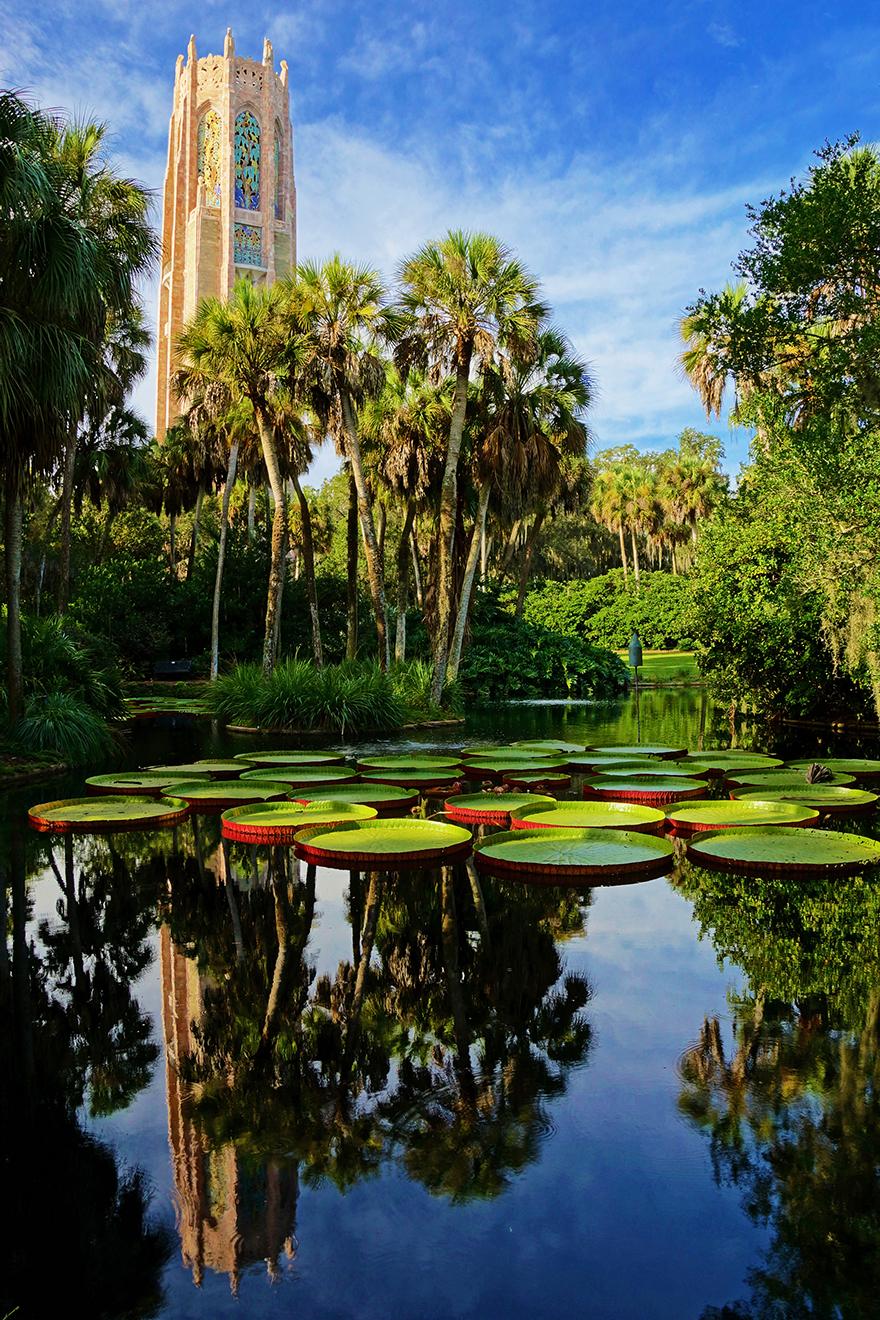 A recent addition to the grounds, Hammock Hollow, has turned 2.7 acres of that area into a childhood delight. With nearly 20 different elements wrapped into the experience, from water features to a stage and space to perform, there is plenty for both the young and the young-at-heart to stay busy. Not long after walking through the child-sized Gateway arch, stone mosaics of different animals greet the young adventurers on their way to the irresistible Indigo Pass. A giant, inky-black snake sculpture, perfect for climbing, surrounds a sand play area. Just steps away, a ledge complete with nooks and crannies leads to the River Walk, where cooling sprays of water from fountains, jets, misters, and foggers help refresh the explorers.
Creative outlets are also incorporated, including the Sabal Stage, complete with different costumes available for play and performances, as well as an art station, tuned instruments including a giant xylophone, and even a fairy house.
History in Polk County isn't just museums and towers. Sometimes, it is all wet.
Blessed with 554 lakes, water activities have been a way of life here for decades. But one reigns over all the others, water skiing. In fact, Polk County is renowned as the Water Ski Capital of the World, a title first earned during World War II when impromptu shows entertained soldiers at the state's first theme park, Cypress Gardens in Winter Haven. Hollywood soon followed, and Cypress Gardens and water skiing were co-stars in movies and television shows around the world, which in turn drew even more athletes to Polk County's 550-plus lakes.
Today, LEGOLAND Florida Resort has replaced Cypress Gardens, but the shows – albeit LEGO-themed – continue. Additionally, many of the experts who once performed at Cypress Gardens now teach their various disciplines at private water ski schools throughout Polk County. Talk about original, authentic Florida fun!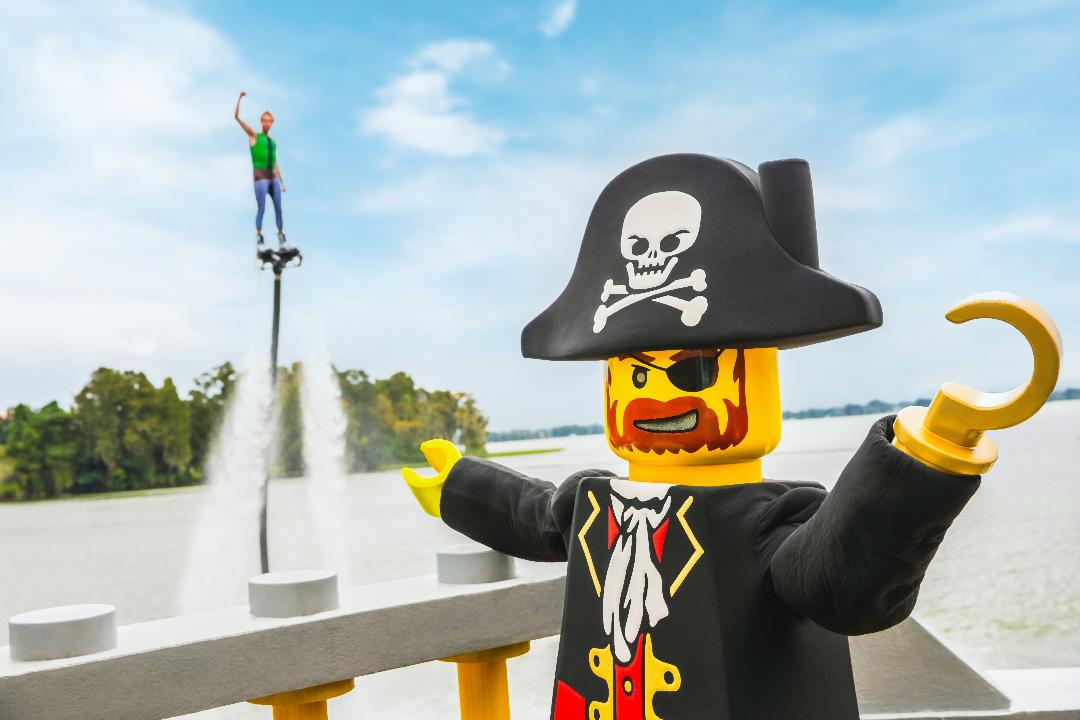 In fact, visitors to Central Florida don't even need a boat to try the sport. Both wakeboarders and water skiers slice through the rippling waters of Lake Myrtle in Auburndale at the Elite Cable Park, pulled by a series of overhead cables. Think of it like a ski lift, minus the lift and – this being Florida – the snow. Participants simply grab onto the handle and hold on, enjoying all the action of wakeboarding or water skiing, complete with ramps and obstacles if they so choose.
The Elite Cable Park also features a Get Up Guarantee program, designed so new riders can take advantage of a one-on-one learning session with a staff member, ensuring beginners get to enjoy all the fun this water sport and cable park have to offer.
Just up the street from the Elite Cable Park inside the Central Florida Visitor Information Center is the USA Water Ski and Wake Sports Foundation Hall of Fame. An interactive, living memorial to the water-based daredevils, you'll find everything from a pair of skis – really, more like planks – used by the sport's inventor, Ralph Samuelson, nearly 100 years ago. From there, you can follow the progression of the sport from those halcyon days through to today's nine different disciplines, including show skiing, wakeboarding, barefooting, and more. You'll also find more information on things to do in Central Florida as well as discount tickets to various attractions.
And, being Florida's Sweetest Spot, you can enjoy a free glass of fresh, local orange juice poured by one of the local tourism experts.
For more ideas on how to enjoy your authentic Florida fun in Polk County, see the listings in this guide or check the website, VisitCentralFlorida.org.