Orlando Attractions Update – Walt Disney World previewed its  show created  for Disney's Animal Kingdom — and then announced another show for the theme park based on "The Jungle Book" late Tuesday night.
"Jungle Book: Alive With Magic" production will take advantage of the popularity of the new film, a photorealistic remake of the 1967 animated movie, which made $103 million at the box office on its opening weekend. It could also be seen as filling a gap in the Animal Kingdom schedule. "Rivers of Light" originally was planned to debut this Friday, but Disney recently postponed the opening of the show.
The new Jungle Book show will debut Memorial Day weekend. It is a limited-time engagement, Disney officials said, although a post on the official Disney Parks Blog indicates a summer-long run.
"We're really excited about the Jungle Book," said creative executive Michael Jung. "The film is remarkable, and it's such a great fit for Disney's Animal Kingdom – the morals of the story, the idea of nature, embracing it, all of it is such a great fit."
A new premiere date for "Rivers" has not been announced.
"We try not to declare opening days for things until we're really sure we're opening them, right?" Rohde said.  "It's a challenging, technical and aesthetic thing to work on. … You want this to be beautiful, meaningful, perfect, when it's open. In our business, you're open. You open, you're open. So, we're perfecting it. It has many, many pieces that we're working to get it perfect. But that's our thing. We don't sell junk."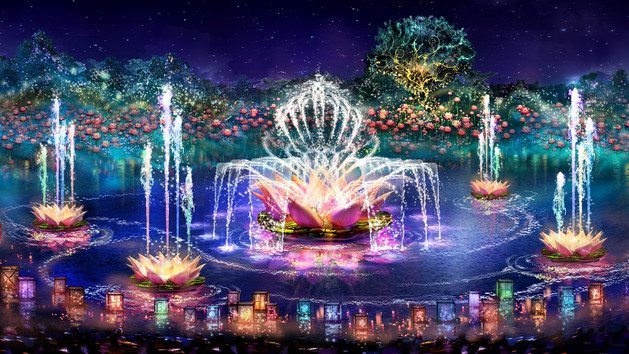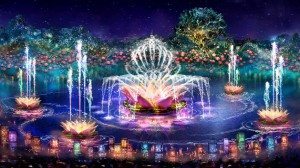 On Tuesday evening, hundreds of members of the media saw the middle segment of "Rivers of Light." It focused on giant lotus blossoms with prancing waters forming designs to a soaring, operatic, original soundtrack. Images on water screens showed birds and, at one point, a tiger jumping from blossom to blossom on the park's Discovery River.
"There's a lot more in that show. There's many, many elements in that show. It's an exceedingly complicated job to assemble and balance them with each other," Rohde said. "The grandeur of the show is fantastically more than what you saw."
Members of the media gathered for a Disney showcase also saw the Tree of Life Awakens – elaborate projections upon the park's centerpiece – and a version of the park's safari, presented in perpetual sunset mode. Those attractions, originally set to debut Friday, will now be available to guests as of Memorial Day weekend. The new offerings are designed to give Animal Kingdom some after-dark offerings and extend the amount of time visitors spend there.
The additions have been considered for some time, said Rohde, one of the masterminds behind the park, which opened in 1998. Changes in lighting technology for the savanna are making it possible in 2016, he said.
"Without that being possible, you could not pull these other triggers," he said.