Now that the kids are out of school for summer break, parents are searching for fun activities to occupy their families during these endless days of sunshine. When making a list of possible adventures for your clan this summer, here are some of the top reasons you'll want to include a visit (or several) to ZooTampa at Lowry Park and The Florida Aquarium. Have an adventure at Tampa's ZooQuarium.
Ready to explore the natural world? You bet. Eager for unforgettable natural connections? Absolutely. Because this summer is set to sizzle and be memorable for kids of all ages. Explore and connect with wildlife from around the world. Set on almost 56 acres, ZooTampa is home to more than 1000 animals. The Florida Aquarium, complete with a wetlands dome, is home to over 8,000 animals of all shapes and sizes! Whether dwelling on land or sea, your family can observe more than hundreds and hundreds of different species of animals in carefully designed naturalistic habitats.
From Florida panthers and manatees to American alligators and North American river otters and a variety of animals from around the globe, like sharks and sea turtles and the fan-favorite endangered African penguin, you'll have the opportunity to enjoy interactive experiences as you learn more about animals and the natural world we all share.
While you're at it, you won't want to miss Expedition Wild Africa, ZooTampa's newest safari experience. You and your family will play the role of research interns visiting Africa's Pampu Preserve as you solve clues, visit virtual research stations, and ride on board a safari truck for a behind-the-scenes look at our African elephant herd, painted dogs, white rhinos, okapis, and much more.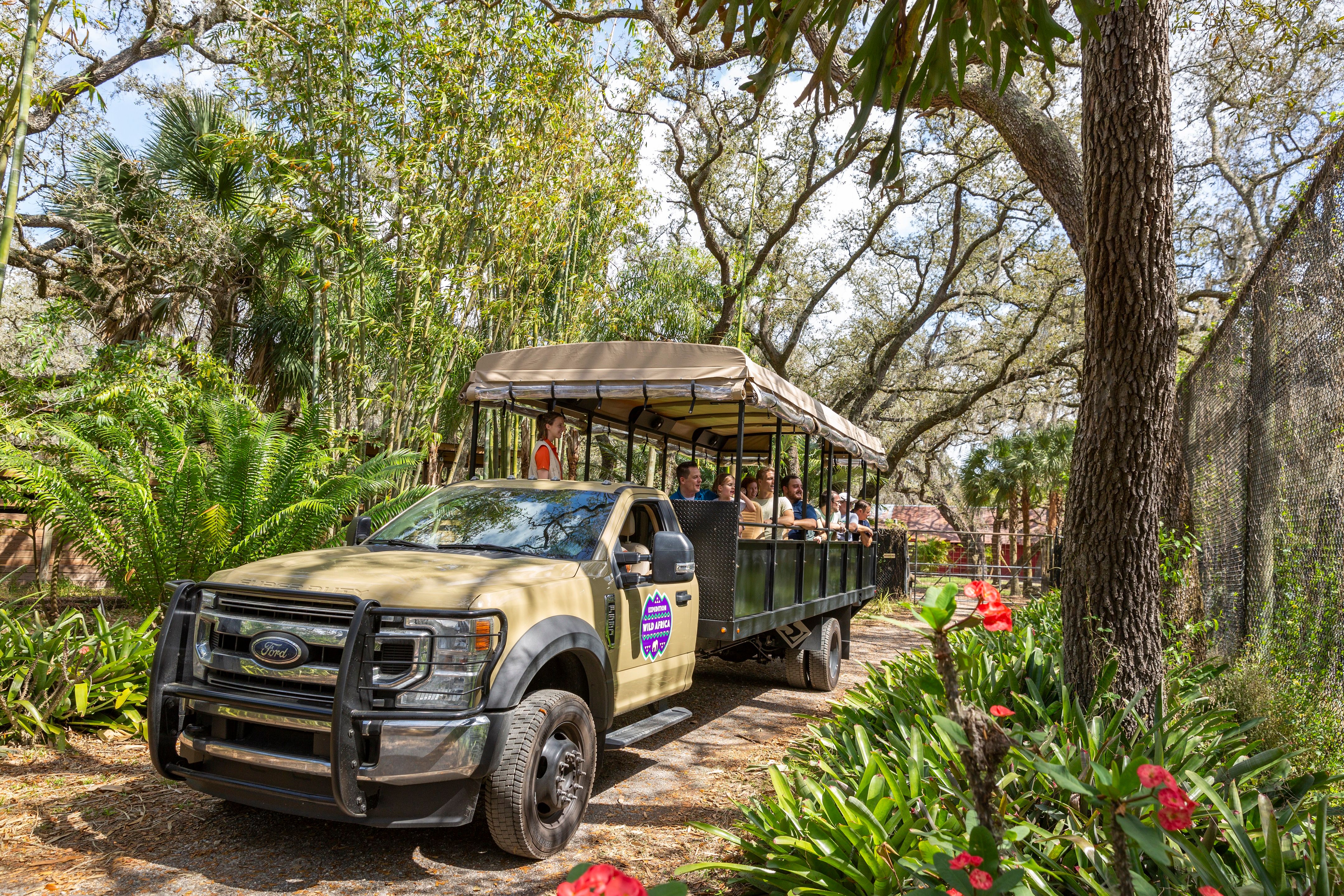 Explore the Wetlands dome, The Florida Aquarium's indoor experience, that provides adventure from tree level to sea level. The experience in the iconic 80-foot-tall glass dome is designed to take you on a journey, starting with a drop of water from one of Florida's many freshwater springs, all the way out to the open waters of the Florida Keys. Explore the free-flight aviary featuring a variety of bird species like the Roseate Spoonbill, Florida's only native pink bird while strolling the mangrove tunnel and more.
Get up-close and personal with our animal care professionals and the animals entrusted to their care. If your family wants to dive even deeper into the daily life at the Zoo, you'll have plenty of opportunities to do so. The Conservation Tails Walkabout (at 2:30 PM daily) is a 15-minute walk and talk in which you'll learn more about our rescue and rehabilitation efforts. At 11:30 AM daily your family can interact with amazing animals at Wild School of Training presentation in the ZooVenture Theater. And throughout the day you'll have the chance to visit our state-of-the-art David A. Straz, Jr. Manatee Critical Care Center in which we've cared for more than 500 injured, sick, and orphaned manatees with the majority returned to Florida waters. We are currently home to 22 Florida manatees, including the latest patient, a 63-pound female baby manatee rescue.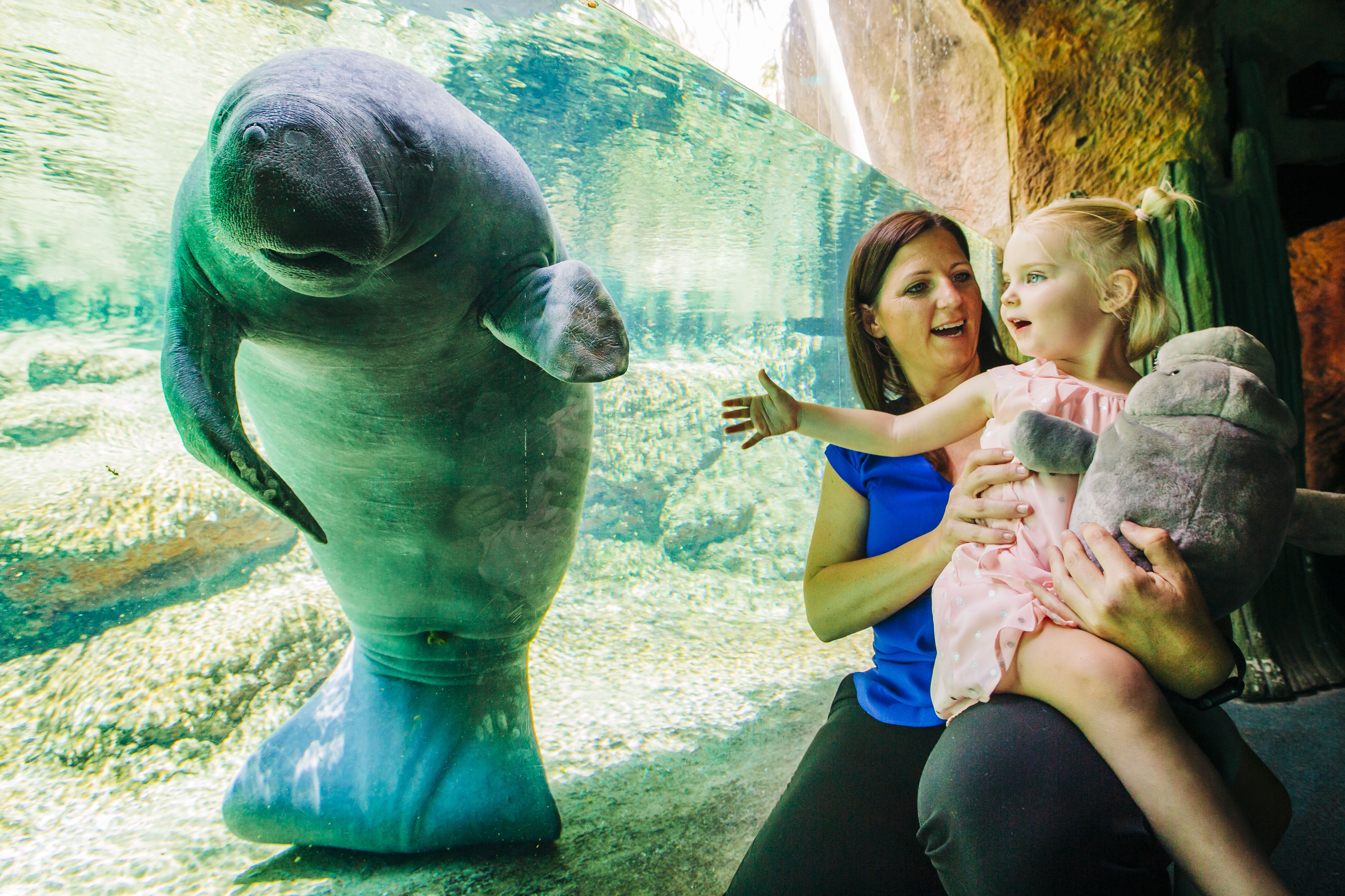 Biologists and educators from The Florida Aquarium engage daily with guests along pathways to educate visitors about behavior, healthcare, natural history, and conservation efforts. Meet and greets opportunities include reptiles, amphibians, insects, and mammals like a two-toed sloth. The schedule varies, so guests will want to make a day of it! And, you won't want to miss the Aquarium's regular penguin waddle!
You'll also want to take the time to upgrade your day of adventure with tons of encounters! At ZooTampa, don't miss the Secrets of the Zoo Backstage Encounter to our Sloth Photo Encounter, or our unique Southern White Rhino Experience, you can secure the opportunity for your family to connect with amazing animals in a whole new way. A backstage pass at The Florida Aquarium allows your family to engage with our colony of African penguins and see the inner workings of world-class animal care, water quality lab, and more during a behind-the-scenes tour. And, returning soon will be the Aquarium's "swim with" Programs. Dream of swimming with sharks?!
Take spectacular selfies and preserve family memories. Speaking of photos, selfies and other photo ops abound at ZooTampa and The Florida Aquarium. Snap a picture of the Zoo's flock of colorful macaws during our famous Macaw Flyover. Pose in front of the Aquarium's 500,000-gallon coral reef habitat with a panoramic window featuring sharks, sea turtles, giant Atlantic stingrays, and hundreds of reef-dwelling fish. Capture the moment when small fingers touch a stingray at the Stingray Bay experience.
Take a selfie with a variety of birds in the main free-flight aviaries. Get a group shot with beautiful lorikeets in Lorikeet Landing at the Zoo or with one of the Aquarium's lovable mascots –Rocky and Tango. Preserve the smiles of the kids as they cool off at water play areas. Wherever your ZooQuarium journey takes you, you'll find gorgeous landscapes and fascinating animals to photograph.
Indulge your inner foodie at ZooTampa and refuel between all of the excitement at our various dining experiences. We invite you to dine on family food favorites. Whether your family needs a quick snack break or is searching for a full lunch or an early dinner, you'll find loads of dining options at ZooTampa. With a wide variety of restaurants and cuisines throughout our campus, there's definitely something for everyone. A few highlights: Macaws Landing Café is perfect if you're craving burgers or sandwiches and fries, while Boomers Café is the place to go if your kids want personal pizzas or chicken fingers. You'll find wings and pizza by the slice at Safari Pizza Co. Or stop by Tamanis for smoked chicken, ribs, and sides.
Café Ray, Corona Cove, and Sandy's Snack Shack make nibbling, hydrating, and dining an easy and affordable respite from the excitement of your Aquarium visit. Plus, the proximity to Sparkman Wharf provides Aquarium goers with even more gourmet dining options!
Get your adrenaline pumping on ZooTampa's most thrilling rides! On the Roaring Springs family water adventure presented by Pinch a Penny, you and your family will enjoy a leisurely boat ride along a flowing stream before a sudden three-story plunge and spectacular splashdown. Thrill-seekers can follow this up with a ride onboard the Tasmanian Tiger Coaster or Boomer's Flyin' Bananas in Wallaroo Station. We also have rides for less adventurous family members as well. Our newly renovated carousel and the Overland Express Train – both located in Wallaroo Station — are ideal for kids of all ages.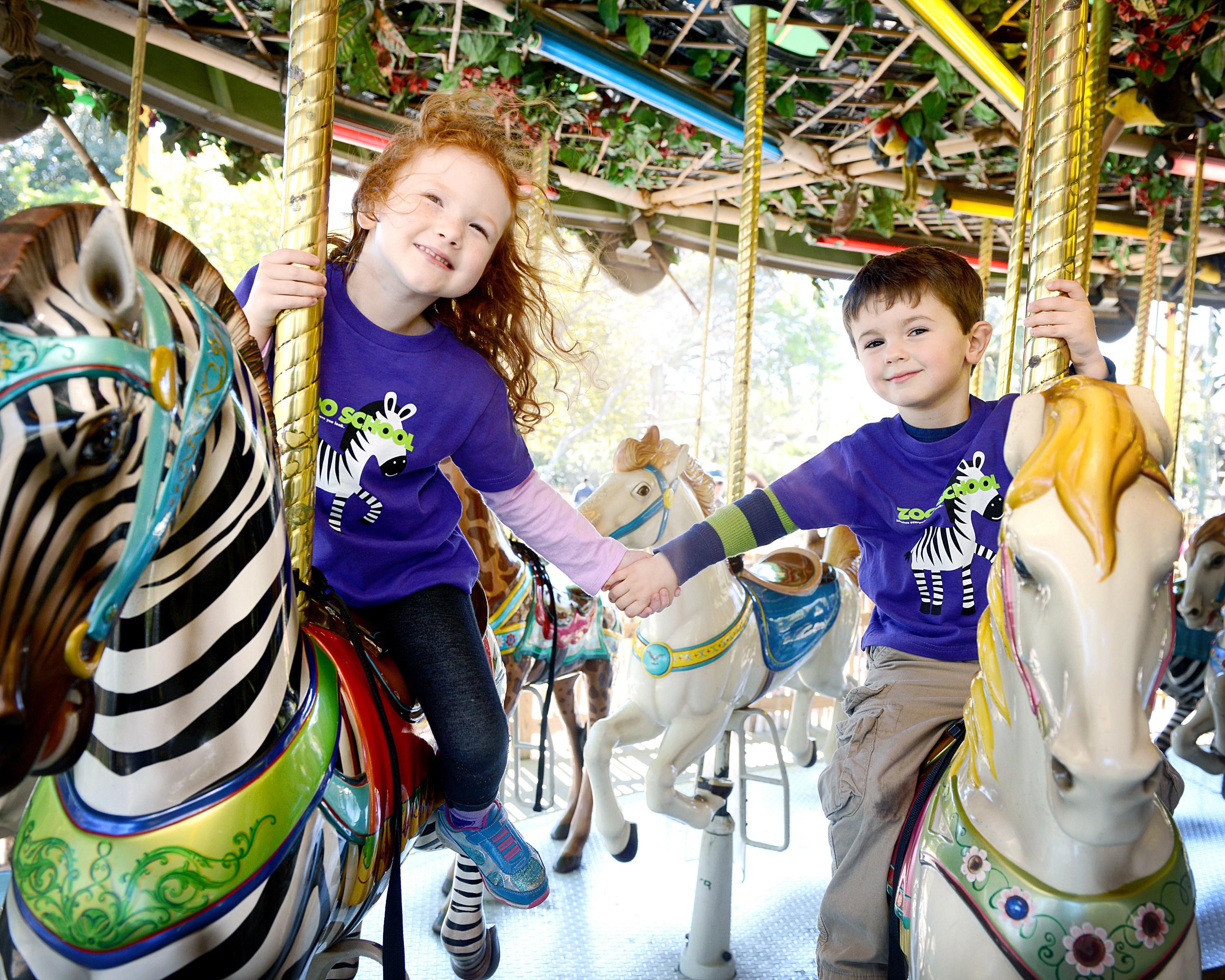 Or simply relax enjoying the Wild Dolphin Cruise from the wharf at The Florida Aquarium. This 75-minute cruise experience aboard the 72-foot catamaran, Bay Spirit II, gets visitors out on the waters of Tampa Bay. An experienced naturalist serves as your guide as you explore the natural beauty of the bay. Keep your eyes out for the variety of wildlife that calls this incredible ecosystem home, including bottlenose dolphins and countless native bird species.
Can you sense the wildlife excitement in the air? There's plenty of fun for the whole family at ZooTampa and The Florida Aquarium this summer! So be sure to plan your adventures at Tampa's ZooQuarium today!