When it comes to the heart of Florida, most potential visitors think of theme parks – and the long lines that come with them. Why not mix in a visit to a one-of-a-kind nature reserve, an open-air safari suitable for the African plains, breathtaking, cutting-edge architecture, some time on the water, or a singing tower? Welcome to Central Florida's Polk County, where you can enjoy the best of the Sunshine State while leaving the rest behind.
Reptilian Rock Stars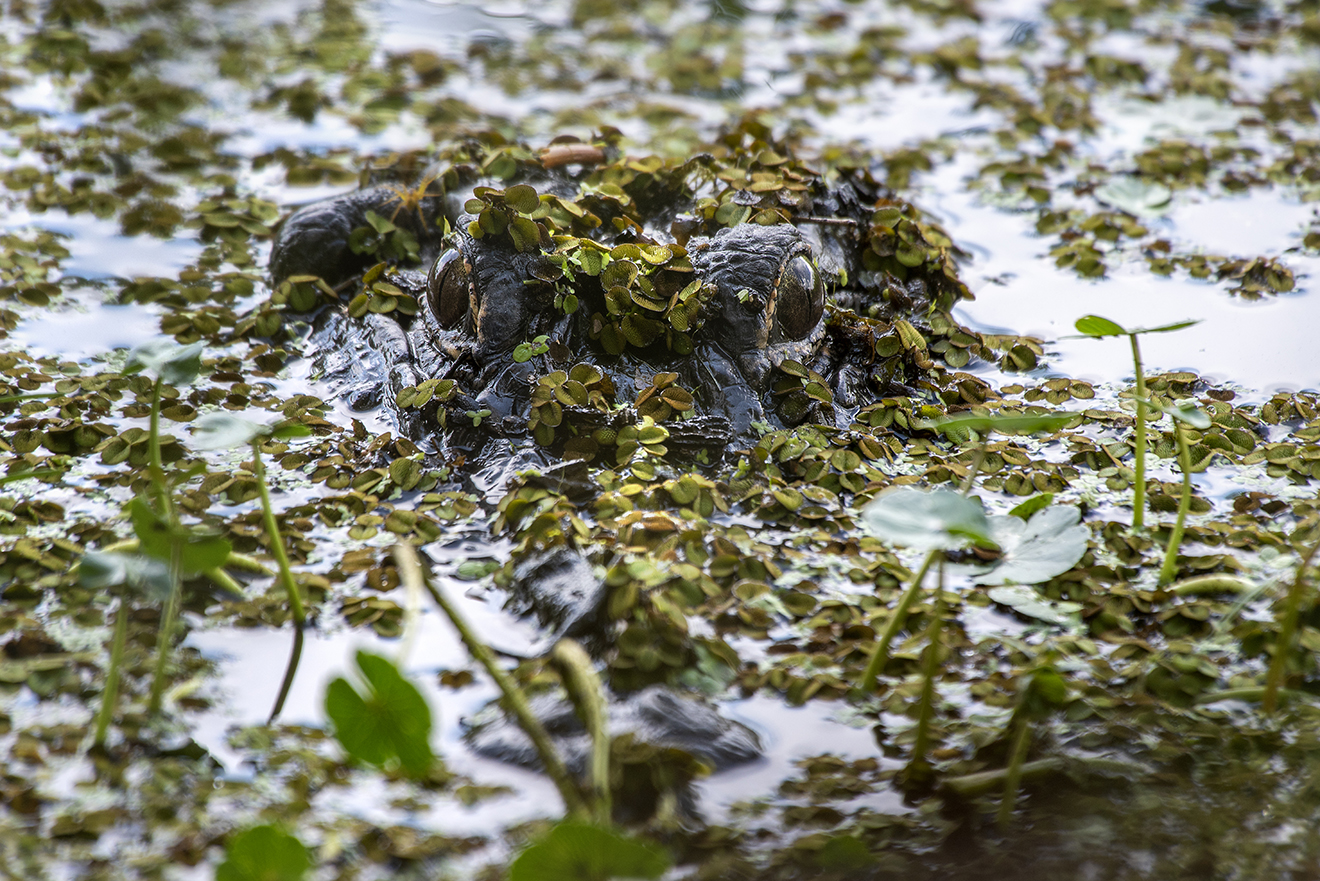 If the state's most popular reptile is on your must-see list, the world-renowned Circle B Bar Reserve, often listed as one of the top nature reserves in the United States, is the place. Comprised of nearly 1,300 acres, Circle B may be the top spot in the nation to observe alligators in the wild. While there are numerous trails, the most popular trail in the park is, without a doubt, Alligator Alley Trail.
Running along alligator-inhabited Lake Hancock, you can watch the star attractions at a safe distance from shore or from a number of piers. Ranging in size from mere inches to nearly as long as your average hatchback car, the alligators are at home in the oak hammock, freshwater marsh, hardwood swamp, and the lakeshore of the reserve.
With all the alligators around, it's the perfect place to bring a camera or smartphone – but don't miss out on everything else around you. Circle B Bar Reserve, with a series of well-maintained marked trails of different lengths, provides countless opportunities for photographers or painters looking to capture the beauty of nature, especially the large variety of wading birds, waterfowl, ospreys, and bald eagles.
No matter your fitness level – or how hot it is – there is a trail that will be just the right length for you. The extensive trail system includes the Shady Oak Trail (2 Kilometers), Lost Bridge Trail (0.8 Kilometers); Alligator Alley (1.6 Kilometers); Marsh Rabbit Run (1.1 Kilometers); Heron Hideout (0.8 Kilometers), Eagle Roost (1.1 Kilometers), Wading Bird Way 1.1 Kilometers, Windmill Whisper (.64 Kilometers) and the Otter Trail (.32 Kilometers). Many of the trails interconnect to provide longer hiking or biking opportunities.
A Bit of Africa in Central Florida
Tucked away down a winding road seemingly in the middle of nowhere, scrub pine, and palmettos transform into wide open spaces, where the fairly flat topography and miles of lush fields are only broken up by the occasional bush or tree. This isn't the sand-and-surf that most think of as Florida. This is "cracker country," so named after the distinctive sound the Spanish vaqueros whips would make when herding cattle in 19th-century Florida.
Today, it is the perfect veld-like setting for Safari Wilderness, an African safari-type experience in Central Florida's Polk County. Here, cattle still roam: mind you, it is Watusi, the African version of the longhorn, known for its distinctive upright horns that can reach eight feet long.
Opened in 2012, the ranch – a 260-acre expanse – is not a zoo. Here, the animals roam freely, grazing and interacting with each other much like they would at home in Africa or Asia; eland, water buffalo, and antelope mingle with zebras and Watusi cattle, while lemurs dance away on an island in the middle of it all. There are even breeds here that you can no longer find in Africa, such as the scimitar-horned oryx. Extinct where they originated, this type of antelope thrives in game farms around the United States.
Visitors have their choice of excursion types – safari bus, all-terrain vehicle safari, kayak safari, camel expedition, and a seasonal sunset safari. Or opt to stay in your own vehicle for a guided drive-thru safari for SUV-sized vehicles or smaller – motorcycles or commercial vehicles are not allowed.
Most visitors opt for the safari bus, which offers the most shade from Florida's intense sun and allows up-close encounters with wildlife from the safety of the vehicle. Many animals simply walk up to the bus, seemingly as interested to look at those on board as the passengers are looking at the wildlife.
However, don't discount the other options. On the kayak safari, you'll navigate through freshwater areas that lend themselves to close-up encounters with wetland species such as Defassa waterbuck and red lechwe. Mid-way through the kayak safari, visitors navigate to the lemur island, where they can hand feed grapes to two different species of lemurs.
There is also an interactive cheetah encounter, where professional cheetah keepers take you through the daily animal care routine, up close. Not available to drive-thru safari goes, this activity is by special request and reservation only.
Cutting-edge Architecture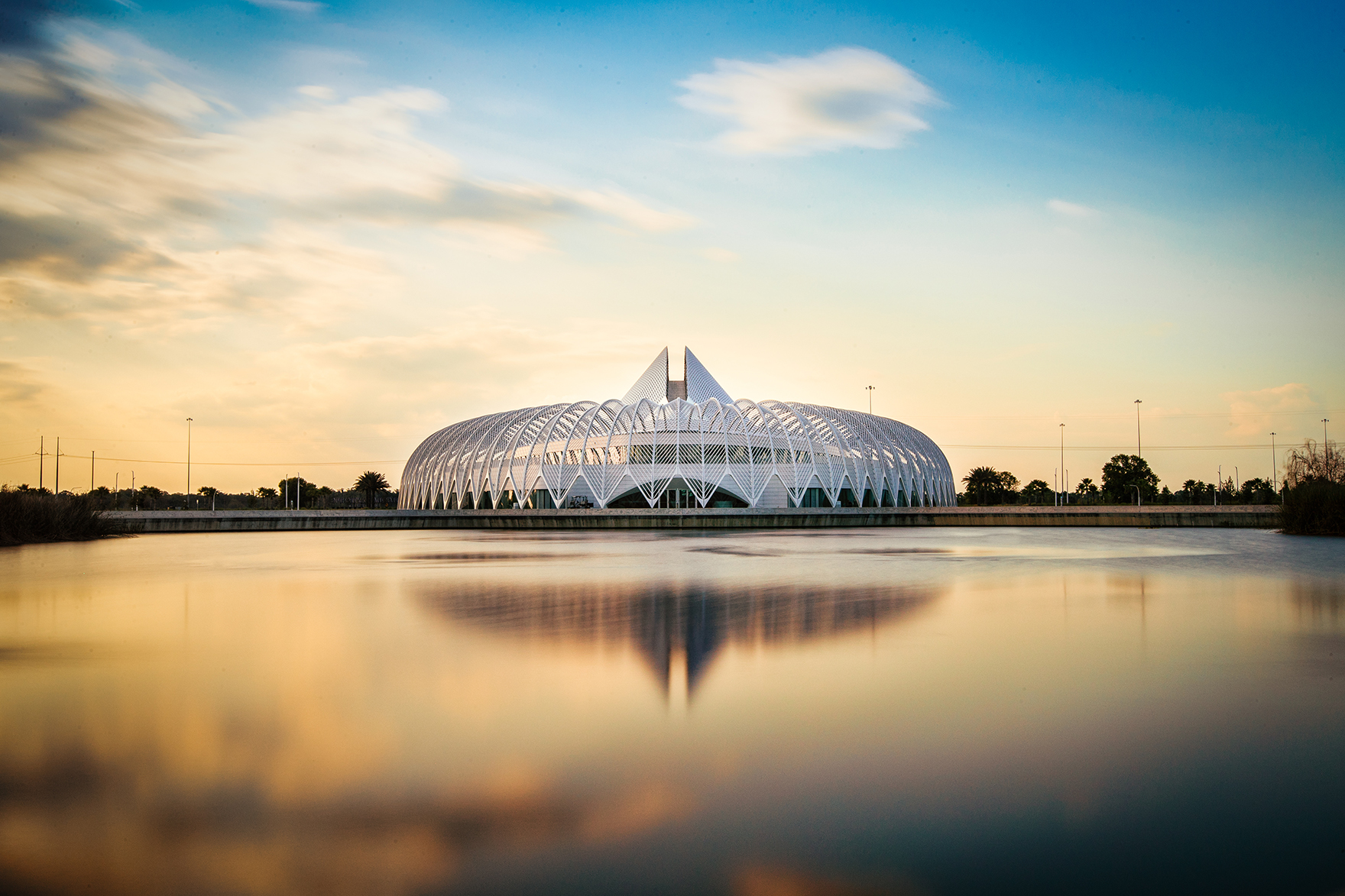 Rising up from the flat terrain outside of Lakeland – and just minutes from Safari Wilderness – is an architectural feat unlike any other in the Southeastern United States. Welcome to the grounds of Florida Polytechnic University and its signature Innovation, Science, and Technology Building designed by famed architect Santiago Calatrava. Featuring arched pergolas and operable louvers, the shape of the building actually changes during the day as the moving louvers keep the students below in the shade.
Considered a working piece of avant-garde architecture, the complex houses Florida's only state university focused on science, technology, engineering, and mathematics. A few of Calatrava's other works include the World Trade Center Transportation Hub, the Oculus, in New York City, Garde de Oriente in Portugal, Reggio Emilia AV Mediopadana in Italy, and the Museu do Amanha in Brazil, as well as the under-construction Greenwich Peninsula project in London.
The Innovation, Science, and Technology Building earned more than 20 architectural and engineering awards. For visitors, the white arcs and lines contrast nicely against Central Florida's typical blue skies, making the grounds one of the most photographed – and Instagramed – locations in the area.
The Grand Dame of Central Florida
Since we're talking about pictures, perhaps luscious gardens and sweeping vistas are more your style. If so, visit Lake Wales' world-famous 205-foot art deco and neo-Gothic legend, Bok Tower. Built upon one of the highest elevations in peninsular Florida, guests can stroll in the shadow of the tower that houses a carillon – an instrument comprised of a series of bells played by a keyboard.
Listed on the National Register of Historic Places, Bok Tower Gardens is the lasting work of Edward Bok, a Dutch immigrant. Bok, a journalist by trade, won the Pulitzer Prize in 1920 for his autobiography. Before that, Bok rose to fame and influence as the editor of "The Ladies' Home Journal," which, under his leadership, became the first magazine in the world with one million subscribers.
The Boks commissioned Frederick Law Olmsted Jr. – the son of the man who designed Central Park in New York City – to design the gardens while architect Milton B. Medary designed the tower. Opening more than five years later, Bok Tower Gardens were dedicated by then-President Calvin Coolidge in 1929. Built on Iron Mountain, what was once a desolate sand hill was transformed into a 250-acre lush tropical landscape that is both a contemplative garden as well as a bird sanctuary.
A recent addition to the grounds is Hammock Hollow Children's Garden, 2.7 acres of childhood delight featuring water areas, bridges, tunnels, and an indigo snake-sculptured sandbox. Not far away are areas for kids to climb logs, an outdoor stage area, art and music zones, and even a working hand-pumped well.
Also on the grounds is the recently re-opened enchanting 20-room Mediterranean-style mansion, "El Retiro." A visit transports you back in time to the 1930s when the home was built for Charles Austin Buck, a Bethlehem Steel executive. El Retiro was added to the National Register of Historic Places in 1985 to preserve this architectural, cultural, and historic landmark.
The Legend Continues
If you would rather scare up a little bit of Old Florida, go out to Spook Hill in Lake Wales. Legend has it that the hills are the site of a battle between a giant alligator and a Native American chieftain. Years later, riders using the old trail around the lake discovered their horses laboring when traveling what appeared to be a downhill route. With the advent of the automobile, residents found that their cars defied gravity and seemed to roll uphill by themselves. Could it be the ancient ghost of the chief?
A favorite of both locals and tourists for generations, Spook Hills is part of a phenomenon known as mystery hills or gravity hills. While various similar sites are located around the world, Spook Hill is the only one of its kind in Florida. And after you are done rolling uphill, locals know to stick around and watch the reaction of others – that's at least half the fun.
If you're looking for water activities in Central Florida, consider visiting Winter Haven and its surrounding cities. With more than 4,000 acres of water, many lakes are connected through a canal system known locally as The Chain.
Here is a guide to water activities on The Chain and beyond.
• The Living Water Boat Cruise: Book a scenic tour of Winter Haven's Chain of Lakes with The Living Water Boat Cruises, (863) 268-0577. Watch LEGOLAND Florida Resort's water ski show from a boat, or take a sunset cruise and enjoy a lakeside dinner at one of our most popular restaurants, Harborside.
• Paddleboard Tours: Paddleboard Winter Haven, (863) 845-5307, offers private paddleboard parties, corporate "board" meetings, paddleboard adventure trips, and Paddlefit workouts
• Winter Haven Watersports: Learn to water ski, tube with friends, ride jet skis, rent a pontoon boat, or go paddle boarding at Winter Haven WaterSports, (863) 293-2753.
• Kayak Rental: Rent kayaks from Off the Chain Kayak Company, (863) 225-0934, and explore Winter Haven's Chain of Lakes. OTC offers drop-off and pick-kayak service, so you can kayak on the lake closest to your hotel or vacation rental home.
So take a few days and see why natives call Polk County Florida's Sweetest Spot. For more Central Florida vacation ideas, visit www.VisitCentralFlorida.org.