On International Drive, we're all about treating yourself to the sweeter things in life. Since February is love month, and everyone loves a sweet treat, we're giving you a quick rundown on some of the sweetest spots to get a sweet treat on I-Drive!
1. Tapa Toro Orlando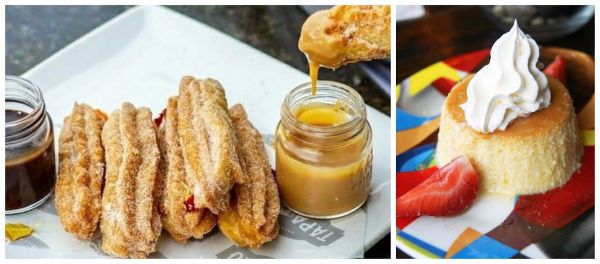 What's sweeter than a dessert that transports you to Spain? Boasting the flavors of Spain, Tapa Toro Orlando offers delicious dessert options like classic flan, rich chocolate lava cake, and a refreshing Catalan cream, which consists of orange creme brulee, fresh mint, sugar, and of course, no dessert menu is truly complete without churros – a fan favorite at Tapa Toro Orlando.
A popular weekend brunch spot for both locals and visitors to the I-Drive area, Tapa Toro also has a special Churro Sunday Funday that is a must-try dessert next time you stop by for the most important meal of the day. Enjoy vanilla, chocolate, and salted caramel ice cream, brownie bites, churros, whipped cream, chocolate drizzle, and a heath topping – your sweet tooth will thank you.
2. BJ's Brewhouse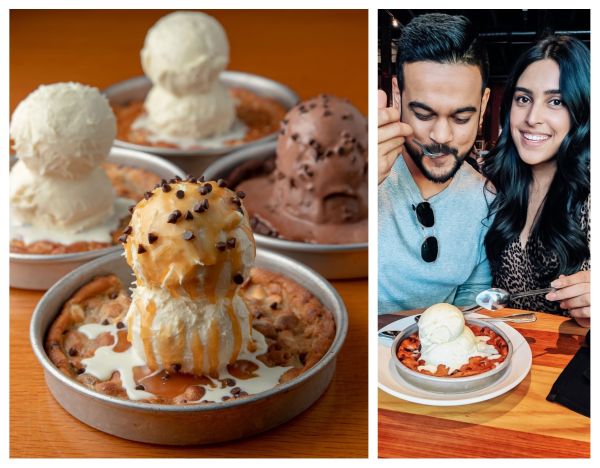 If we're being honest, any occasion, or no occasion at all – a pizookie is always the perfect sweet treat.
A popular dining choice by many while visiting I-Drive, BJ's Brewhouse is known for its huge menu, boasting over 120 menu items. With all of those food options, they also have 50 craft beers to choose from, so whatever you're craving – they've got you covered. The only real struggle when dining at BJ's Brewhouse is remembering to save room for their famous Pizookie dessert!
Peanut butter, sugar cookie, white chocolate macadamia nut, chocolate, triple chocolate, salted caramel, cookies and cream, monkey bread, fudge brownie, strawberry shortcake… and that's just a few of the flavors you'll have to choose from; but one thing is for sure, whatever pizookie you decide to order – it will hit all the spots.
3. Cooper's Hawk Winery

If you think, "sweet treat" and immediately think, "wine and chocolate", Cooper's Hawk is your sweet spot on I-Drive.
Aside from being one of the country's largest wine clubs, Cooper's Hawk is known for combining drool-worthy seasonally inspired dishes with award-winning, handcrafted wines; and when it comes to dessert, you'll be equally impressed.
First and foremost, we have to mention their "Cooper's Hawk Favorite" dessert, the S'more Budino; caramel custard with Valrhona chocolate mousse and brown-butter toasted graham cracker.
But, they've got tons of other delicious dessert options, ranging from Key Lime Pie, chocolate cake and chocolate tortes to various truffles, creme brulee, and even Reese's ice cream – they've got something to appeal to any sweet craving. And of course, we have to mention their wine and chocolate option that includes truffles paired with a fight of three sweet wines… because everything is better with wine. Or if you're really feeling frisky, order up one of their espresso or chocolate martinis that are so good you won't be able to take your lips off of them.
4. Sugar Factory Orlando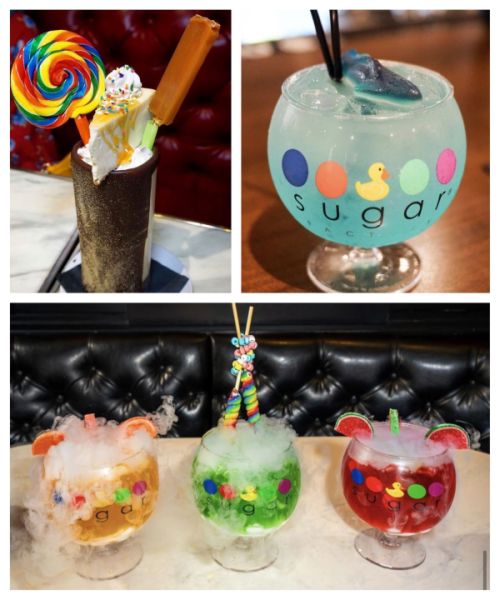 When trying to decide the sweetest spots on I-Drive, Sugar Factory was an obvious choice. Their menu is bursting with creative concoctions that contain your favorite sweet indulgences.
So, take a step back in time when you were a sugar craved child – when your dreams were full of pancakes, waffles, rainbow sliders, milkshakes piled high with fixings like lollipops, cotton candy, donuts, s'mores, cupcakes… that's the kind of stuff you'll find across the menu at Sugar Factory Orlando.
If you're hitting the Sugar Factory with your special someone this month, be sure to check out their various Sundae's for two, and grab a second straw to sip on one of their famous signature goblets; you and your significant other will be feeling that 'warm and fuzzy' feeling in no time.
5. We all scream for ice cream!

In Florida, ice cream is the 'unofficial' go-to dessert, because a refreshing sweet treat is the best way to celebrate an amazing day spent in the sunshine state, year-round.
Ben and Jerry's: With 3 locations along I-Drive, a scoop of one of their classic signature flavors is never far from reach. Plus, if you're looking for dairy-free ice cream options, Ben and Jerry's has their dairy-free recipes down to a delicious science.
Dairy Queen: For when you want something sweet to sip on, order up one of their famous blizzards, stock full of your favorite fixings; we're talking Butterfingers, M&Ms, Reese's Peanut Butter Cups, just to name a few.
Mr. Cool Ice Cream: Switch up your next ice cream trip with delicious, freshly rolled Thai ice cream! With over 15 different flavors to choose from and a large variety of toppings ranging from fresh, tart fruit to rich candy chunks, you'll find this is a refreshing alternative to your average ice cream shop.
February is love month, and in the name of love, we're celebrating with something sweet! Enjoy indulging in the sweeter things in life with a stop to enjoy a sweet treat on I-Drive. Wherever you end up – we're sure you'll find just the thing to hit the spot.