Scalloping in Crystal River and Citrus County is often referred to as a "Giant Underwater Easter Egg Hunt." It's easy, fun and safe for all ages. All you really need is a mask, snorkel, fins. Boat captains provide it all. All you need to bring is a good healthy appetite. A scalloping excursion offers it all!
We know we like to eat them, but what are they?
The scallops here are Bay scallops. Florida's Bay scallops are about a third of the size of a Sea scallop—the larger kind you usually see at restaurants.
Bay scallops live in seagrass beds just offshore in clear warm water about four to six feet deep.
Scallop season in Crystal River and Homosassa begins on July 1 and runs until late September.
Our Guide to Adventure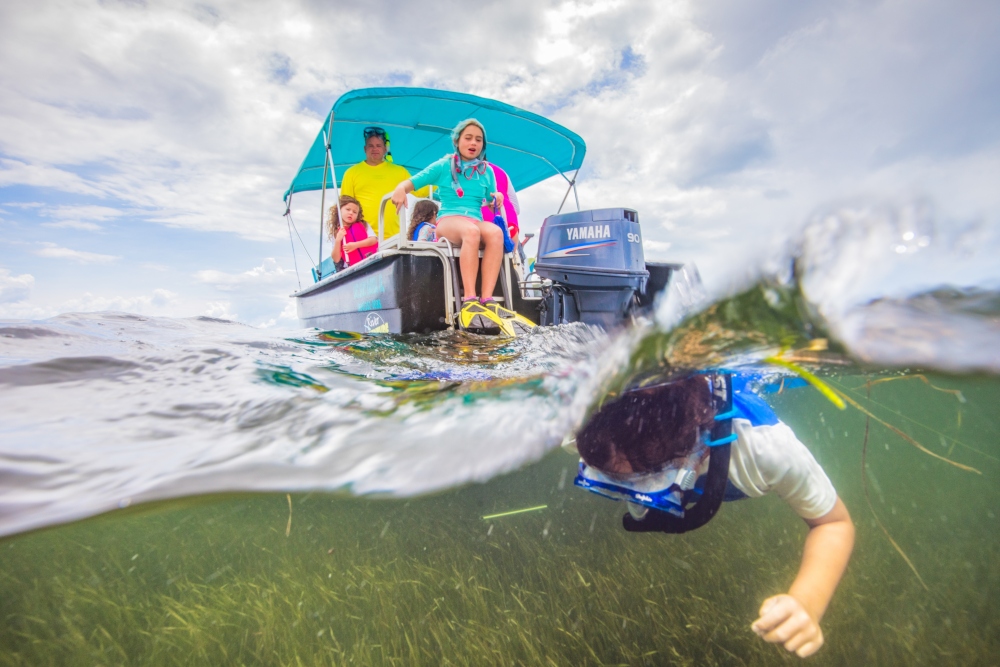 Tour operators and many dive shops offer scalloping excursions throughout the season. Licensed guides bring along all you need for your adventure including masks, snorkels, fins and handy mesh bags for keeping your catch from getting away. (If you are going out on your own, remember, you'll need to get a saltwater fishing license for each person who is scalloping.)
Getting out to the area where the scallops are is fun in itself. Our guide seems to enjoy the tour as much as us. He points out manatees and elegant waterfront homes in Kings Bay before we pick up speed and head toward the open water of the Gulf of Mexico six miles away. A pod of dolphins escorts us part of the way, frolicking and showing off as if to say, "Why are you so interested in manatees and scallops when we're here to entertain you!"
The great thing about having a guide is they know where the scallops are. When we reach "the spot" a mile or two offshore, our Captain drops anchor and puts up the dive flag. We put on our masks, snorkel, and fins and attach small nets to our wrists. The water is a wonderfully comfortable 85 degrees (30 C) as we slip in. Are you seeing just how a scalloping excursion offers it all?
An Underwater World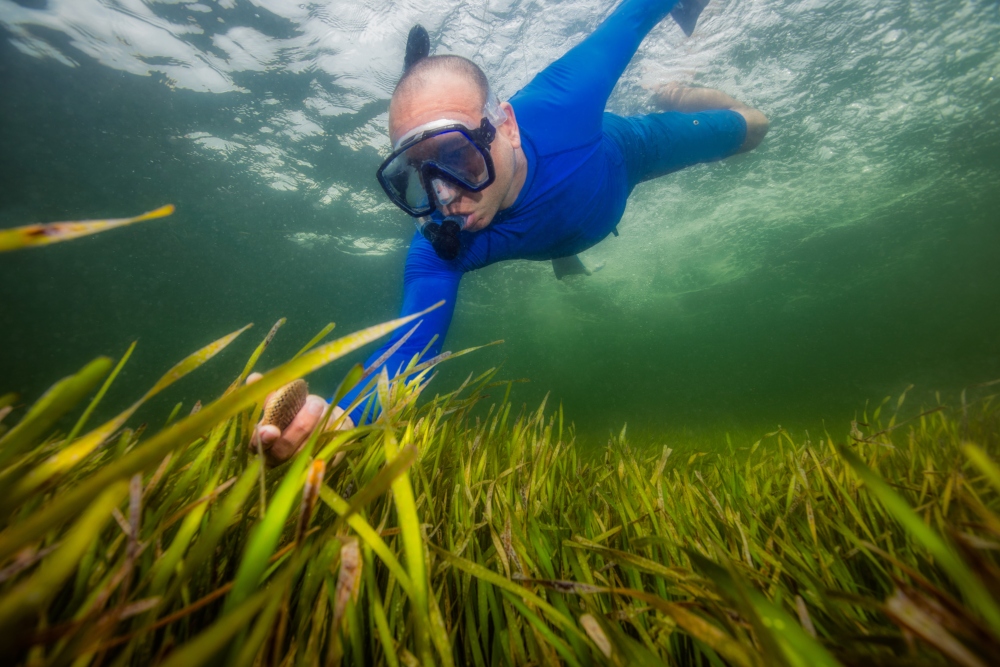 Underwater we enter into another world, one of the largest seagrass beds on the planet—Saint Martins Marsh and Big Bend Aquatic Seagrasses Preserve. It is perfect scallop habitat teeming with small tropical fish and other wonderful sea-life like sea-horses, starfish and sponges.
The scallops live in the swaying grass, barely discernable. Our Captain shows us where to look and how to dive down to scoop them up.
When we do we're in for quite a sight.
Scallops have 30 to 40 intricate electric blue eyes around the edges of their shells. Pick them up from the back of the shell. Otherwise, they may clamp down on your finger—but no worries, it doesn't hurt; it just surprises you! Should you drop one, you will notice it swims away. A scallop's abductor muscle allows it to swim by opening and closing its shell. That muscle is actually the round fleshy "scallop" you eat.
We spend a couple of hours in the serenity of the clear water spotting the scallops' deep-ridged fan-shaped shells in the swaying grass, diving the short distance down to get them, and putting them in our nets.
When we return to the boat, Our Captain puts our catch in five-gallon buckets before transferring them to ice. Scallopers are allowed to take 2 gallons of whole, in-shell bay scallops or up to 10 gallons per vessel. When we get back, "shuckers" waiting at the dock open the scallops up and clean them out while we head for the showers.
Cook your Catch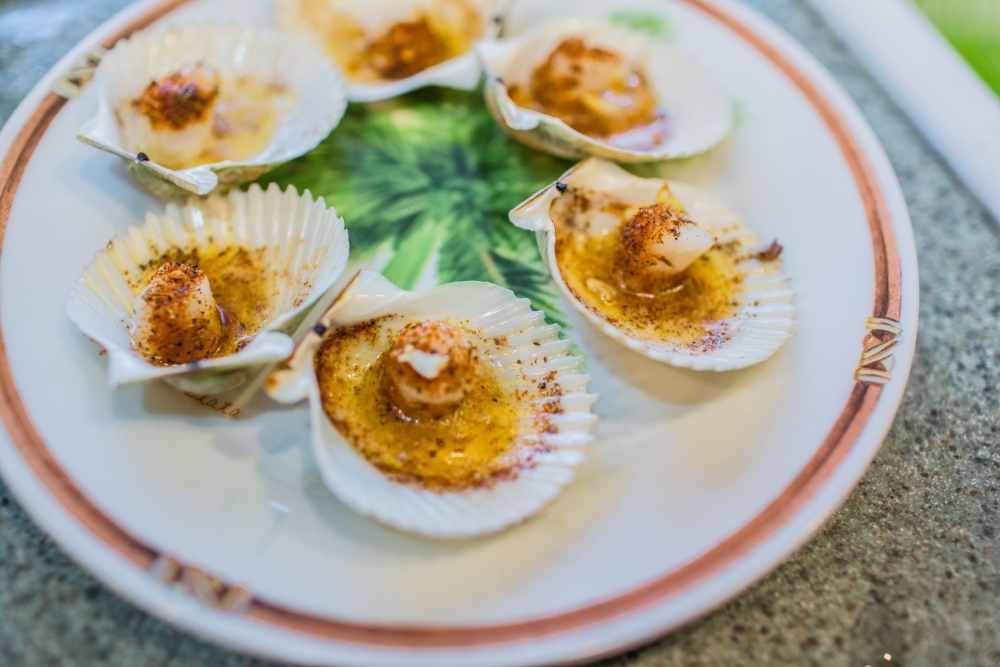 "Cook your Catch" is an old Florida tradition that has faded away in many other parts of the Sunshine State. Not here in Citrus County. The Plantation on Crystal River's West 82 Grill is one of sixteen local restaurants, including Charlies Fish House and Seafood Seller & Cafe, that still proudly prepare people's fresh-caught catch, whether scallops or fish.
Our Chef prepares our catch and presents a gorgeous, scrumptious sampling of scallops prepared in various ways—pan-seared, broiled, grilled and deep-fried.
To say his scallops were good would be an understatement!
It's a satisfying day to go out on the water, enjoy a scallop hunt and come back to enjoy the fruits of your excursion. The hospitality and tourism purveyors in Crystal River and Homosassa make it easy to do so!