Orlando's Most Dynamic Neighborhood, International Drive, offers visitors exciting attractions, full of thrilling experiences for all age groups, but if you're looking for a relaxing getaway, International Drive has plenty of ways to enjoy some chill after you've had your fill of thrills!
What's more relaxing than lounging poolside?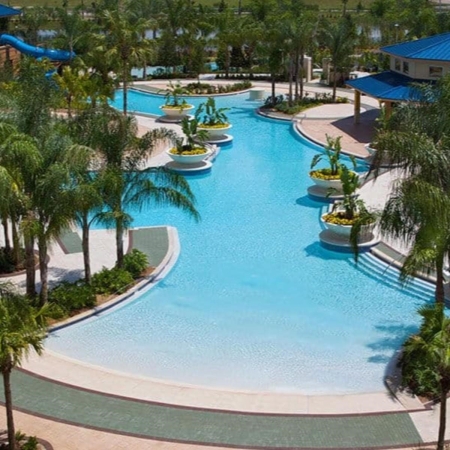 If you're looking to enjoy an Orlando vacation of sitting poolside while sipping on a refreshing cocktail, there are plenty of pools to choose from. Whether you're visiting Orlando from near or far, many hotels offer passes so you don't have to be guests to enjoy a day at the pool, making them the perfect stop for a relaxing daycation.
Beat the heat with a relaxing pool day at one of these I-Drive hotels now offering Pool Day Passes!
Aloft Orlando International Drive
5730 Central Florida Pkwy, Orlando, 407-584-0341
Cost: $20
What it includes: With this day pass you'll have access to their saltwater pool, fitness center, and their grills and patio area. You can upgrade to a $75 work pass that adds a private room from 8 am to 6 pm.
Coco Key Hotel and Water Park Resort
7400 International Dr., Orlando, 407-351-2626
Cost: $25
What it includes: This pass grants you day use to this hotel's water park, featuring over 14 water slides, in addition to a covered 54,000 square feet pool area and a poolside restaurant. This day pass comes with free Wi-Fi and access to a large arcade.
Hilton Orlando
6001 Destination Pkwy. Orlando, FL 32819, 407-313-4300
Cost: This day pass price start at $20 for adults and $10 for children ages 3 to 12.
What it includes: Enjoy access to a large pool with a winding water slide and whirlpool, an adults-only pool with a whirlpool, a kids splash pad, an 892-foot lazy river with complimentary tubes, waterfalls, fountains and water cannons, poolside food and drink service, 15% off at David's Club Bar & Grill and discounted self-parking for $25.
Hyatt Regency Orlando
9801 International Drive Orlando, FL 32819, 407-284-1234
Cost: Day pass price begins at $25 for adults. Day passes for children age 3 to 15 start at $10.
What it includes: This pass includes access to two outdoor heated pools and a winding waterslide, two whirlpools, poolside food and drink service from Coconuts Poolside Bar & Grill, rooftop tennis and complimentary self-parking.
Caribe Royale Resort
8101 World Center Dr, Orlando, 407-238-8000
Cost: $30 – $125
What it includes: Enjoy sitting in a lounge chair with a view of the waterfall at this large, resort-style pool that even boasts a water slide!
Swing the day away on the greens!

If you're looking for a relaxing day spent on the greens, head to Rosen Shingle Creek to play on their new Arnold Palmer redesigned 18-hole, par 72 championship golf course. You can also check out what they have going on at the Brad Brewer Golf Academy.
Here you'll also find a restaurant and lounge, full-service spa, fitness center, 4 pools, 2 hot tubs, nature trails, volleyball, basketball, tennis courts, an arcade and more.
Not an avid golfer? Putt Putt is relaxing too! Head to one of the many adventure mini golf courses that call I-Drive home for a relaxing afternoon spent putting around in paradise. If putting under waterfalls and through cascading caves sounds like a relaxing afternoon to you, be sure to head to one of these miniature golf locations on I-Drive:
Congo River Golf – 5901 International Dr. Orlando, FL 32819
Pirates Cove Adventure Golf – 8501 International Dr. Orlando, FL 32819
Lost Caverns Adventure Golf – 6306 International Drive Orlando, FL 32819
See a full list of mini golf courses on I-Drive here.
Or maybe your idea of relaxation is swinging with all your might in a hitting bay?
The climate-controlled bays at Topgolf make enjoying a day of golf during the heat of summer a breeze. Plus with a full restaurant and bar on sight- you can enjoy swinging the day away with a cold drink and delicious appetizers for a relaxing afternoon or evening on I-Drive, rain or shine.
A spa day in the heart of Orlando!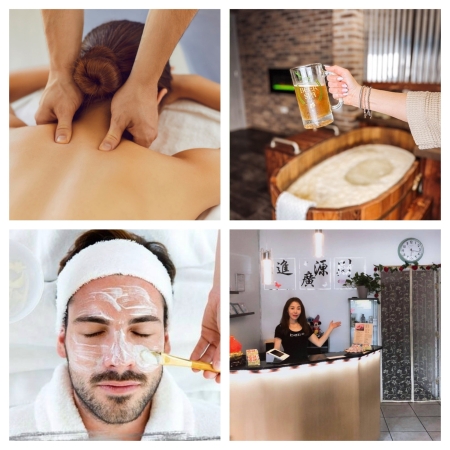 A relaxing trip to I-Drive to recharge just wouldn't be complete without a trip to one of the many spas that call International Drive home.
If you're hoping to enjoy some much-needed pampering and self-care, be sure to check out these spas in the area:
eforea spa at Hilton Orlando is a place like no other, where you'll feel like you've been transported to a tropical oasis in the middle of Florida. This spa features both results-oriented and locally inspired therapies.
Orlando Spa Oasis offers a large variety of treatments, including Swedish, Deep Tissue, Reflexology, Thai, Hot Stone and Foot massages treatments in a setting of unparalleled beauty and relaxation.
The Pink Massage is a unique combination of techniques that alleviate pain and stress emotionally and physically. Here you'll find treatments including Swedish Massage, Deep tissue, Shiatsu, Hot stone, Reflexology, Couples Massage, Facials, Waxing, and Manicures, to name a few.
Mr BarberSpa offers health and wellness-based treatments for men. Here you'll find service providers who specialize in male grooming, from hair to massage therapies and everything in between. Plus, Mr BarberSpa is known for its use of organic and natural products.
Paragon Massage is committed to providing the highest quality massage therapy services in a safe and comfortable setting, striving to help its clients achieve positive results through fully customizable spa treatments.
The Original Beer Spa is the ultimate spa experience for a beer lover! This unconventional spa is centered around beer. Guests can enjoy private rooms with soaking thermal tubs featuring their unique signature Beer Treatment; a foamy, moisturizing hop infusion made with beer ingredients, so you can soak while you sip on an ice-cold one.
Happy Hour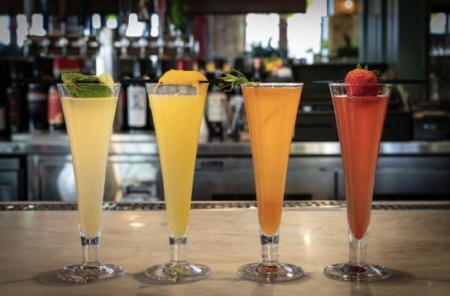 What says "relaxation" like sipping and saving after a long day?
If your idea of relaxing is grabbing a drink or two at one of the many unique dining destinations along International Drive, you're in luck! Many restaurants on I-Drive offer daily Happy Hour specials to take advantage of!
Here are a few local favorites:
Cafe Tu Tu Tango
When? Monday – Friday, 3 – 6 pm
Deal: 2 for 1 select drinks, special appetizer menu for $3 – $6
Blue Martini at Pointe Orlando
When? Monday – Friday, 4 – 8 pm, Saturday – Sunday, 3 – 8 pm
Deal: Half off all beverages and discounted menu items
Tapa Toro Orlando at ICON Park
When? Monday – Friday, 3 – 6 pm
Deal: Drinks: 2 for 1 Drinks, 1/2 off House Wine, Beer, and Sangria, 1/2 priced Cocktail Pitchers and $4-$5 dollar appetizers
Cooper Hawk's Winery
When? Monday – Friday, 2 – 5 pm
Deals: Drinks: $6.50 wine by the Glass, $8.50 Lux Wine by the Glass, $6.50 Wine Specialty Drinks, $8.50 Select Cocktails, and happy hour food specials
The Pub Orlando
When? Monday – Friday, 3 – 7pm
Deals: Drink specials and $5 shareable appetizers
Mia's Italian Kitchen
When? Monday – Friday, 3 – 7pm
Deals: Two-for-one drinks and $5 bar bites
IceBar Orlando – Orlando's Longest Happy Hour
When? Sunday – Thursday, 5 – 9 pm
Deals: Rotating specials
King's Dining and Entertainment
When? Monday – Friday, 4 – 6 pm
Deals: $4 Wells, $5 20oz Draft Beers, $5 Sangrias & Mai Tais, $3 Fireball and Lemon Drop Shots and ½ priced apps.
There are plenty of ways to chill after you've had your fill of thrills on International Drive. Whether you're vacationing in the City Beautiful and want to set aside a day for some relaxation, or you call Orlando home and want to treat yourself to a relaxing staycation, there are plenty of ways to find rest and recharge in Orlando's Most Dynamic Neighborhood.