A "Hurricane" has arrived at Old Town – thankfully it's not the kind we normally  get in Florida!  Old Town and Fun Spot have added "Hurricane", an all new family rollercoaster, to the extensive list of rides and attractions.
The new family thrill ride is a custom layout E&F Miller Industries Hi-Miler steel roller coaster. It's over five stories tall and features a triple out and back layout of over 1,300 feet. The ride has seating for six and riders must be 42" or taller.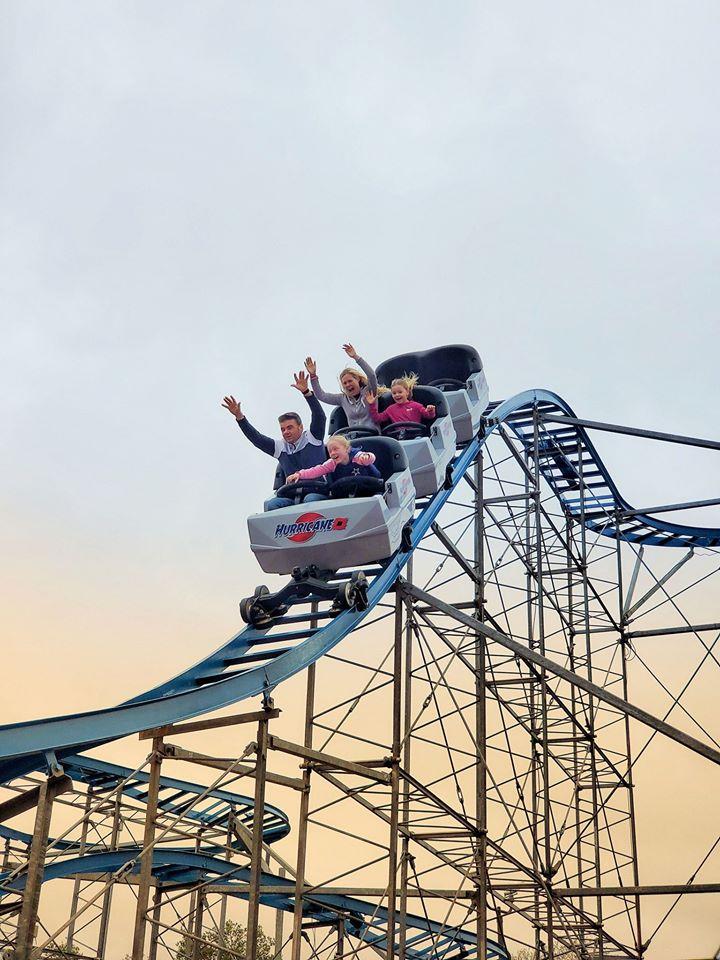 Located in Old Town's South Plaza, this will be the third rollercoaster for Fun Spot America's Kissimmee park and join Mine Blower, Rockstar Coaster and Kiddie Coaster for a line-up of family thrills. Old Town's South Plaza will also host three addition classic rides, including the Carousel and Tilt-a-Whirl.
"Old Town continues to add more entertainment options including rides, attractions, events, and live music throughout the week," says Old Town Vice President and General Manager Thearon Scurlock. "Partnering with Fun Spot reinforces our commitment to the revitalization of Old Town and commitment to the Kissimmee area. We continue to focus on providing an affordable attraction appealing to all ages."
This "Hurricane" arrives at Old Town NOW, so plan your trip to stroll and enjoy the new thrill rides.
The Ferris Wheel
Soaring over Highway 192 is Old Town's Ferris Wheel.  Take a spin on this custom made Ferris Wheel from Italy featuring 18 gondolas that seat six each.  As you reach the top take in spectacular views of Kissimmee and nearby Orlando attractions from over 85 feet in the air.  Once the sun goes down, watch over 6,000 LED lights dance in a festive displays illuminating the night sky.
About Old Town
Old Town is the recreation of a classic Florida town featuring historical architecture and distinctive storefronts. It's a step back when times were a little simpler, the pace more realistic and the memories just as magical. Located on 192 in Kissimmee and just minutes from Disney, Universal, Sea World, and International Drive, Old Town is a unique 18-acre walking featuring over 70 unique and affordable shops, restaurants, bars, rides, and family-friendly attractions.  Relax as you stroll down tree-lined brick streets and discover why Old Town has been a beloved family tradition for over 30 years.
For more information, CLICK HERE.