Lake County has more than 1,000 lakes with activities and attractions to keep you busy for days. However, there are many other places to enjoy a day of fun, a quiet hike, great places for kids and animals, history and historical buildings, along with the joys of Real Florida. Real Close. Lake County can keep you treasure hunting as you search for its many hidden gems.
Pine and Dandy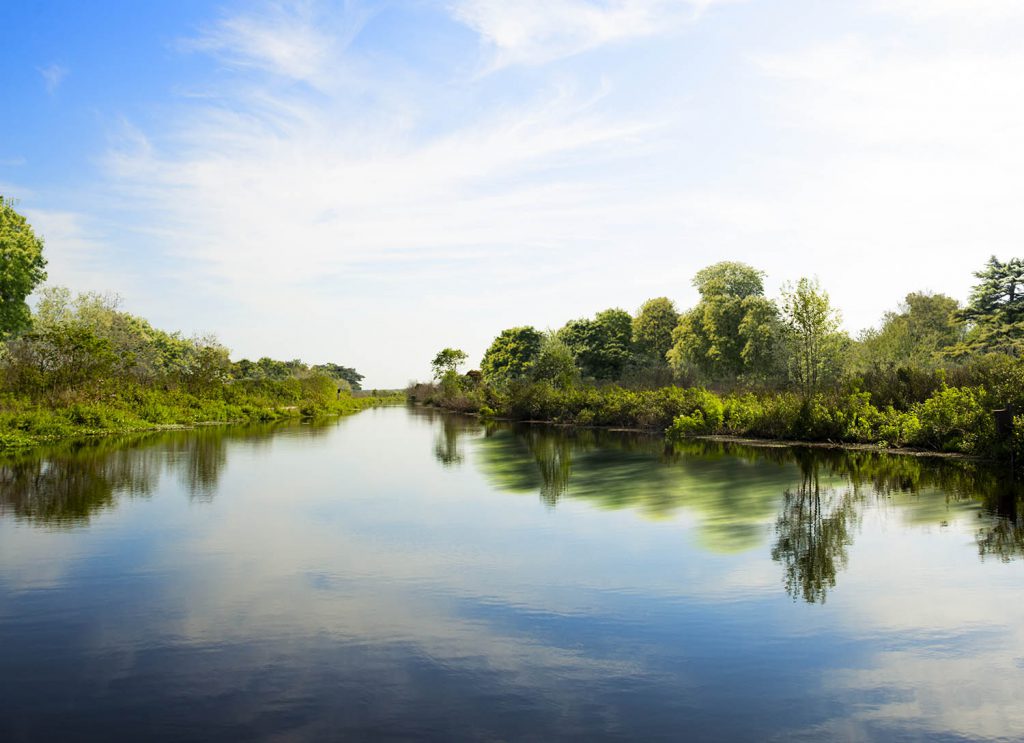 Pine Meadows Conservation Area opened with great fanfare earlier this year. It has six miles of hiking trails, including a dog-friendly loop trail, that let you walk in the heart of nature—wetlands, pine flat woods, and open water.
Avid birders should know there are 120 bird species in the area. However, it's also a great place to enjoy any outdoor activity including picnic facilities, a launch for canoes and kayaks, a gravel boat ramp, and restrooms.
Centrally located between Trout Lake Nature Center and Lake May Reserve, it may eventually be part of a trail system that links the three places. It's easy to find at 2280 Pine Meadows Golf Course Road in Eustis.
Making The Scene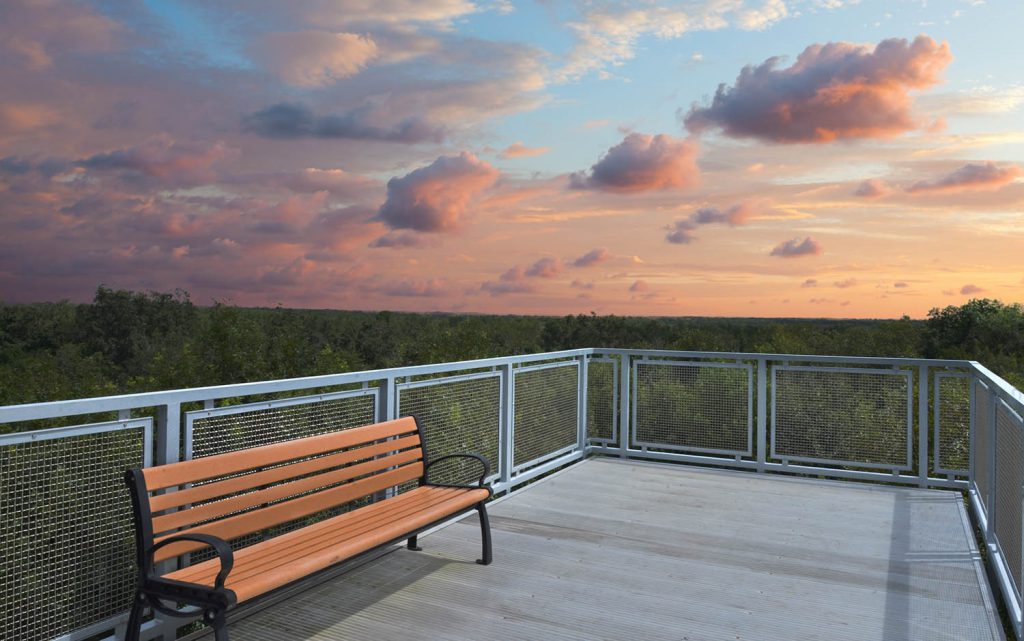 Green Mountain Nature Site is a gateway to adventure.
Many visitors may not realize Florida has "mountains." They're not big, but one mountain in southeast Lake County is a great spot for hikers and nature lovers to observe wildlife, cyclists to venture out on a scenic ride, and visitors to soak in beautiful panoramic views of wooded landscape, Lake Apopka, and the Orlando skyline in the distance.
Green Mountain Scenic Overlook and Trailhead opened in 2014 at 20700 County Road 455 in Montverde. Situated just west of Lake Apopka, the site features a three-story observation tower with a 130-foot boardwalk and a picnic pavilion. The tower overlooks the lake's North Shore Restoration Area from 132 feet above sea level, and the trailhead leads to the 18-mile Lake Apopka Loop Trail.
The site also is home to dozens of species of butterflies and birds, including bald eagles, short-tailed hawks, swallow-tailed kites, and songbirds, as well as thousands of native plants. In addition to birdwatching, recreational opportunities include hiking, biking, picnicking, and family gatherings.
The roads make this part of Lake County a destination for cyclists from all over the country, says Bryan Davis, owner of the Trek Bicycle Store of Clermont and an avid cyclist in the area since 1989. The overlook is located along the Green Mountain Scenic Byway, which begins at the intersection of County Roads 455 and 561 and winds south through a hilly region that poses a stiff challenge to cyclists. One road, for example, leads to the top of Sugarloaf Mountain, which is the highest point on peninsular Florida at 312 feet above sea level, according to greenmountainbyway.org.
As the western gateway to the Lake Apopka Loop Trail, the Green Mountain overlook is gaining popularity as a starting and stopping point for participants in other outdoor activities as well, Bryan says. The trail is mostly made of limestone, hard-packed clay, and engineered trails that are suitable for runners, walkers, hikers, mountain bikers, and gravel bike riders.
Bryan says he enjoys the scenic ride along a trail that's loaded with wildlife and birds. Together the overlook and trail provide visitors with a place of tranquillity.
"Green Mountain overlook is just going to blossom as far as the popularity as that Lake Apopka Loop Trail continues to grow and is sought out by more and more people," he says.
It's Worth The Trip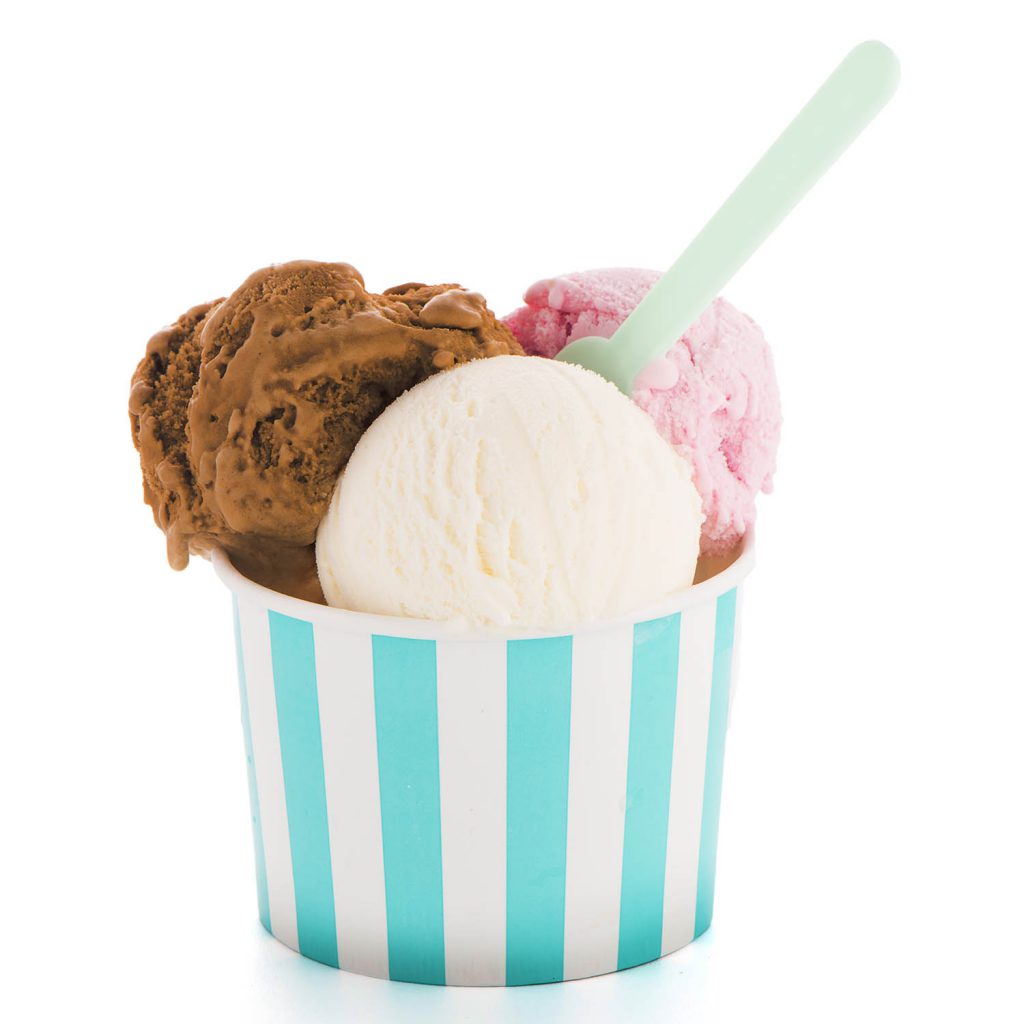 Revisit the '60s at Mystic Ice Cream.
Mystic Ice Cream poses so many choices. How do you choose from 30 to 40 flavors? Do you want to have some fun with alcohol-flavored ice cream? Maybe you want to enjoy music and trivia nights or play board games and socialize. You could make an evening out of just exploring the unique decor.
Owner Jeff Markow has created a trippy little ice cream parlor and lounge that serves up a little bit of everything. Patrons are greeted by classic 45s (remember those?), album covers, posters, and photos from the 1960s, '70s, and '80s lining the walls (and restrooms). The motif leans heavily toward the Beatles and lava lamps, as well as posters for movies such as "The Godfather" and "Casablanca."
The homemade frozen desserts—adult varieties with alcohol and non-alcoholic varieties—contain cookies, candy, fruits, pies, chocolates, fudge, vanilla, and other treats. The addition of drinks and liqueurs produces flavors such as Kahlua Fudge, Rum Raisin, Razzleberry, and more.
Nightly events include Karaoke Tuesday and Friday, Name that Tune on Wednesday, Trivia on Thursday, Music and Dancing each Saturday, and Thank God We Made It Another Week parties each Sunday.
Mystic Ice Cream, celebrating its 10th anniversary this year, is located at 1217 W. Miller St. (County Road 466A) in Fruitland Park. Hours are 6-10pm Tuesday-Sunday; closed Monday.
Follow The 'Ruby Brick Road'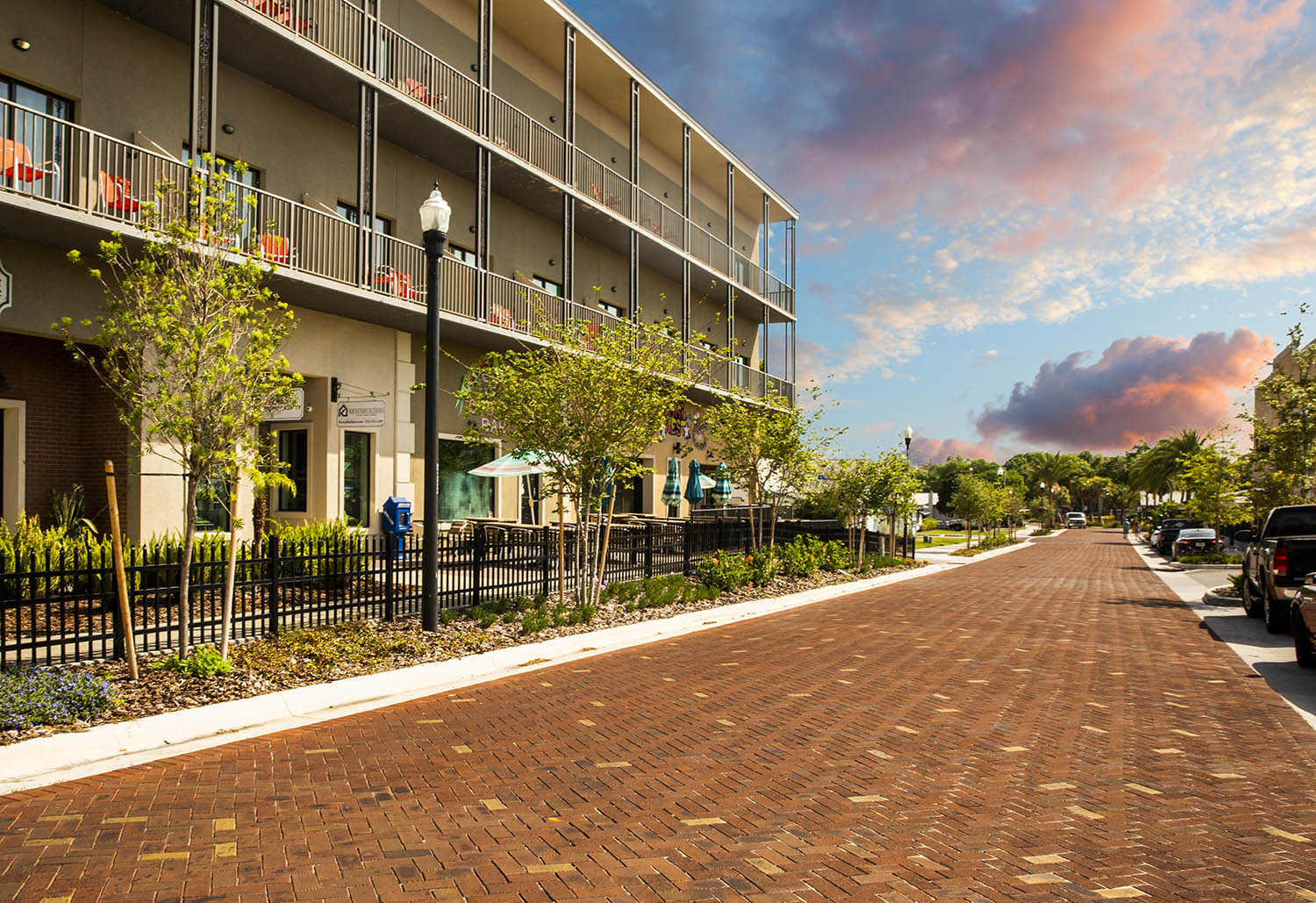 The "Ruby Brick Road" will take you through the newly revamped area of Tavares on the shores of beautiful Lake Dora. Not only is Ruby Street a great place to stroll, but you also can watch seaplanes take off or see boats and Jet Skis that provide all the fun of a day at the races.
Ruby Street has been paved with ruby-red bricks as part of the Ruby Street Stormwater and Beautification project and is luring more people to enjoy the shops and restaurants that surround it. The colorful road was hand-laid by skilled craftsmen.
A great collection of restaurants offers whatever you might like: great seafood, a delicious burger, or pub food. There's also a very nice picnic pavilion to enjoy a meal with the family with a great playground nearby for the kids.
Ecotourism Makes Its Mark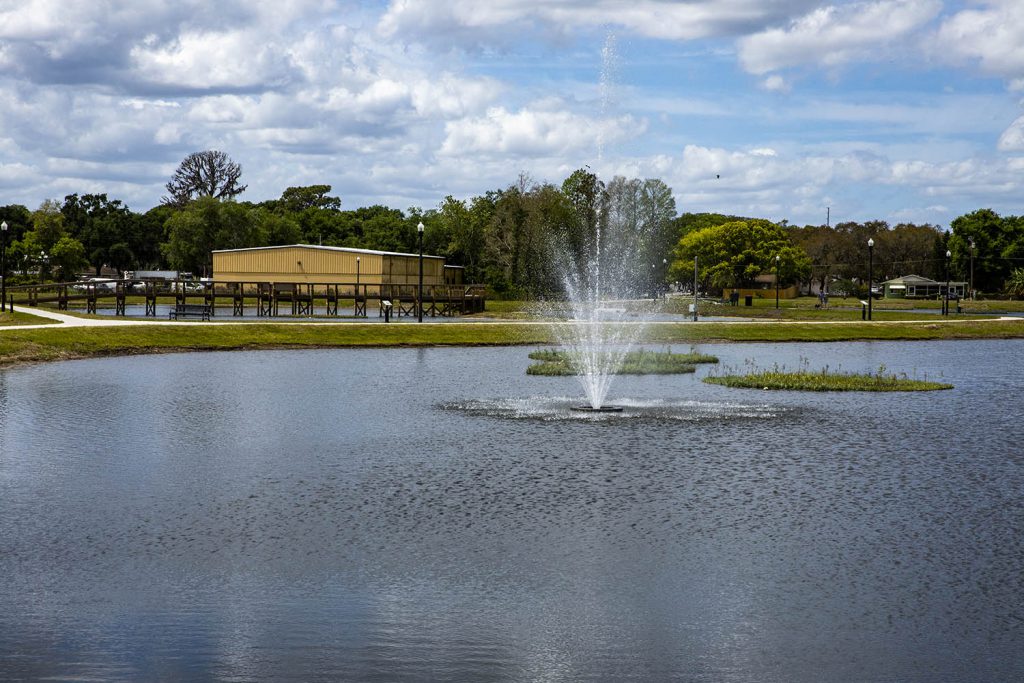 Another part of the beautification project is the Tavares Ecological Park. The eight-acre park off Sinclair Avenue has wonderful walkways that wind around and through ponds. All this beauty makes up the state-of-the-art stormwater treatment area for Tavares. While everyone enjoys the lovely landscaped green space, it actually filters pollutants that would go into the sparkling waters of Lake Dora.
The park has inviting ponds and wooden bridges, floating flower and fauna mats, which are bee mats that help remove pollutants. Hikers and walkers will love the scenic beauty while others will enjoy the activity and excitement on the Lake Dora's shores.
"This is an awesome eco-park that provides a wonderful lakefront venue and a state-of-the-art stormwater treatment system," says Phillip Clark, director of utilities for Tavares. "The park connects the west side of downtown to the east side of downtown, making it more convenient for pedestrians to enjoy our beautiful lake views, as well as all the wonderful businesses located downtown."
Look For The Big Orange!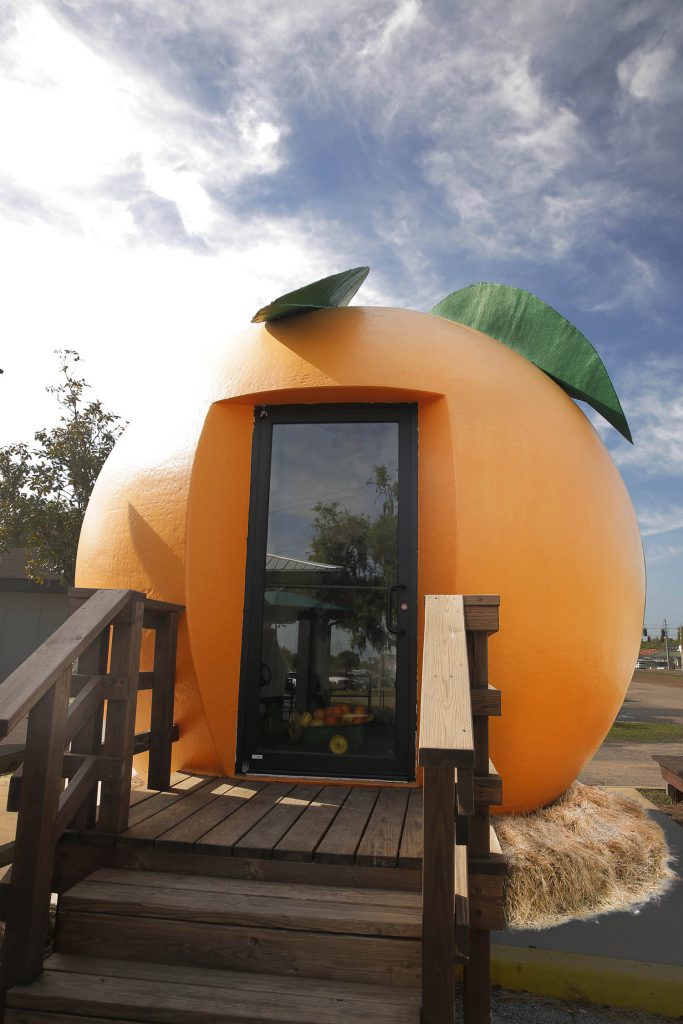 Oranges, along with beaches, theme parks, alligators, and sunshine, have always been the symbol of Florida. Sunsational Citrus in Umatilla is keeping that tradition alive with the Big Orange.
In 2012, the late Nick Frayna and his wife, Sharon, bought the historic orange from a friend who, like them, wanted to preserve the heritage of citrus in Lake County. Nick was a third-generation citrus grower and it's still a family business. A complete restoration was done and the Big Orange is now on display outside Sunsational's citrus and gift shop.
But the fun doesn't stop there. The shop not only sells fruit but has citrus memorabilia acquired through the years as decor. Fresh fruit is available during the season and can be shipped as gifts. The shop also has local honey, jelly, candies, and delightful novelty items like old Florida souvenirs along with fresh-squeezed orange juice, Florida wines, and chocolate.
On hot summer days, there's little that tastes better than soft-serve ice cream in a variety of flavors that can be twisted with vanilla. Or you can try the flavored shaved ice, which includes the popular flavors of blue raspberry, cotton candy, and watermelon.
Visit the Big Orange and the store at 700 N. Central Ave., Umatilla, or call 352.771.2013 or toll-free at 866.354.7696 for out-of-state orders.
A World Away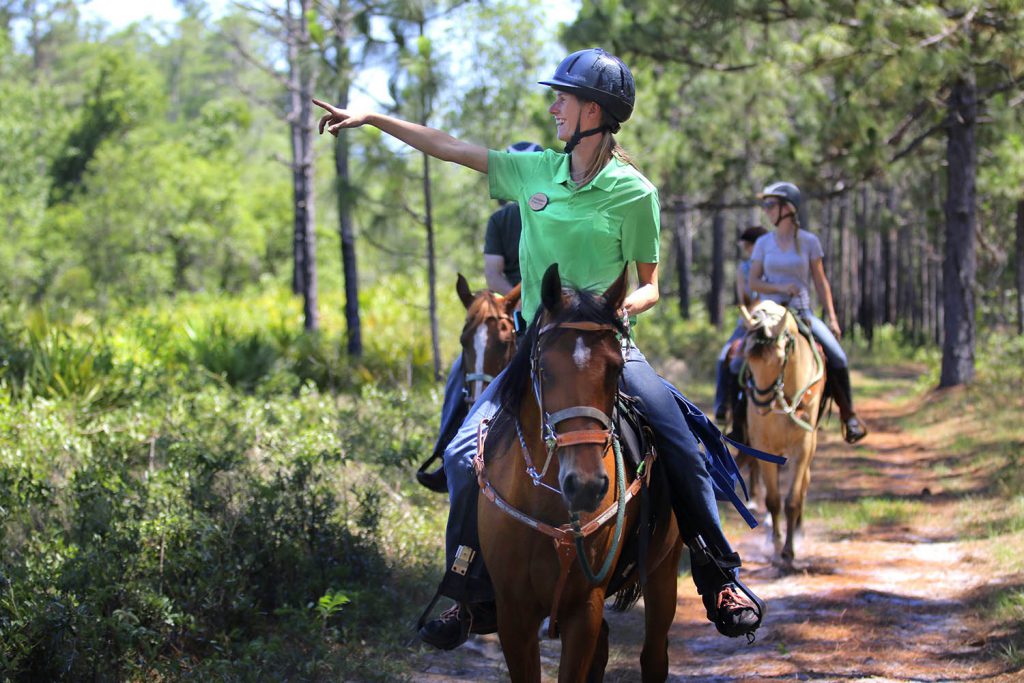 Winnie the Pooh may have had Hundred Acre Woods, but Clermont has the scenic and exciting Lake Louisa State Park. The 4,500-acre park offers an array of outdoor activities and a resort for any occasion.
The lakes, rolling hills, and scenic landscapes make it the perfect place for those who enjoy being outdoors. In addition to swimming, picnicking, and barbecuing, the park offers guided tours, kayak tours, hikes, and equipment rentals.
Want a little bit of luxury while you're sleeping under the stars? Try glamping, which is glamorous camping. This means you get a fully furnished, luxury bell tent that is air-conditioned, waterproof, and furnished like home with a comfortable bed. Like a hotel room, it includes towels, a coffee maker, a seating area, and the all-important device-charging station.
There's also traditional, rustic camping, featuring 60 sites with water, electricity, and convenient bathhouses nearby. Laundry and vending services are available 24 hours. In addition, there are cabins, equestrian camping, and primitive campsites for large groups.
The park is also a great place for a day away where you can spend time on the water, walking or riding under the shade on woodsy trails, or just relaxing by the lake.
If you're planning a special event, corporate retreat, or family reunion, consider Lake Louisa Events & Resort, a 54-acre site opened last year. Owners David and Sherri Canther found a mansion in foreclosure on Lake Louisa and gave it a stunning makeover.
The resort adjoins the park and shares its picturesque views and amazing sunsets. Reservations are made through the park's website at lakelouisastatepark.com.
Play for the day or come to stay at Lake Louisa State Park, 7305 U.S. Highway 27, Clermont; 352.394.3969 (ranger station) or 352.503.4489 (park). It's open year-round, weather permitting, from 10am-4pm.
Making Waves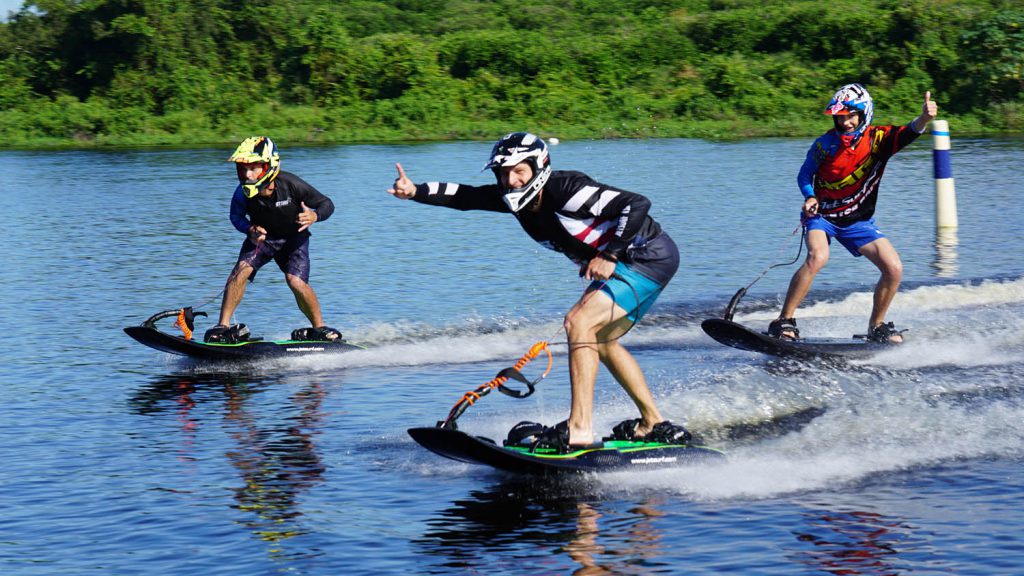 It's a surfboard. It's a Jet Ski. It's a surfboard and a Jet Ski. Discover a new, exciting sport at JetSurf Academy Orlando.
Visitors to Lake County who want to experience an extreme watersports adventure can discover something new and different at JetSurf Academy Orlando. Instilled with the motto "Born for fun," the academy opened in 2018 on Sawgrass Lake at Clermont Watersports Complex, 6010 Cook Road.
JetSurf boards are small motorized surfboards that resemble a combination of snowboards and Jet Skis. JetSurfers stand up with their feet strapped into the boards and use their "trigger finger" on a handheld control to operate the throttle and reach speeds up to 36 mph. They turn and "carve" the board just as they would a wakeboard, surfboard, or snowboard.
The sport combines the thrills of surfing and wakeboarding, but JetSurfers control their own ride without the need for waves or boats. For experienced racers, the academy also has a permanent course, similar to motocross, marked with buoys on the lake.
"It's just a great feeling of freedom and exhilaration," says Cliff Huff, co-founder and general manager of JetSurf Orlando.
The boards are powered by a small gas engine (electric versions are also made) and the carbon fiber hulls are sleek and light. The whole unit weighs about 40 pounds and can be put in a travel bag, Cliff says. JetSurfers can ride for 45-60 minutes on a tank of gas—and it's a workout.
"It's a great exercise and it's just a whole lot of fun," he says.
JetSurf Orlando offers "discovery" lessons and instruction for riders of all skill levels. Lessons cost $159 an hour, with 15 minutes of instruction on land and 45 minutes of fun on the water. The facility books reservations for lessons, as well as day-passes for surfers who have boards or visitors who need rental boards, at jetsurforlando.com.
Clermont Watersports Complex, in an idyllic natural setting, also provides paddleboard and kayak rentals, a wakeboarding boat, fishing and boating passes, and watersports instruction.
With these additional activities, JetSurf Orlando is targeting the Central Florida tourism market.
"We're well aware that people come to Disney and stay in the area five, six, seven, eight days, and they're looking for things to do outside the park, and we want to be a destination for those families," Cliff says. "Our goal is to get the entire family out and have something for everyone to do."