The minute you step through the gates at Kennedy Space Center Visitor Complex, you are transported to an out-of-this-world experience with limitless possibilities, and a showcase of what humankind has achieved in its travels to space – and beyond.
If it's your first time at the visitor complex, we understand it can be a little overwhelming with so much to do. That's why we've put together a guide for first-time visitors
TICKETS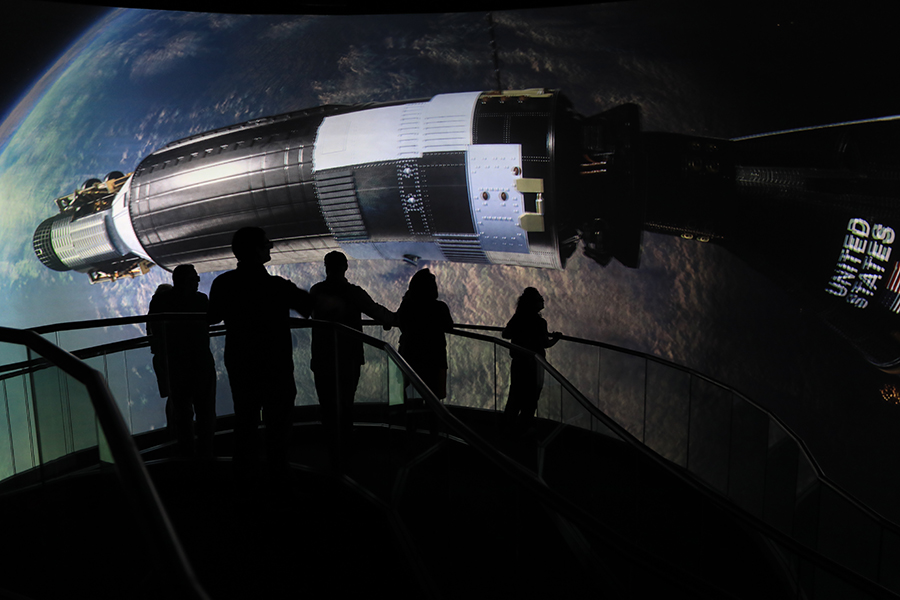 One-day and two-day tickets for adults and children ages 3-11 are on sale, with senior and military discounts also available.
Save time ahead of your visit by purchasing tickets online at KennedySpaceCenter.com, and heading directly to the front gate! Tickets can be purchased on-site, too.
If you want to spend multiple days at the visitor complex (and why wouldn't you?) then consider getting an annual pass for you and your family. Having either a two-day ticket or an annual pass allows you to visit the complex more than once and really take in all we have to offer! Click here for all the ticket details.
ENJOYING YOUR DAY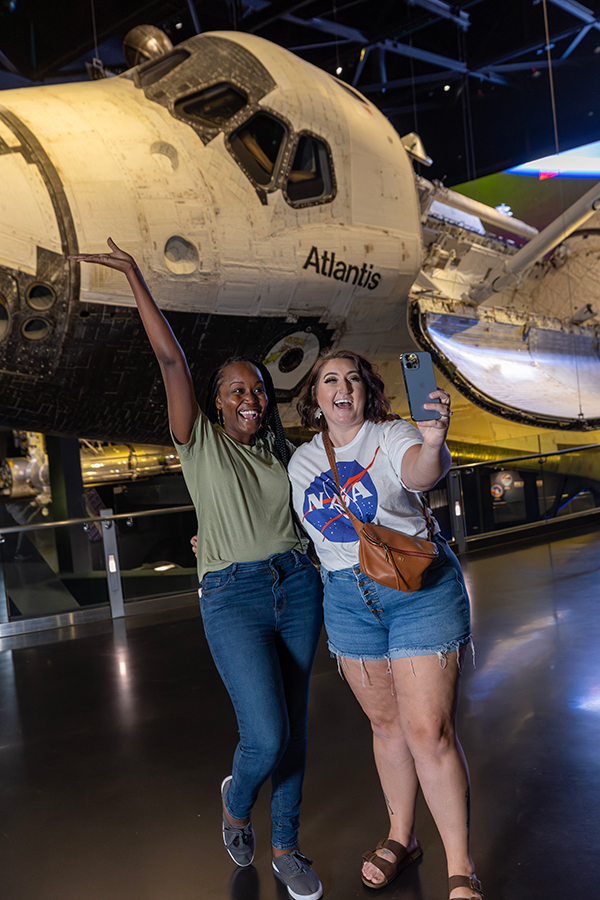 With so much offered, here's a breakdown of what you can do at Kennedy Space Center Visitor Complex.
At Gateway: The Deep Space Launch Complex®, see the visionary designs paving the way of human deep space travel while also discovering the current cutting-edge innovations of space exploration from NASA and commercial partners. And while at Gateway, don't forget to take experience Spaceport KSC, where you'll launch aboard one of four unforgettable journeys during an immersive ride. Guests must be 39" minimum to enjoy the attraction.
Experience the dawn of the space age and get up close with actual artifacts at Heroes & Legends featuring the U.S. Astronaut Hall of Fame® presented by Boeing®.
At Universe Theater, meet a veteran astronaut and hear their stories at Astronaut Encounter, learn about the matter in It's A Matter of Fact, and hear about recent and upcoming NASA missions in Mission Status Briefings. Check the Daily Schedule for show times.
At Space Shuttle Atlantis®, see the real Atlantis orbiter, which flew to space 33 times and traveled 126 million miles. You can also interact with more than 60 exhibits and simulators about what it's like to live and work in space! And don't forget to strap in for the Shuttle Launch Experience®. If you have motion sensitivities, you can still enjoy the mission briefing pre-show. The attraction has a 44" height minimum. A non-motion viewing area is also available.
Little ones can enjoy Planet Play, a fully immersive play experience for the next generation of space explorers.
Don't miss the Apollo/Saturn V Center, where you'll explore the Apollo Program's worldwide impact – all while standing underneath the tallest rocket ever flown. You can also touch a Moon rock, watch first-hand accounts of the Apollo 11 Moon landing, and more. The Apollo/Saturn V Center is accessible through the Kennedy Space Center Bus Tour, where you can go behind NASA's gates to see the past, present, and future of America's multi-user spaceport.
Also, don't forget to explore the Rocket Garden, visit Journey To Mars launched by United Launch Alliance, and see a space-themed film at IMAX®.
ENHANCE YOUR VISIT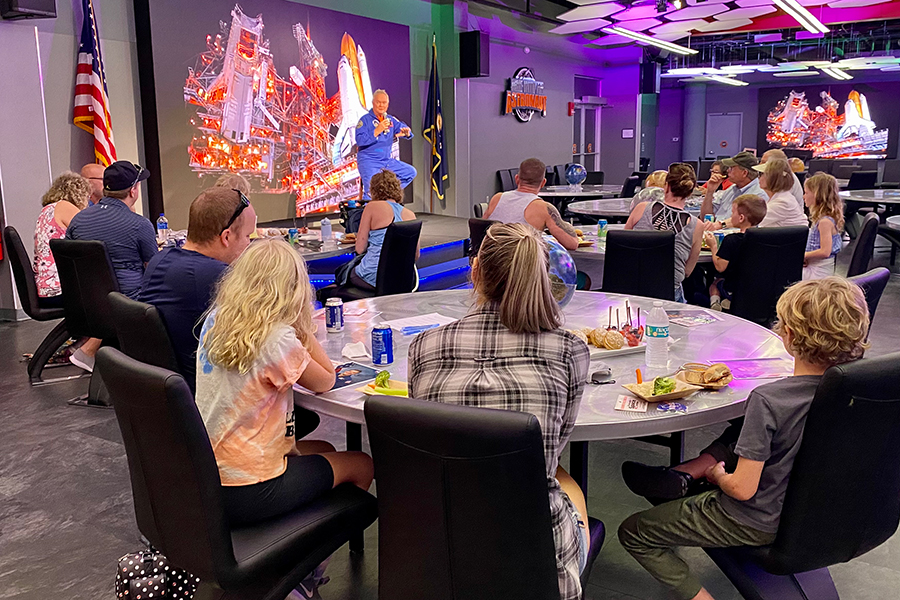 The fun doesn't stop there.
More enhancements are available for purchase in addition to admission. They are:
– Astronaut Training Stages: The experience for guests ages 10 and older allows you to practice your docking skills, navigate the Mars terrain, experience the sensation of performing a spacewalk, and more.
– Chat With An Astronaut: Enjoy a sampling of food and beverages while getting the chance to ask a real veteran astronaut your most pressing questions in a small-group setting. Purchase tickets online or at Guest Services.
– KSC Explore Tour: Go beyond the Kennedy Space Center Bus Tour! Make several stops to capture once-in-a-lifetime photo opportunities of spaceflight icons. Tickets are available for purchase online or at Information. Arrive at least 15 minutes before your tour departure time.
BE YOUR OWN GUIDE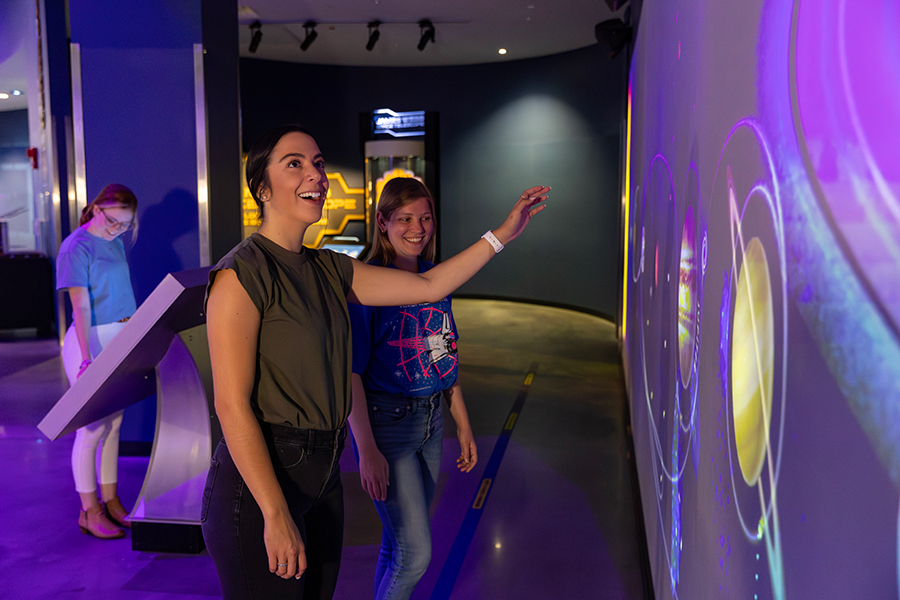 Use your smartphone to create your own customized multimedia tour. The KSC SmartGuide app is available in English, French, German, Italian, Portuguese, Spanish, Japanese, Mandarin Chinese and American Sign Language. Download the app for free from the App Store and Google Play.
Also, the visitor complex has partnered with the International Board of Credentialing and Continuing Education Standards, creating a welcoming space for people with autism and sensory needs. Sensory Guides are established at each attraction entrance. Don't forget to download the Sensory Guide as well.
COME HUNGRY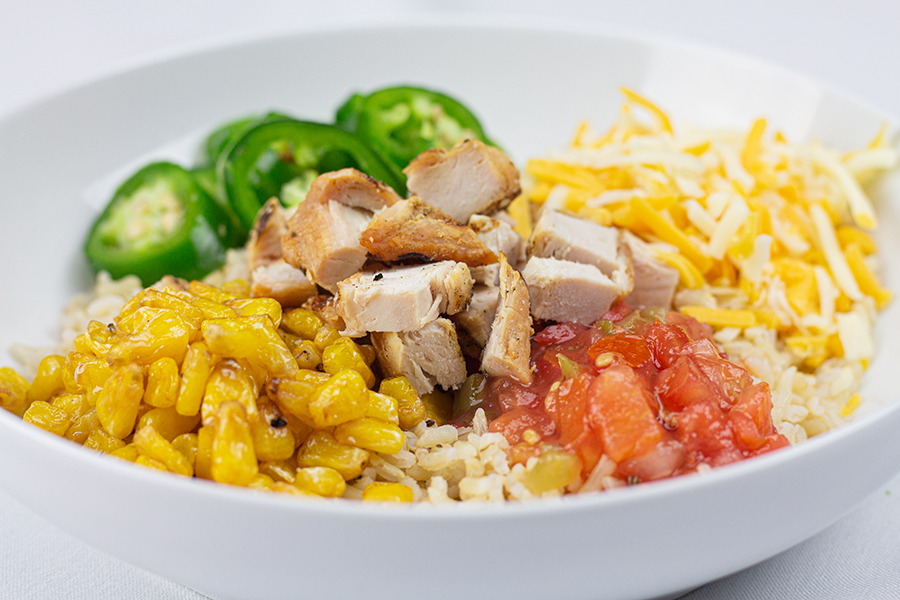 You'll probably work up an appetite while you're at Kennedy Space Center Visitor Complex. Luckily, there are plenty of food and drink options available.
Enjoy pizza, salads, burgers, pulled pork at Orbit Cafe, acai bowls and choose-your-protein dishes at Space Bowl Bistro, hot dogs and other classics at Red Rock Grill, and more. For a quick pick-me-up, enjoy Starbucks®, ice cream at Milky Way, traditional movie favorites at IMAX Snax, and more.
If your first visit is this fall, then it's the perfect time to partake in our annual Taste of Space Fall Bites! Celebrate the taste of the season from Oct. 2-Nov. 5, 2023, with brand-new menu options throughout the visitor complex. Click here for more information.
During the holiday season, you can enjoy Holidays in Space across the visitor complex. There is a nightly projection show, and festive holiday décor throughout the grounds including six-foot-tall astronaut nutcrackers and a 50-foot tree with more than 61,000 pixels of light and so much more.
PICK UP A SOUVENIR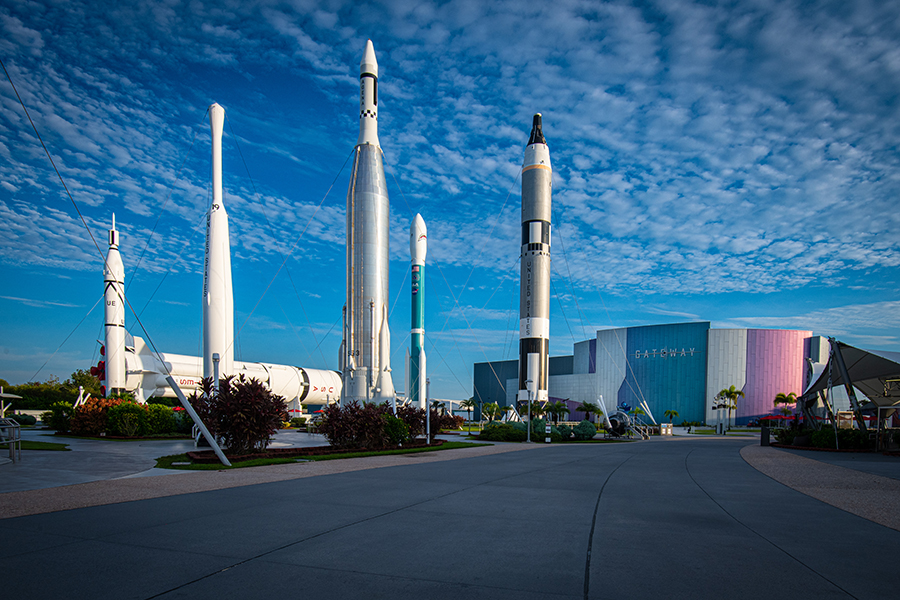 Don't forget a piece of memorabilia to commemorate your trip to the visitor complex when you visit The Space Shop, the world's largest collection of NASA merchandise. Gifts and souvenirs are also available at Shuttle Express, which features gifts and souvenirs about the Atlantis orbiter and NASA's Space Shuttle Program. At The Right Stuff at Apollo/Saturn V Center, pick up products that celebrate the Apollo missions.
Also, take the memories home with you with Astropass, powered by Storibox, which includes all your digital photos from all of the visitor complex's photo locations. It's available for purchase online or at Guest Services.
What are YOU most excited about for your first visit?