Breakfast, the most important meal of the day, and some may say the tastiest too!
When you're visiting I-Drive, breakfast is an important way to fuel up before a day of excitement! Whether you're looking for a traditional breakfast, a unique take on classic breakfast favorites, or simply want to make a quick stop before heading out, there are plenty of options on I-Drive that are sure to leave you both satisfied and ready to take on everything in-store for you in Orlando's Most Dynamic Neighborhood.
First Watch – The Daytime Cafe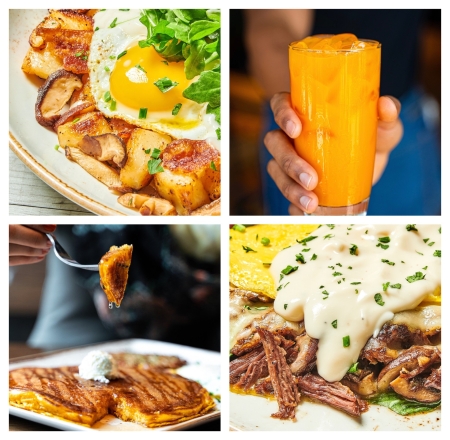 First Watch is an award-winning breakfast, brunch, and lunch favorite that specializes in both traditional and innovative creations that are all freshly prepared! With a menu full of traditional breakfast favorites, egg-scluvies, items fresh from the griddle, salads, sandwiches, power bowls, and a large variety of healthy options – there is a flavor to satisfy any breakfast craving at First Watch.
Looking to start the day with a fresh burst of nutrition? Be sure to check out their juiced-daily juice bar options, and be sure to ask about their seasonal menu options that use ingredients in season at the time of your visit.
The team at First Watch starts early each morning to begin preparing exceptional ingredients to deliver a breakfast experience that feels good and tastes even better.
Go big or go home… right!?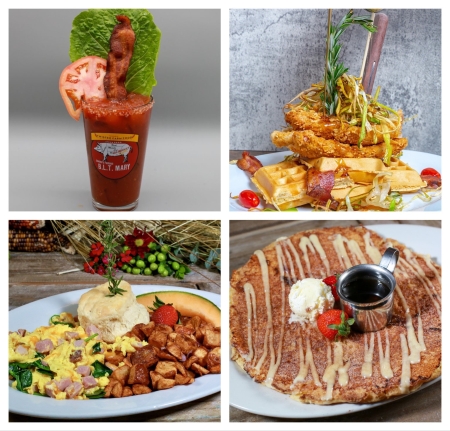 Nothing says "vacation mode" like digging into a delicious plate of farm-fresh breakfast favorites with a twist! Dining at Hash House a Go Go is as fun as it is delicious, making them a local favorite spot for fueling up before an adventure on I-Drive.
Food is the heart of Hash House, and they do a superb job of putting their own twist on Midwest comfort meals, from pancakes to meatloaf and everything in between.
During your visit, be sure to check out two of their signature breakfast items; Andy's World Famous Sage Fried Chicken and Waffles and HH Big House Pancakes… trust us, they're big, like steering-wheel-of-a-tractor sized big!
But, what's breakfast while in vacation mode without delicious libations? The Tractor Bar at Hash House serves up unique cocktails that will levitate your chat while offering a delicious sip each time. Choose from their various signature creations like the Drunk Clam, HH Front Porch, The Black Crow, Huckleberry Sin, and of course their Johnny's Famous B.L.T Mary; whichever you choose, you won't be disappointed.
If you're looking for unique, farm-fresh breakfast food, a stop at Hash House is a must!
International House of Pancakes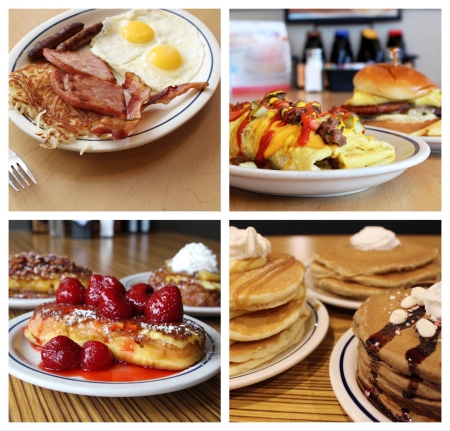 Late start? Don't worry, breakfast is served all day! Looking for a quick stop that will satisfy everyone in your party before heading off for an exciting day on I-Drive? This is the stop, or should we say, the stops. There are four IHOP locations, so wherever you are on I-Drive you won't be far from delicious, traditional breakfast food that won't break the bank.
If you're craving a pancake, be sure to order one of their award-winning pancakes, or select something else from their large menu of classic breakfast options like omelets, breakfast bowls, burritos, french toast, and more!
At all four International Drive IHOP locations, the one near Endless Summer Resort, the Orange County Convention Center, Sand Lake Rd., or Kirkman Rd., you'll be met with a casual, comfortable atmosphere to enjoy all of your breakfast favorites for a great price.
Waffle House – Breakfast All Day, Everyday

A favorite choice for a quick and delicious breakfast in Florida, Waffle House, is also located on I-Drive and makes for a delicious stop to fuel up before a long day.
All of their food is prepared fresh, cooked to order, and is served from a kitchen that is in full view. Choose from a wide selection of all your favorites like eggs, bacon, ham, sausage, breakfast sandwiches, hash browns, biscuits, bowls, and of course waffles, all served right to your table at a great price!
Poolside 39'

Whether you're on vacation or simply want your breakfast to feel like it; Brunch at 39' Poolside in Rosen Plaza won't disappoint.
Ditch your typical brunch boredom and order up some breakfast that has been prepared by the renowned 3NINE chefs as you sip your drink by the pool and soak up some of the beautiful Florida sunshine.
Enjoy breakfast items like their French Toast Stack, Shrimp and Grits, Chicken & Waffles, Crab Benedict, Fiesta Brunch Bowl, Egg 'Cetera Fluffy Omelet, and Rosen Sunshine Breakfast… whatever you choose we're sure vacation-mode will be initiated as you enjoy expertly prepared food poolside in the heart of Orlando.
Breakfast is the most important meal of the day, and when it comes to fueling up before a long day of exploring International Drive, there are plenty of delicious options to choose from.
So, before your next I-Drive adventure, be sure to stop at one of these popular spots for a delicious morning meal that will have you fueled up and ready for a day of exciting experiences in Orlando's Most Dynamic Neighborhood.