A visit to any downtown in Central Florida is a feast for the senses. The intensity of the sun, no matter the season, tingles on your skin. Meanwhile, your ears are tempted by music, a constant companion throughout Polk County, that floats out of a nearby doorway. And no matter where you turn, the smell of expertly crafted food – and fresh coffee – mingle and linger in the air.
When it comes to Florida, thoughts often turn to palm trees, theme parks and house-lined golf courses. And while Central Florida's Polk County has all of those, what it specializes in is small town charm. A large part of that comes from local restaurants that serve not only a wide variety of fare with a heaping side of downhome welcome.
Here's a smattering of what you might find.
Bartow

The Cookie Jar Bakeshop
Named the Cookie Jar, you expect cookies, as well as cakes, pies and muffins. But they also have handmade candies, scones and cinnamon buns with an open-for-your-viewing-pleasure kitchen. If you are looking for something more savory, the Cookie Jar also offers both breakfast and lunch. Now you have an excuse to have something sweet as both an appetizer and dessert. www.cookiejarbakeshopandeatery.com
Charm City Seafood
This award winning taste of Maryland's long-known seafood culture – think crab cakes, grouper sandwiches and fish tacos – also features downhome favorites like ribs, pulled pork or pulled chicken sandwiches and collard greens. www.charmcityseafood.com
Winter Haven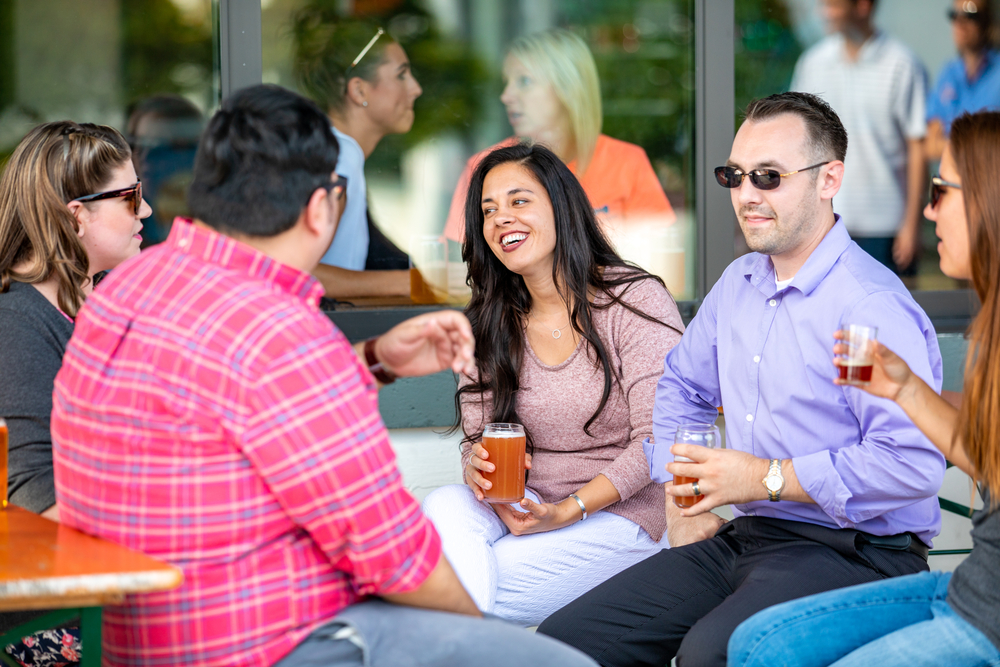 Grove Roots Brewing Co.
Downtown Winter Haven is home to one of the best breweries in Central Florida, Grove Roots Brewing Co. Not only is the beer amazing but the brewery is children and dog friendly. Kids can choose from a variety of sodas, juices and sparkling waters, and a rotating roster of food trucks adds to the uniqueness. In addition to yard games, Grove Roots has a variety of board games that can be borrowed through staff.
And then there is the beer. Inspired by Central Florida's citrus history, local grapefruit and tangerines add zest to the ales while the hard 6am Pickers Stout leans on deep coffee flavors. www.groveroots.com
Harborside
Located on Winter Haven's Chain of Lakes, expect incredible views of Florida's fire-in-the-sky sunsets when you come here for dinner. But the view isn't the only thing they offer. From fresh seafood to steak, pasta dishes and ribs, as well sandwiches and more, Harborside has been a Winter Haven favorite for decades. Don't forget the fried gator bites! www.harborsidefl.com
Andy's Igloo Drive In Restaurant
For a step back to the days of shark-finned cars and Bill Haley spinning on the juke box, go no further than Andy's Igloo Drive-In Restaurant. Andy's has specialized in the comfort food we all crave – even if our doctors tell us to eat it moderation – for more than 65 years. You'll definitely need a day-pass from your nutritionist when you dive into their menu of burgers, fried chicken and fish. But make sure you leave room for an ice cream sundae or milk shake. Just remember to bring cash – they do not take credit cards. www.andysigloo.com
Nutwood
From Sunday brunch to a weekday lunch or weekend date, Nutwood offers a locally sourced, seasonal menu paired with a curated wine selection. Their seasonally changing, locally sourced menu may include Korean-style roasted pork belly or a Portobello mushroom sandwich one day, steak or potato gnocchi another. But no matter the entrée, stick around for the warm bread pudding at the end. www.nutwoodwh.com.
Arabellas Italian Ristorante
Upscale dining in an intimate setting, from the food to the drinks to the ambiance, Arabellas offers quality Italian and Mediterranean cuisine along with a singular dining experience. Seafood, chicken, veal, beef and, of course, pasta are all offered with Italian flair. Avenue Bar, right next door, offers a more casual experience. www.arabellas.us.
Harry's Old Place
Known as a bit of rustic Key West charm on the shores of Winter Haven's Lake Ned, when locals hanker for seafood on a Friday night, this is the spot. An eclectic menu includes gator bites, sweet and spicy shrimp, fried catfish, grouper, oysters, as well as steak and chicken offerings. Regulars will tell you to try the Harry in the Bag – grouper, baked in a bag, with their own unique pecan topping. www.harrysoldplace.com.
Lakeland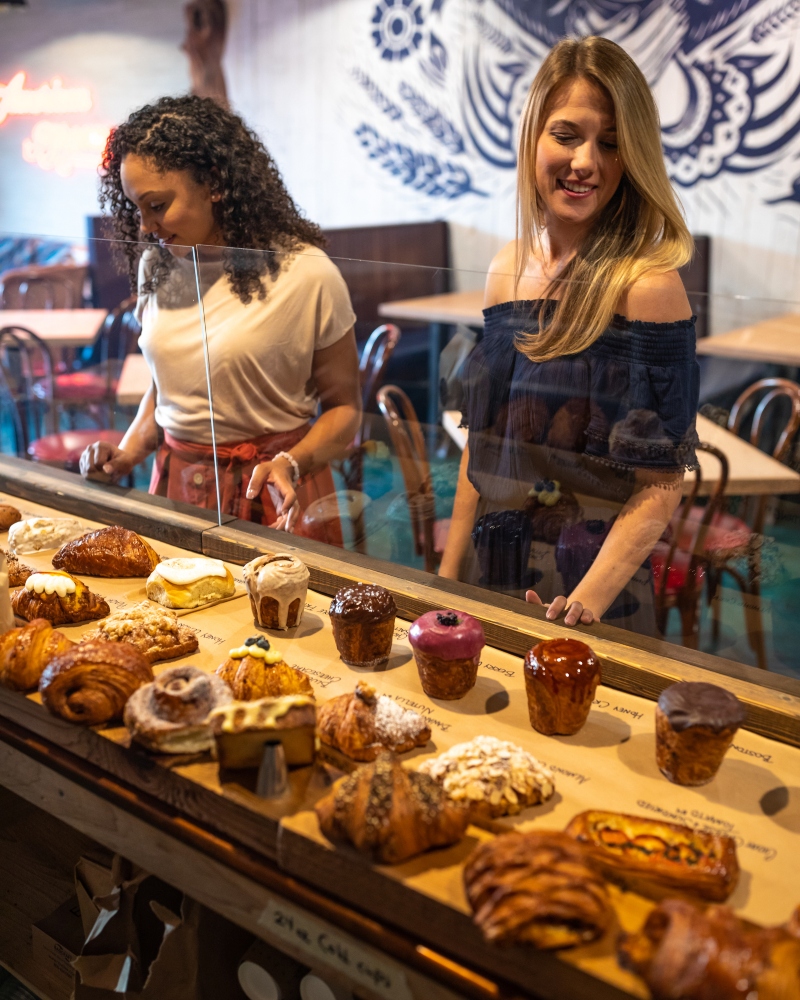 Born & Bread Bakehouse
What started as a booth at the Saturday Lakeland Farmer's Market has grown into an early morning rite of passage for folks in the Central Florida area. From European style pastries and bread to cheesecakes, biscuits, croissants, cookies and cruffins – a hybrid between a croissant and a muffin – you'll quickly see why people stand in line, often around the block, for treats from Born & Bread Bakehouse.
Lunch offerings include sandwiches on sourdough bread, a Cuban croissant, pot pies and salads.
Open only on Saturdays from 8 a.m. to 1 p.m. and Wednesdays from 7 a.m. to 2 p.m., but ordering online in advance is highly recommended. www.bornandbreadbakehouse.com
Harry's Seafood Bar and Grille
Not to be confused, this Harry's has been an anchor of downtown Lakeland for more than two decades. Harry's Seafood Bar and Grille offers the flavors of New Orleans in a causal setting. Perfect for anything from causal drinks at the bar to a business meeting or dinner date, make sure to leave room for the signature Oreo beignets. For those who might shy away from seafood or spice, there are plenty of other items on the menu including pasta, burgers, children's items, and more. www.hookedonharrys.com
Café Zuppina
Featuring a unique, healthy take on Mediterranean faire, including vegetarian, vegan and gluten free meals, this small restaurant has been a popular spot for over a decade. Mixing Turkish favorites with other Mediterranean flavors, they offer everything from a Romanian Brisket Platter, to gyros, kebabs and more. Next door, the market is more than just a coffee shop, thanks to their wide array of international favorites including French pastries and Italian gelato. www.cafezuppina.com
Nineteen61
Is the cuisine Cuban, Latin, Spanish or Peruvian? Honestly, you won't care about a label when it comes to your table. From ceviche to Spanish salads, Cuban standards such as ropa vieja and Peruvian style Chinese fried rice – arroz chaufa – this culinary mash-up has been considered one of the top-10 Spanish restaurants in the state since the day the doors opened. Open for both lunch and dinner, locals get here early and take advantage of the tapas menu at the bar before dinner, from the fried calamari in a jalapeno caramel to the empanadas. Open for lunch and dinner Monday through Saturday, they are open Sunday's for brunch. www.nineteen61.com