It's time to get into the Holiday spirit this year with plenty of fun, family-friendly events going on around West Volusia County, only an hour's drive from Orlando! From the illustrious Stetson Mansion's Christmas Spectacular to sidewalk sales and special holiday markets in historic Downtown DeLand, you'll find West Volusia a very cheery place to jingle all the way to.
Stetson Mansion Christmas Spectacular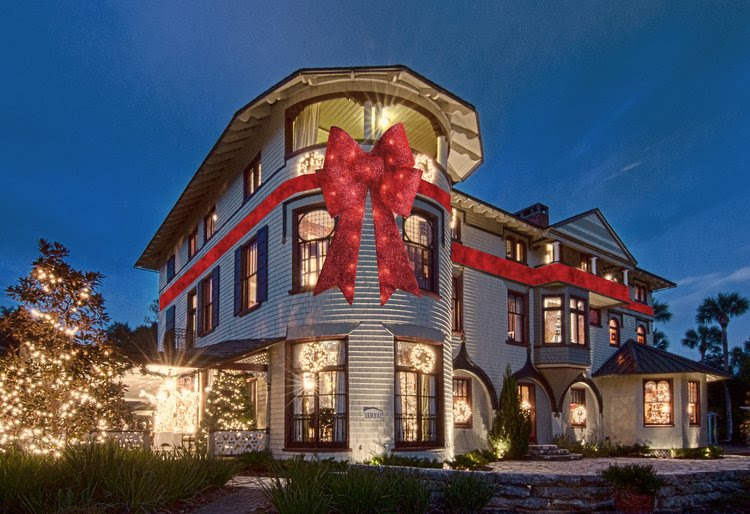 Present – January 22, 2022
Fresh off of being voted the No. 1 attraction in the state of Florida and one of the top 10 U.S. attractions, according to Tripadvisor's Travelers' Choice Awards, The Stetson Mansion is gearing up for it's annual Christmas Spectacular to guarantee guests a Christmas that is both merry and bright!
Offering self-guided tours, along with limited guided tours, guests will travel through rooms on the ground floor and bedrooms on the second floor, as well as the original School House, now converted to a guest cottage. Each year during this enchanting event, 10 rooms are embellished with stunning designer decorations and 24 nativities from around the world. The Stetson Mansion is the largest and most spectacular "Gilded Age" residence built in Florida before 1900, and its Christmas decorations are a Central Florida holiday tradition you won't want to miss!
Winter Wonder DeLand
December 3, 2021 – January 2, 2022
It's time to give Winter a warm Florida welcome in DeLand! As you finish up your shopping and spend time with family and friends this holiday season, stroll the streets of downtown and explore the holiday magic that is Winter Wonder DeLand. Lights and decorations will adorn Downtown DeLand in Chess Park, Pioneer Park, Indiana Avenue, Georgia Avenue, and sections of Earl Brown Park.
Kick off the festivities on December 2nd at DeLand City Hall and in Pioneer Park for Light up DeLand, where you can watch the annual lighting of the Christmas tree and MainStreet DeLand's holiday wreath. The Annual Christmas parade will follow the next day on December 3rd. As you shop and be merry throughout the month, be sure to say hello to the famous toy soldiers patrolling the boulevard. For even more festive fun, on December 15th, nearby Earl Brown Park will transform into a winter wonderland complete with festive treats, holiday scenes, and market tables.
DeLand Indie Market Holiday Edition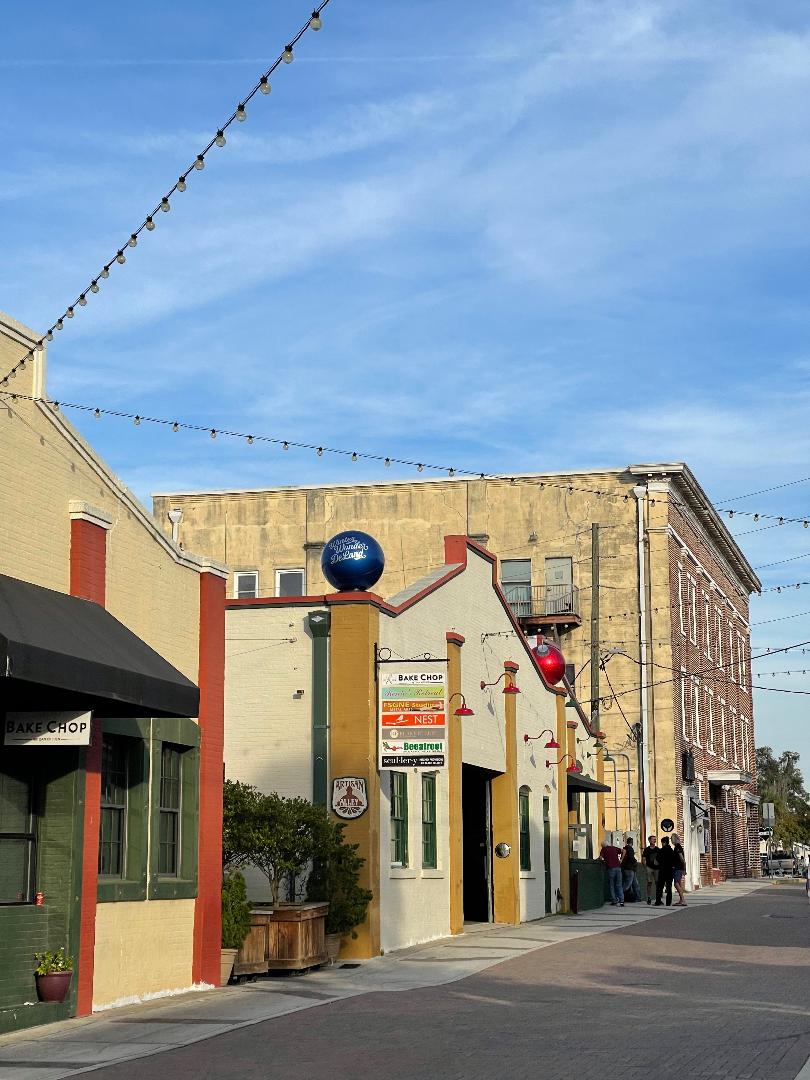 December 4 | 11am-5pm
The DeLand Indie Market Holiday Edition is here just in time for your gift-giving needs! Shop local for the holidays this year with a wide assortment of over 70 hand-selected vendors. As you stroll through Artisan Alley in Downtown DeLand, peruse the market to find your favorite local gifts and tasty eats! This is the perfect opportunity to stuff your stockings with unique, local goods this year for either family and friends, or for yourself. While you shop, enjoy the sounds of live music and the holiday cheer of your community. For more information visit facebook.com/DelandIndieMarketatArtisanAlley
A Florida Christmas Remembered
December 10 | 9am-4pm
This holiday season, jingle all the way to the Christmas festivities at Barberville Pioneer Settlement. Little ones have the opportunity to participate in make-and-take crafts and a meet and greet with Santa and Mrs. Claus themselves. Visitors can also observe the numerous artisan demonstrations featuring historical crafts like woodworking, blacksmithing, weaving, and more. Don't miss out on the opportunity to shop for Christmas gifts among the arts and crafts vendors or in the Bridgehouse Gallery. While you browse, listen to the joyous sounds of original and traditional Christmas music by folk artists. Visit pioneersettlement.org for more information.
Scrooge The Musical
November 26 – December 18
What in the Dickens!? They've put Scrooge in a big, big musical! This merry, sparkling, tuneful, boisterous, big Broadway musical version of the world's most beloved Christmas story—Dickens' A Christmas Carol will keep you and the entire family humming its tunes throughout the holiday and wishing everyone a very merry Christmas. Make attending one of the performances a heart-warming gift your entire family will remember for years to come. This production is In association with Concord Theatricals. Find showtime and tickets at athensdeland.com
West Volusia Historical Society's Christmas in Bloom
November 26th | 9 am – 3 pm
West Volusia Historical Society kicks off the holiday season with Christmas in Bloom, a fun outdoor celebration at Select Growers in DeLeon Springs, FL. Browse unique handcrafted selections from the Society's Makers' Guild Boutique celebrating favorite holiday traditions and fun keepsakes reminiscent of local Florida history. Sample yummy treats in the Old Fashioned Bake Shop and purchase some for friends and family. Join in the Silent Auction for baskets bursting with arts and crafts supplies, toys and books. Cast your vote in the People's Choice Awards for the kid's Gingerbread Cookie Decorating Contest and don't miss the chance to take a holiday photo with our BIG sock monkey. More information on Christmas in Bloom can be found at delandhouse.com
10th Annual Holiday Stress Buster 5K
December 24 | 8 am
Work off the stress that comes with the hustle and bustle of the holiday season with a 5k in 'The Gem of Florida!' Consisting of a Kids Run/Fun Run and 5K (with an optional virtual 5k), the route takes you around a beautiful, historic 3.10 mile route in Lake Helen. Races start at 8 am on Saturday, December 2. Funds raised support the City of Lake Helen's Parks & Playgrounds. More info on the races can be found here.
DeLand Christmas Boat Parade
December 10 | 6pm
Forget the chimney! In DeLand, Santa arrives by boat. Don't miss out on the unique and fun tradition of the annual DeLand Christmas Boat Parade, which began in the 1920s. Experience the twinkle and magic of the parade of boats as they light up the night with Christmas cheer. This year, the boats will be setting course from Lake Beresford to Whitehair Bridge. After the parade, winners will be crowned during the awards ceremony, followed by an afterparty. See here for up-to-date information on this year's Boat Parade
Heritage Tour of Historic Homes and Buildings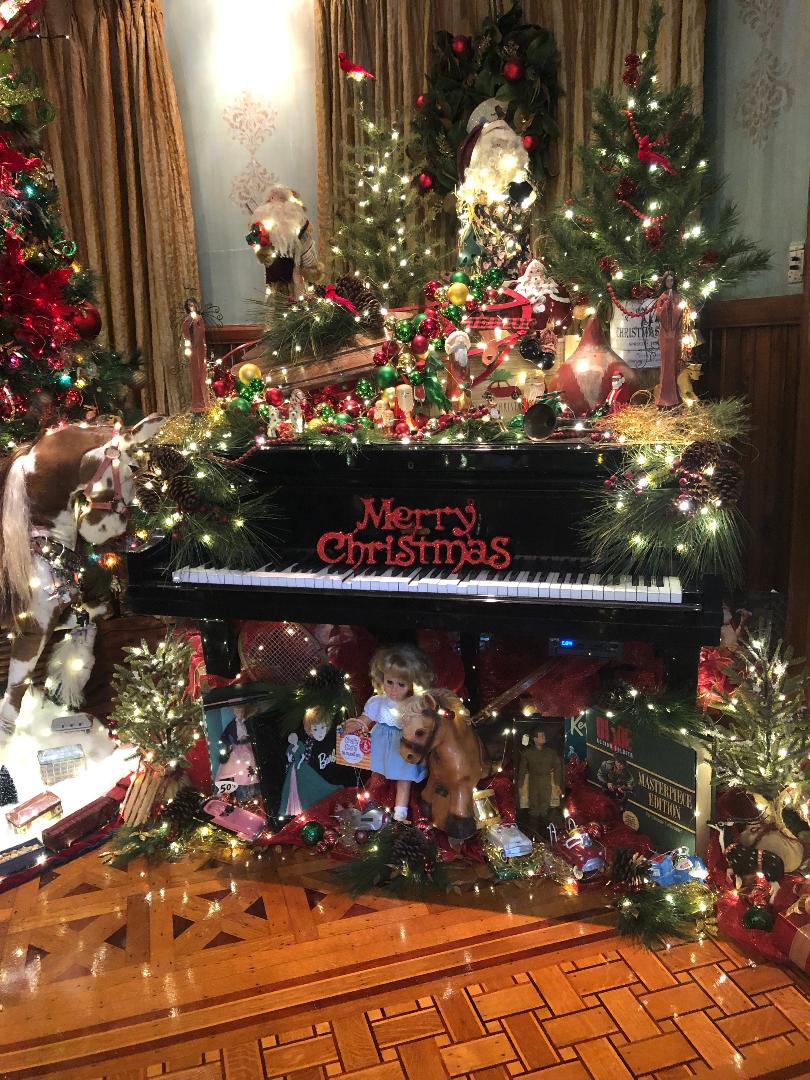 December 10-11 | Times TBA
There's no better way to experience the Christmas magic of West Volusia than through the homes and buildings that make it such a special place. This year's tour will continue the decades-long tradition of the Christmas Home Tour by allowing you to visit 8 homes and 5 buildings, in addition to a new mural in DeLand featuring prominent African American trailblazers from the area. Admire the cheerful decor of carefully curated homes and gardens of the historic district and surrounding areas. This is a treat for any history or architect lover! More information on the Heritage Tour can be found at delandhouse.com.
Holiday Candlelight Tours at DeBary Hall
Explore DeBary Hall Historic Site during holiday evenings when candlelight fills the 19th-century mansion with a warm glow, accentuating its historical treasures and Christmas decorations. Guests will start in the theater to hear about historic holiday traditions, sing a carol or two, and then be escorted to the mansion for a tour. Advance tickets must be purchased; call 386-668-3840 or email lperez@volusia.org. More information can be found here.
Asian Lantern Festival: Into the Wild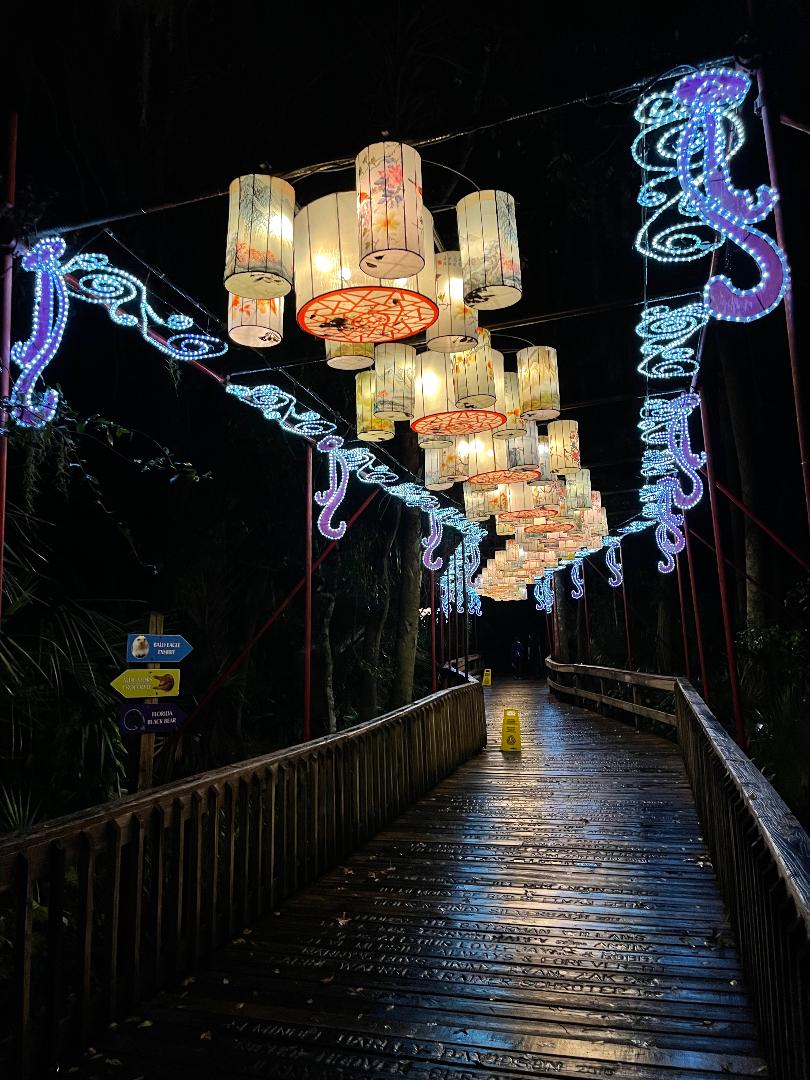 November 18th – January 15th | 6 pm – 10 pm
Bring the whole family out to uncover the wonder and tradition of the Asian Lantern Festival at the Central Florida Zoo & Botanical Gardens. As you walk the 3⁄4 mile path, you will see 30 hand-constructed, illuminated lanterns depicting animals, plants, and traditional Chinese elements. Enjoy many photo ops of the magical lanterns and pathways, and even catch some waving and moving on their own. Along the way you'll also learn about Asian culture and symbols. Browse local food and beverage options, listen to live music, and discover authentic Asian crafts. More information can be found at centralfloridazoo.org.
More information on West Volusia County can be picked up at the Visitor Center located at 116 W. New York Avenue in Downtown DeLand, FL, or can be found online at www.visitwestvolusia.com. Please call 386-734-0162 for more information.