Have a love for the arts? Luckily, on I-Drive, we've got plenty of art to enjoy, from unique and interactive art-focused attractions to museums, and spots where local artists come to show off their creations to locals and visitors alike.
Next time you're visiting International Drive, be sure to make a stop at these 5 unique art destinations!
Cafe Tu Tu Tango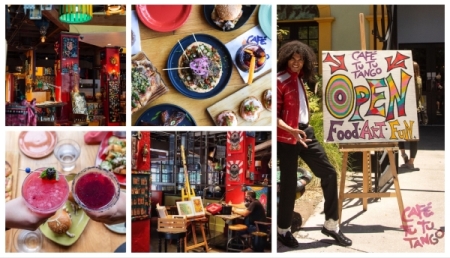 A casual, unique, and delicious meal at Cafe Tu Tu Tango is a must while on I-Drive.
This all-appetizer eatery offers cuisine from multiple cultures, and was designed to resemble a wild artist's loft in Barcelona Spain, whereas you can imagine… a party is always in progress!
Aside from their delicious, eclectic, appetizer-style menu designed to be particularly intriguing and fun, you can also enjoy various forms of entertainment that occur unpredictably throughout the evening at Cafe Tu Tu Tango. But, the fun doesn't stop there, this is a must-stop for art lovers in the I-Drive area, as the walls of this restaurant are covered in various pieces of artwork, and you can even find local artists painting and displaying their work at various art stations throughout the restaurant.
So stop by, grab one of their unique cocktail creations, and join the party!
Bronze Kingdom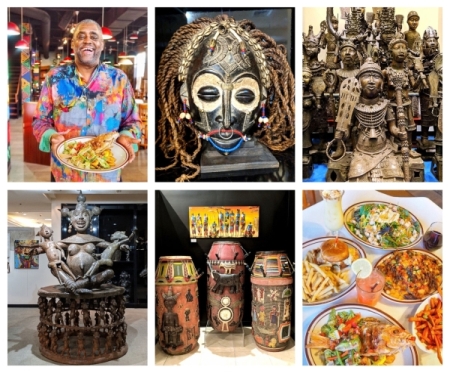 The Bronze Kingdom is a 27,000 square foot art museum with a gallery that represents an important spectrum of African bronze, beaded, and wood sculptures from all over the continent including Nigeria, Cameroon, Mali, Côte d'Ivoire, Ghana, Senegal, and The Democratic Republic of The Congo.
Their mission is to keep a promise they made to the notables to share the richly robust legacy of Africa through educational, historical, creative, and technological exhibitions and programs.
After perusing their extensive galleries, and learning a bunch about African culture, you're sure to have worked up an appetite, so be sure to complete your visit with a stop at their on-site restaurant and bar, Serengeti, where you can indulge in signature American dishes with an African twist.
Madame Tussauds Orlando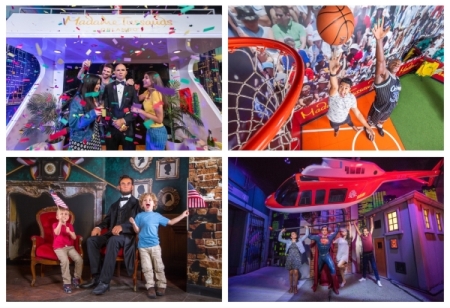 If you've ever stepped inside a Madame Tussauds wax museum, you know first hand how stunning and realistic their wax sculptures really are! Meet, mingle, and snap pictures with some of your favorite celebrities at this beloved Orlando attraction.
With 7 different zones at their location here in Orlando, there's something for everyone; history and leaders, Justice League: A Call For Heroes, Sports, Music Stars, Movie and Film Stars, TV Stars, and an A-List Party zone.
Come see first hand why millions and millions of people have flocked through the doors of Madame Tussauds attractions since they first opened over 200 years ago, and enjoy examining wax figures that are so accurate and realistic, you won't believe your eyes! And of course, feel like a celebrity yourself as you strike a pose and snap selfies next to all of your favorite characters and idols!
Abstract Orlando

Roll your sleeves up and be the artist!
Get those artistic juices flowing during your next trip to International Drive with a resin class at Abstract Orlando.
Originally a gallery that opened up to champion local artists, in time Abstract Orlando decided to help local artists, and today, they offer a place where not only local artists can showcase their work, but also an art studio space to generate new forms of art and a creative venue for any needs.
During their resin classes, you'll have fun as you learn all about resin by creating a beautiful and functional piece of art of your own! Plus, they provide guests with a 24 hour turn-around time, so you can pick your art piece up as early as the very next day.
Stop by and embrace your inner artist by creating your very own resin coasters, a cheese board, a three-tier cake stand, or something else to bring back home with you at Abstract Orlando.
Coco Key Orlando

Coco Key Orlando is a favorite spot to stay in the heart of Orlando, from their comfortable and accommodating family-friendly hotel, to housing Orlando's only 54,000 sq ft. canopy-covered outdoor water park. Whether you're staying here during your vacation or visiting for a day of fun at their water park, be sure to head into their lobby to check out their art gallery featuring a variety of beautiful pieces of art from local Orlando area artists.
Coco Key partnered with Galleries on the Go at the beginning of this year in an effort to increase engagement with the local community. This non-profit organization is about connecting the local artist with an audience in a meaningful way. Each art piece showcased at Coco Key's lobby is available for purchase by anyone that might be interested, and there is a piece of art for every taste and budget. Enjoy perusing the gallery during your next visit, and maybe even take a piece of art with Orlando local flair back home with you as a keepsake.
Orlando is home to a large artistic community, and if you're hoping to immerse yourself in local art while visiting Orlando's Most Dynamic Neighborhood, be sure to add these 5 stops to your International Drive itinerary!