If you've ever been to International Drive, you know that family fun is kind of our thing! There are so many ways to play on I-Drive, and if you brought the whole family along, here are 5 stops for family fun on I-Drive that we're sure will have everyone in the family smiling!
1. WonderWorks Orlando

Education meets fun in this interactive science museum that never ceases to amaze its guests! Head to Orlando's favorite upside-down building to experience over 100 interactive exhibits that will offer experiences like feeling a 5.3 earthquake, touching 100,000 volts of electricity, playing a variety of virtual sports, or even riding a rollercoaster that you've personally designed! From laser-tag to their 4D theater, and every mind-blowing activity in-between, WonderWorks Orlando is truly an amusement park for the mind, and will offer a memorable time for everyone in the family!
2. iFly Orlando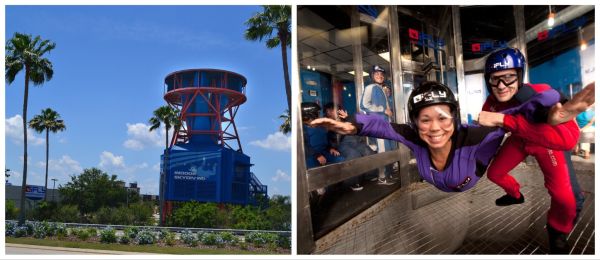 What's a better way to kick start a family trip to I-Drive than facing your fears?! iFly Orlando is the perfect way for everyone in the family to try something new, and experience the true feeling of 'free falling' – no parachute, plane or previous skydiving experience needed!
The iFly Experience is so similar to real skydiving, that professional skydivers use the wind tunnel for training, yet it is a safe experience for kids 3 years and up to enjoy!
Upon arrival you'll notice their indoor skydiving wind tunnel, you may even see others flying around inside of it from their free observation deck. Then head inside and get geared up for a thrilling experience that the whole family can enjoy, in this one-of-a-kind experience in the heart of Orlando! It's certainly one of the most thrilling of the 5 stops for family fun on I-Drive.
3. Chocolate Kingdom – Factory Adventure Tour

Because if there's anything that the whole family can agree on, it's stopping for a sweet treat. When you go to Chocolate Kingdom, you'll not only get to taste various delicious chocolate treats from across the globe, but you'll also learn a ton about this delicious delicacy. While exploring this kingdom of chocolate, you'll even come across larger-than-life chocolate sculptures of some of the most famous landmarks around the globe.
Embark on an interactive journey that uncovers how chocolate transforms from bean into the creamy, dreamy chocolate bar, as you join forces with a handsome Prince and his Dragon sidekick that will take you through a Cacao Tree Greenhouse, a one-of-a-kind Chocolate Museum, a Mystical River of Chocolate, and a Micro Batch Bean-to-the-Bar Factory utilizing old world machinery.
A trip to the Chocolate Kingdom – Factory Adventure Tour is sure to be a sweet experience from start to finish that the entire family will savor!
4. Funtania Game time!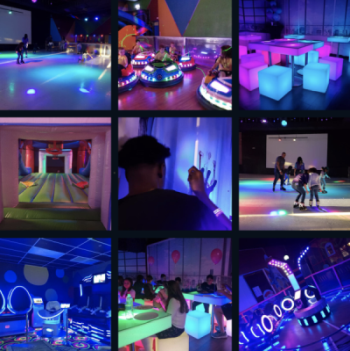 Funtania is a Family Entertainment Center that will have the entire family playing all day long!
Enter into an exciting world of fun and imagination, with a variety of games all indoors, making this attraction the perfect stop to escape the heat with some family fun! From virtual reality simulator rides, VR escape games, and arcade games, to bumper cars, a bounce house, a glow zone, and even an indoor synthetic skating rink, a trip to Funtania will prove to be an entertaining time for both the young and the young at heart!
Next time you're looking for some family fun on I-Drive, be sure to make a stop at this 10,000 sq ft facility that features more than 10 mega-thrilling attractions and let the games begin!
5. Andretti Indoor Karting High-Speed Go-Karts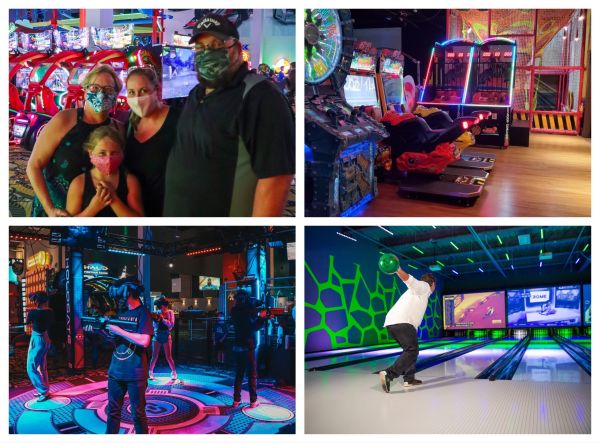 If your family has a need for speed, Andretti Indoor Karting is the perfect place for a family outing!
Hop into a BIZ Kart, one of the best models of electric karts in the industry, and enjoy the thrills of racing on their climate-controlled go-kart tracks. But, beyond a thrilling racing experience, Andretti also offers games to keep the fun going long after the winner has been declared! From an arcade, ropes and zipline adventure course, and an XD Dark Ride, to racing simulators, laser tag, bowling lanes, and more; simply grab a bite to eat at the on-site Andretti Grill, and get your game on.
It's safe to say that at Andretti the whole family will find excitement at every turn.
International Drive is the perfect place for family, whether you're planning your next family vacation, or simply want to treat the family to a unique and exciting day outing, start with these 5 stops for family fun on I-Drive.
Check out a full list of attractions that call Orlando's Most Dynamic Neighborhood home, and get ready for some fun that the whole family can enjoy during your next trip to International Drive.