It's summertime in the City Beautiful, and as the saying goes, we're all screaming for ice cream! July is National Ice Cream Month, and luckily our favorite sweet treat that helps us beat that Florida summer heat is never far from reach on I-Drive! Next time you're exploring International Drive, take a quick break with your favorite frozen treats at these sweet stops.
Mr. Cool

Mr. Cool Ice Cream is keeping everyone cool on I-Drive! Whether you're craving a classic frozen treat like a scoop or two of ice cream, a milkshake, or you want to try something new like Chinese Boba tea or some delicious Thai ice cream rolls, you'll find a treat that is sure to hit the sweet spot at Mr. Cool!
With over 15 signature Thai ice cream rolls, each made to order, there is a refreshing flavor for any pallet. Just some of their signature rolls include: Key Lime Pie, Monkey Business with nutella and bananas, Miss Nilla Wafer, Smores Galore, the Hello Kitty with strawberries and bananas, Morning Latte coffee flavored roll, New York Style inspired by drool-worthy cheesecake, Over the Rainbow with fruity pebble toppings, and so many more! See a full list of their signature Thai ice cream rolls here.
Sugar Factory Orlando

Sugar Factory, located in one of Orlando's favorite entertainment complexes, ICON Park, is another must-try sweet spot on I-Drive!
You probably best know Sugar Factory for their instagram-worthy concoctions, from massive alcohol infused goblets, to milkshakes piled high with unique toppings ranging from sweet to salty, to gourmet burgers, french fries, and a variety of unique food combinations… This American brasserie is sure to satisfy the sweet tooth cravings of both tourists and locals alike.
Signature treats include a number of celebrity-endorsed Couture Pops, smoking Goblet Drinks, candy infused cocktails, and the one-and-only King Kong Sundae with 16 scoops of ice cream, tasty toppings, and even sparklers!
If you're looking to satisfy that sweet tooth craving with a true dining 'experience', a stop at Sugar Factory is a must. Check out their full menu of foodie approved sweets and order up!
Coldstone Creamery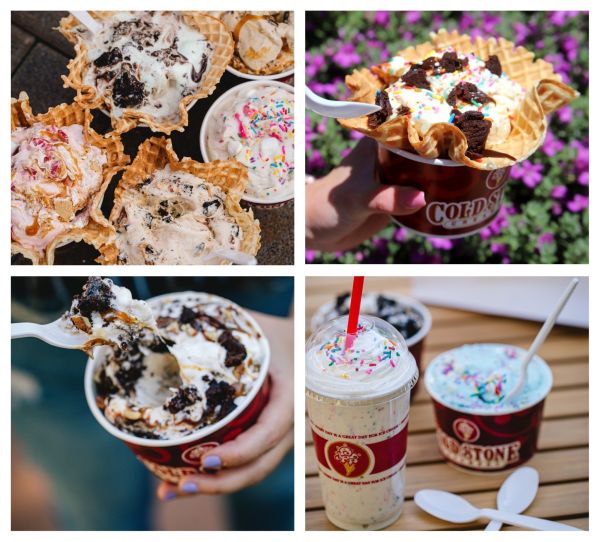 If you're looking to keep it classic, what's more classic than hand-crafted, fresh ice-cream customized with toppings of your choice, and then churned together using a frozen granite stone?
Cold Stone Creamery knows ice cream, and the one here on I-Drive has been serving up the finest, freshest, ice cream, cakes, smoothies, frappes and shakes using only the highest quality ingredients for over 30 years now!
With over 30 tried and true signature ice cream creations to choose from, or endless topping options to create your very own concoction, there's no doubt that an ice cream stop at Cold Stone will serve up the ultimate indulgence.
Shake Shack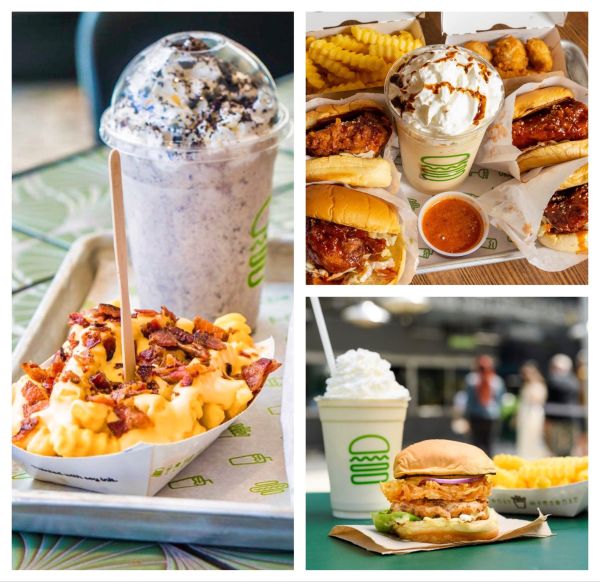 Looking for a stop that offers both sweet and salty specials? Or maybe you're someone who enjoys a quick dip of a salted golden french-fry into an ice cold milkshake… whatever the craving; Shake Shack has the cure! But, what you get at Shake Shack won't be your average ice cream. Their dense, rich, and creamy frozen custard is the real deal – and they spin it daily at the shack! Choose from vanilla and chocolate recipes that use only real sugar, cage-free eggs, and milk from dairy farmers who pledge not to use artificial growth hormones.
Looking for a shake? Choose from vanilla, chocolate, black & white, strawberry or cookies & cream. Or maybe, you're looking for a delicious float that will take you back in time to cherished childhood memories? If so, they've got you covered with Draft root beer from Abita Brewing Co. and local craft brewers, purple cow grape soda, and a creamsicle flavor that will blow you away.
Active-Ate Smoothie & Juice Bar

A frozen sweet treat that is good for you too is a win-win! If you're craving a frozen sweet treat that is boasting with nutrients, a stop to Activ-Ate should be in order. Specializing in the best tasting, highest quality, pure organic acai & pitaya bowls, smoothies, cold pressed juices, and other superfood treats, they are committed to providing the Orlando community with nutritious healthy clean food, all the while partnering with local farmers to provide Florida Fresh fruits and vegetables while giving back to the community.
Aside from their five tasty signature bowls, you can also choose to 'Grow Your Own Bowl'. Simply choose a base of either Acai or Pitaya, select your toppings of banana, strawberry, blueberry, mango, pineapple, raspberry, blackberry, or kiwi, and then top if all off with a delicious drizzle of honey peanut butter, almond butter, peanut butter, nutella, honey, condensed milk, or agave. They also have a variety of protein packaged, superfood charged signature smoothies, or you can grow your own smoothie too!
No matter what fruits and vegetables you're craving, you'll find fresh selections at Activ-Ate that will allow you to create a delectable, healthy, frozen sweet treat to beat the heat.
Summer is in full swing, and if you're hoping to beat the heat with a sweet frozen treat, I-Drive is the perfect place to be! So, next time you're in the area and a craving strikes, be sure to make a pit stop at one of these sweet stops on I-Drive and indulge in some of the best frozen treat options out there!