Florida… a state filled with a little bit of everything. From beaches to top attractions, there's no limit to the adventure you can have when you visit Florida. By your third or fourth visit, you might be what we call "theme-parked out" and looking to do something different this trip. One of the great things about airboat tours in Florida is that they're a great way to get some fresh air and relax, and they're fun for people of all ages.  And there is no better place to enjoy an airboat ride than Wild Florida.

1. See a wide variety of wildlife and plant life during Everglades airboat tours
When most people think of animals in Florida, the first thing that comes to mind is, of course, the American alligator. However, with a warm climate year-round and a variety of food and water sources, Florida creates a hospitable environment for a variety of animals to thrive and raise their young. Little do tourists (and even Floridians) know, but there are over 300 different species of wildlife that can be found in Florida, with about 80 species living in or around Lake Cypress. This means that even with an airboat captains' expertise in spotting animals out in the wild, you'll need to go on multiple airboat rides to see all of Florida's wildlife.
2. Be in the heart of Central Florida's top attractions
Despite what you might have read online about the Everglades, it isn't only found in South Florida. The Everglades actually start in Central Florida, so you don't have to travel to Miami to experience the real, wild side of Florida. Another perk of doing an airboat ride in Florida (specifically in Central Florida) is that after you finish your airboat tour, you're just a short drive from, well… everything! From shopping malls to other local attractions, you and your family have a variety of other activities to enjoy.
3. The adventure doesn't stop after your airboat tour
Unlike other Orlando airboat rides you might find in the area, EVERY airboat ride purchased at Wild Florida also includes admission into the Gator Park. Inside, you and your family will get to see over 200 exotic and native animals, witness the power of an alligator's bite during the Gator Feeding show, and even take a photo with their spokesgator, Fluffy!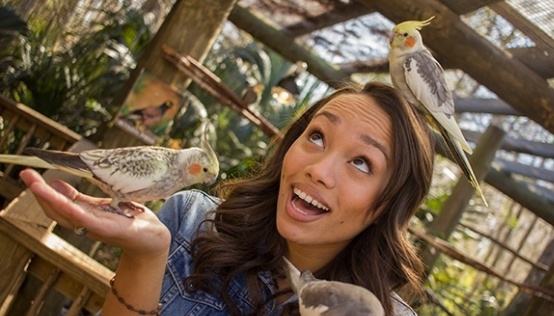 Along with all of this, for an additional cost, your adventure at Wild Florida can include an animal encounter where you'll be able to interact with one of eight animals: two-toed sloths, ring-tailed lemurs, American alligators, albino alligators, Tamanduas, African crested porcupines, giraffes, and now capybaras.
Hop in your car but don't leave just yet! Travel down gravel paths within Wild Florida's Drive-thru Safari Park and discover more than 150 native and exotic animals roaming freely. Expanding across 170 acres of untouched scenic landscapes, Wild Florida's wildlife and safari park present a unique opportunity to bring you up close l to wild animals such as giraffes, zebra, eland antelope, scimitar oryx, American bison, mouflon sheep, and more!
Ready to make this adventure a reality? Click the button below to start planning your trip to Wild Florida!