Building upon a momentous 2019 that encompassed ongoing renovations, exciting events, the opening of a state-of-the-art animal care center, a new conservation education center, significant animal births, varying species conservation milestones and continued leadership in the rescue, rehabilitation, and release of Florida species, ZooTampa at Lowry Park has an ambitious plan to continue its mission-driven work in 2020. In short, 2020 is a great year for Zoo Tampa at Lowry Park.
As 2020 commences, the zoo reaffirms its commitment to creating a year-round calendar of activities that immerse guests into animal experiences beyond the ordinary that help foster connections with nature, wildlife and each other, including:
• The national premiere of Nat Geo WILD's "Secrets of the Zoo: Tampa" on Jan 5. The six-part series offers an unprecedented and intimate look at some of the world's most endangered and fascinating species and the dedicated team at ZooTampa entrusted with their care. A second season is currently being filmed.
• Building upon the success and appeal of key seasonal events, beginning this Spring with an all-new Dinos Alive at ZooTampa. This adventure of epic proportions connects prehistoric species to modern-day wildlife found at the zoo. Guests can travel back in time and come face-to-face with animated, larger-than-life dinosaurs from a Stegosaurus to a T-Rex. The limited-time event will feature interactive adventures for explorers of all ages. Other seasonal happenings include a wild celebration for the senses at ZooBrews, startling eerie family frights at Creatures of the Night, and incredible light displays at Christmas in the Wild.
• New amazing species will be introduced, including a sun bear, which is the smallest and most rare of all the bear species. Binturongs, with a face like a cat's and a body like a bear's, are a vulnerable species that are not often seen in the wild by humans. Bonobos, one of the rarest and intelligent animals in the world. A new habitat for critically vulnerable shoebill storks, a large-bodied bird with an unusually outsized bulbous bill that is interesting to observe.
• Expanded ways to safely connect guests with animals, including new offerings of behind-the-scenes tours, as well as, up-close signature encounters with rhinos, elephants, giraffes, Aldabra tortoises, koalas, stingrays and more.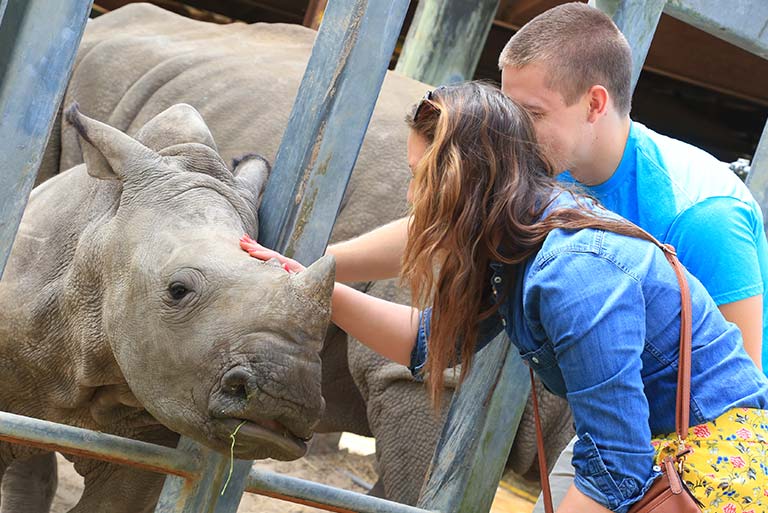 • Continue to lead in conservation education through outreach and in-park programs and events serving the Tampa Bay area, as well as, diverse and underserved communities. Additionally, our award-winning environmental education center, Zoo School, celebrates its 20th anniversary.
In 2020 and beyond, ZooTampa will continue to offer guests unique and unforgeable natural connections that form lifelong memories and connects them magnificent creatures who share our world. 2020 is a great year for Zoo Tampa at Lowry Park.
Florida's Gulf Coast, particularly Tampa, is a hidden gem on the western side of the state. Often shielded from hurricanes that negatively impact other Florida coastal cities, Tampa offers year-round fun for travelers– from beaches and water activities to shopping and delicious dining! So why stop with just a visit to ZooTampa at Lowry Park? Buy the ZooQuarium ticket and enjoy The Florida Aquarium as well! Celebrating its 25th anniversary this year, its aim is educating more school children, creating new and exciting habitats for visitors to enjoy, giving back to the Tampa community and so much more!