Orlando Attractions Update – According to our friends at the Orlando Sentinel SeaWorld Orlando is bringing more of its animal-rehab activity out into the open and out into the theme park itself. Everyday visitors now are allowed into a section named Manatee Rehabilitation, where they can see treatment that puts ailing sea cows back in their natural habitats.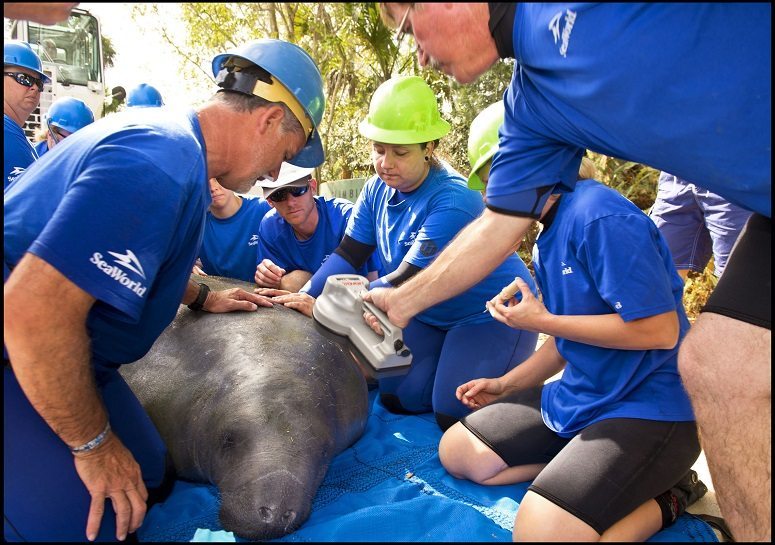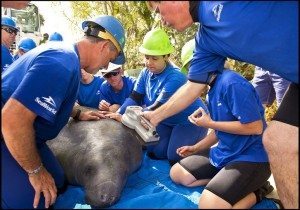 "You can watch us medically treat the animals. You can see us tube-feed," J.P. Peterson, supervisor of animal care, said Wednesday. "You can get up-close to an animal that maybe came in yesterday, that's in a critical state."
The entrance to the Manatee Rehabilitation space is near the exit of the Turtle Trek attraction. Manatees have been living near there, but now guests can walk to an outdoor medical facility where the animals receive treatment. The area includes two 30-foot by 30-foot pools, one for medical care and observation and one more of a holding area for recovery.
Two manatees — one named Trooper, one designated as TM1606 — were in the medical pool, chomping on lettuce Wednesday. TM1606 was rescued, suffering from cold stress, from the Merritt Island area. It was Trooper's second visit to SeaWorld. After being treated in 2013, he was found again this yea in the Daytona Beach area, in cold water and emaciated. (Microchips help identify specific manatees.)
"Right now, he's in guarded contdition but doing well," Peterson said. "He's eating on his own again. He's gaining weight." Trooper could be released again in a few months, Peterson said, as part of the park's rescue/rehabilitate/return mission.
"There isn't an animal that we go out and rescue that we want to bring into our facility and keep. That's not what we do," he said. "Our goal is to rescue them, get them fixed, patched up and get them back out as quick as we can so they can continue to thrive in their natural environment."
The rehab area previously was seen by guests taking one of SeaWorld's behind-the-scenes tours for an additional charge. It's now included in regular admission.
Park educators will answer guest questions. The area is decked out with displays identifying dangers to manatees (boat strikes, cold stress, entanglement) and their solutions. There are cameras set up in the pools and video screens that share the stories of the animals there.
The area was in preview mode until Wednesday, which also was Manatee Appreciation Day. Visitors tend to stand in awe of the animals and ask about their conditions, said Kaylin Ackerson, an instructor on the park's education team.
"We want to make sure that they know the specific reason why this manatee came to us and what their treatment process is," Ackerson said.