Up close animal education and fun await you during your next visit to Gatorland. The "Alligator Capital of the World" offers more than 10 unique opportunities to feed a variety of different animals in the park, including the park's namesake reptiles and much more. Get up close and personal at Gatorland.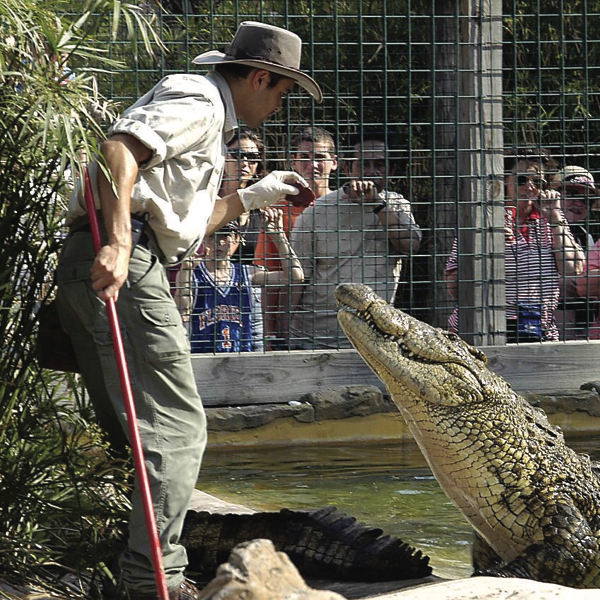 • Junior Jumparoo. Feed our junior alligator residents, at Junior Jumparoo, located near the Snack Bar, and help them learn how to jump.
• Adventure Hour. Located at the north and south end of the Breeding Marsh. Guests enter a special area with a guide to feed giant alligators up close. A Gatorland signature experience. Reservations can be made at admissions prior to 12:30 p.m.
• Allie's Barnyard Petting Zoo. Located on the main walkway. Feed goats, cows, and other barnyard favorites. Purchase cones of animal feed at the petting zoo.
• Capybara Encounter. New at Gatorland! Make reservations at the petting zoo to visit Flamingo Island and feed Ben and Jerry, Gatorland's resident Capybaras.
• Feed Alligators. Purchase gator chow at the Gator Chow kiosk along the main walkway to feed Gatorland's resident alligators.
• Very Merry Aviary. Have fun feeding birdseed on a stick to hundreds of budgerigars (the common parakeet) in a free-flight aviary. Purchase birdseed sticks at the aviary.
• Emu Feeding. Visit Gatorland's emus, located at the south end of the park. Purchase emu food from coin-operated dispensers at this location.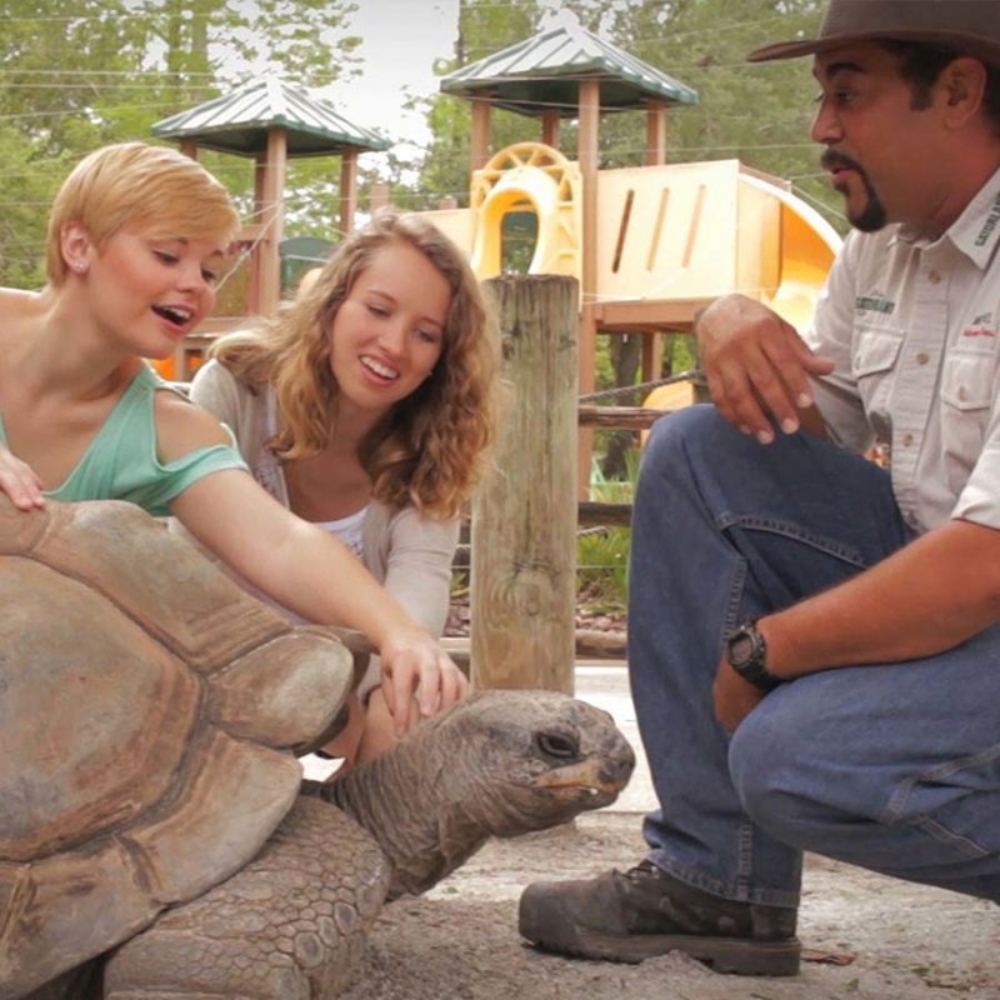 • Tortoise Encounter. Meet Dean and Lucy, Gatorland's giant tortoises. Located at the North end of the park, just past the Splash Park area. Encounters take place at 1 pm daily.
• Fish Feeding. Have fun feeding the fish in Gatorland's waterways. Purchase fish food from coin-operated dispensers near the Snack Bar.
Separately ticketed experiences:
• Gator Night Shine. Venture into Gatorland after park hours, in the dark, to feed alligators, see their shining red eyes, and experience all the sights and sounds of the Breeding Marsh after hours. Separately ticketed experience. BUY EXPERIENCE HERE
• Trainer For A Day. This separately ticketed VIP experience can be reserved and paid for online to accompany a Gatorland trainer and see what it takes to work with and feed the animals at Gatorland, getting up close and personal with alligators, crocodiles, reptiles, and more. An experience you will never forget!
BUY EXPERIENCE HERE
Gatorland has extended the Florida Resident discount of half of a single-day admissions ticket through September 30, 2022. Adults pay just $16.50 rather than $32.99 plus tax; Children ages 3-12 pay $11.50 rather than $22.99 plus tax and Seniors 60+ pay $15.99 rather than $31.98 plus tax. Children 2 and under are free. Proof of Florida residency for adults is required.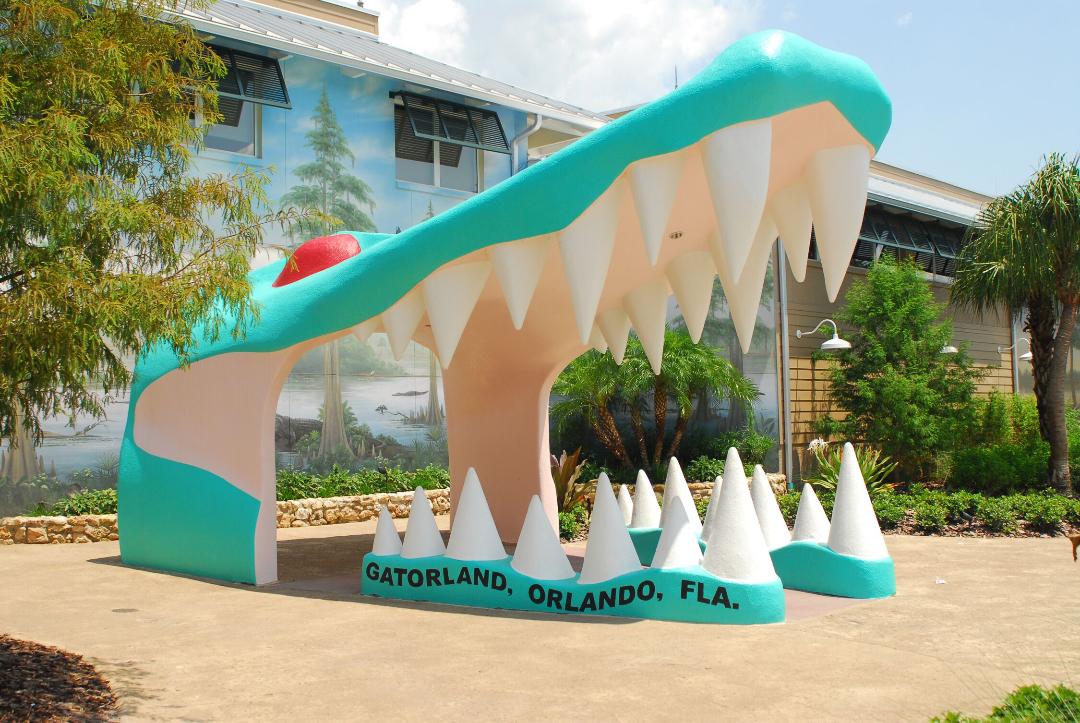 Gatorland is a 110-acre theme park combining Old Florida charm with exciting experiences, exhibits, and entertainment. Orlando Weekly's Best of Orlando® 2021 Readers' Poll named Gatorland the Best Attraction That's Not A Theme Park and Best Zip Line or Ropes Course for Gatorland's Screamin' Gator Zip Line.
Originally opened as a roadside attraction in 1949, the park is celebrating its 73rd Anniversary in 2022. This iconic park provides affordably priced family fun featuring thousands of alligators and crocodiles, breeding marsh with observation tower, free-flight aviary, nature walk, petting zoo, educational wildlife programs, award-winning gift shop, Florida's best train ride, Gator Gully Splash Park, on-site restaurant, and one-of-a-kind shows including Gator Jumparoo, Alligators-Legends of the Swamp, and Up-close Encounters. Popular adventure experiences inside the park include the Screamin' Gator Zip Line and Stompin' Gator Off-Road Adventure.
For more Gatorland info., visit www.gatorland.com or call 800-393-JAWS.