The Long family started Boggy Creek Airboat Adventures way back in 1994, making them one of Orlando's original airboat tours. They were instrumental in bringing attention to the actual headwaters of the Florida Everglades which are right here in central Florida. Guests can experience this exciting eco-tour just minutes from the world famous attractions – no lines, no parking charges and thrills galore. Not to mention a close up look at the real Florida and some of the ancient cultures that predated Mickey Mouse by a few hundred years!

Coming Summer 2022 is Lily's Butterfly Garden and Lorelei's Critter Collection. A really exciting part of seeing Native Florida butterflies in a unique environmentally safe and fun way. Butterflies have the power to fascinate children and adults alike, with their colorful wings in free flight. The new aviary will be fun for all ages to learn about butterflies, turtles, birds and more.

Boggy Creek's fleet of airboats can be seen continuously docking and setting out again on exhilarating tours conducted by friendly, informative captains – day and night. Discover territory that remains unaltered in the wilderness of the Central Florida Everglades. Coastguard licensed Captains take you into the breathtaking beauty of nature, including wetlands and wildlife. See alligators, turtles, birds and more in their natural environment. Each safe and educational airboat tour is a unique experience and never the same. You'll feel like you're flying through the wetlands as you enjoy of of the best outdoor experiences in Central Florida.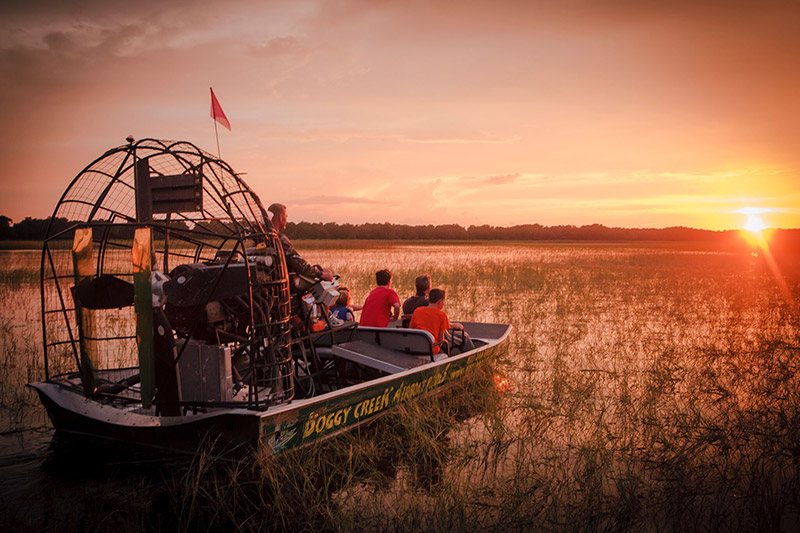 The night time one hour tour takes guests on a quest to find the red glowing eyes of the alligators as they come out to feed. Especially during the summer, this is a great time to see lots of alligators and have a real bucket list experience.
Back on dry land at the Native American village towering Chickee Huts cover genuine artefacts and the hand-made creations of Little Big Mountain and his family. (Separate admission charge applies) Deeply rooted appreciation for Native American heritage is brought to life by the Big Mountain family for guests through the traditional stories and techniques of their culture that once thrived in Central Florida.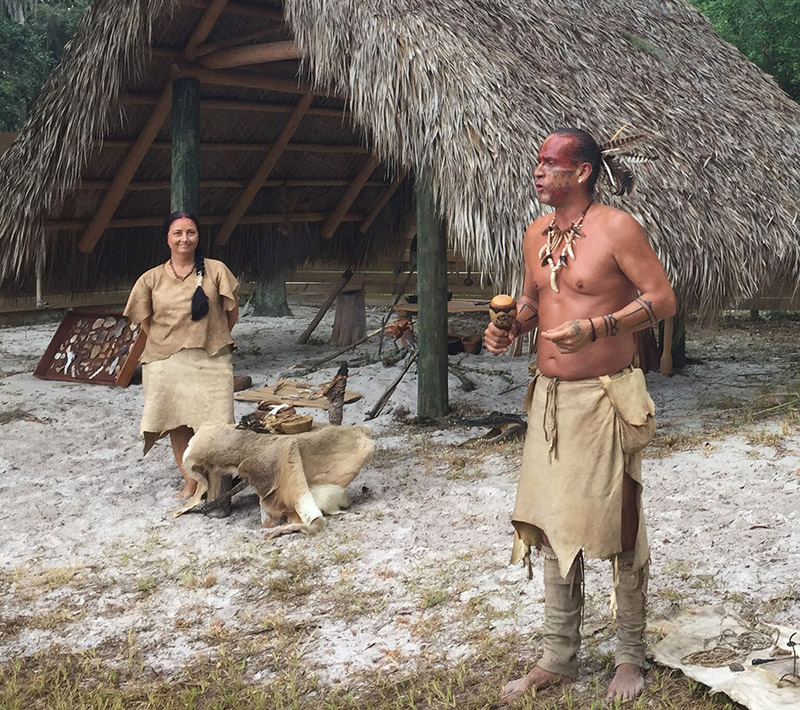 Learn to drive an airboat! Being a passenger in an airboat is a thrilling adventure, and now Boggy Creek Airboat Rides has taken it to the next level with a dually controlled boat, allowing you to be captain! You will learn airboating from the most qualified and experienced airboat captains in the world. After training on the controls and you get the feel of driving, the captain puts you in control to navigate and fly over the water. NO prior airboating experience is required!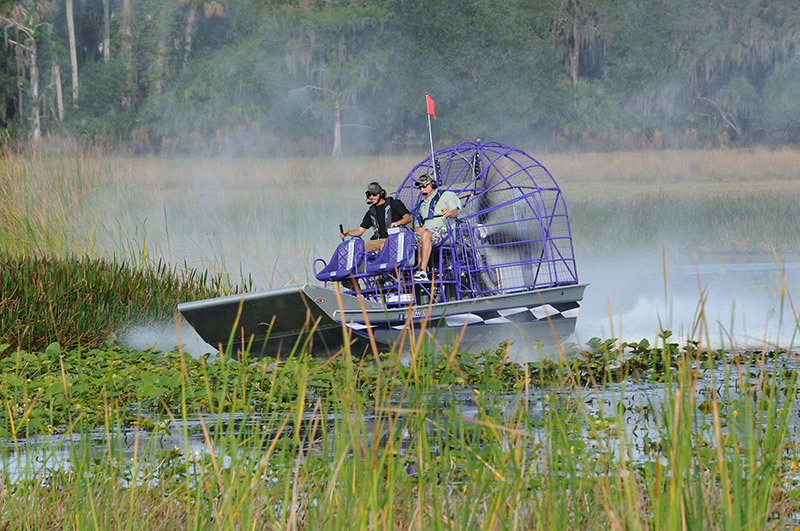 Be sure to check out the Gem Mining Station at Boggy Creek Airboats Adventures! Guests can purchase a range of bags and buckets filled with treasures that are native to Florida and take to the mining station. While mining, they will discover various gems, alligator teeth, shark teeth, rocks, and other treasures!

When it's time to eat you can dine outside at Boggy Bottom BBQ with a delightful lake view. Serving true Florida style bbq and all the fixins' made from recipes handed down from generations of Floridians. Also on the menu are Florida favorites such as gator tail, catfish and the "you can't get this back home" swamp cabbage stew. Enjoy the restaurant 7 days a week.
Boggy creek is great value and great fun – put it on your list for this summer!