If you're lucky enough to get a full week in town, there are lots of ways to soak in the sun and fun in Daytona Beach. From watersports to shopping, and museums to fishing excursions, there's truly no limit to the fun activities to be had by all ages. Not sure where to start? We've put together an itinerary for an ideal week filled with a wide variety of activities in Daytona Beach. Check it out below!
Day 1: Arrival day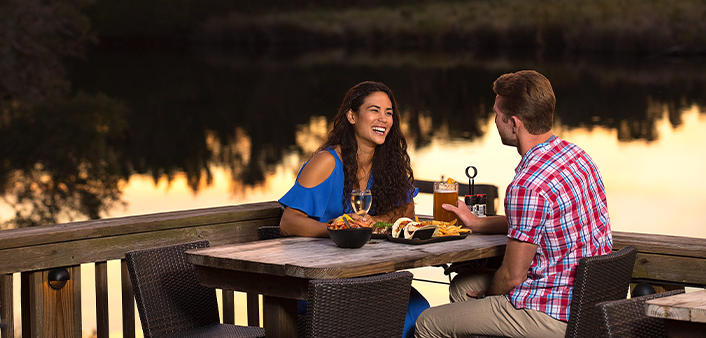 Travel day is easy and breezy in Daytona Beach. With fast, direct flights into Daytona Beach International Airport and access from I-95 and I-4, getting to and from your vacation isn't complicated. If you are flying into town, be sure to check with your hotel about its transportation options — many hotels offer free shuttles or similar services.
Depending on what time you arrive, it might be a good idea to freshen up in the room, then head out to get a feel for the area and all the fun that awaits.
Grab your sunglasses and head out to one of the top riverfront restaurants. It's the perfect way to savor the local seafood, soak in a sunset and fuel up for a fun week of adventure.
Day 2: Beach day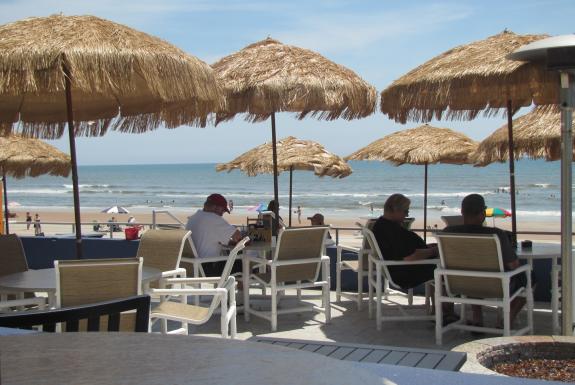 At this point, you likely won't be able to wait to get your toes in the sand! Pack up your beach bag with sunscreen and snacks, and head to the beach. With 23 miles of white-sand beaches in the Daytona Beach area, you'll have plenty of room to spread out. Depending on where you're staying, you can walk right out from your hotel, find easy, convenient parking, or — in designated areas — drive your car very slowly right onto the beach! When you're ready to find a little shade and a refreshing drink, head to one of the six best beach bars for an icy cold sangria or strawberry daiquiri.
Day 3: Soak in local art and historical sites
Beyond the incredible beaches and bright sunshine, there is a rich history in the area waiting for you to discover! Absorb the essence of Daytona Beach by spending some time at one of the area's many theaters, museums, galleries, and historical sites. Whether you prefer meandering through a museum, appreciating outdoor art or singing along at a live show, Daytona Beach has something for everyone!
You could easily spend an entire day at the Smithsonian-affiliated Museum of Arts & Sciences (MOAS), which features a state-of-the-art planetarium and a popular Children's Museum, and the Cici and Hyatt Brown Museum of Art
Take a stroll through the lush gardens and peaceful nature trails of Ormond Memorial Art Museum & Gardens. Since 1946, this museum has served as a tribute to war veterans and the freedom they protect, so there are a number of beautiful memorials to see, as well as exhibits featuring the works of prominent Florida and international artists.
One historical must-visit site is the Mary McLeod Bethune Home & Gravesite. This National Historic Landmark is the former home of civil rights leader, educator and founder of Bethune-Cookman University Dr. Mary McLeod Bethune. Known as "First Lady of Negro America," Bethune spent a lifetime working toward racial and gender equality, and much of her impact was made right here in Daytona Beach. Experience much of her incredible story and influence on a free tour of her home.
Of course, you can't visit Daytona Beach without paying a visit to the "World Center of Racing," Daytona International Speedway! Choose from various tour options ranging in duration times, cost and features — you can even get behind the wheel and drive on the same track as your favorite racing legends. Afterward, head directly across the street to ONE DAYTONA, the area's newest shopping, dining, and entertainment hub, for the celebratory meal.
The above venues are just a handful of those ready to be explored — discover more of Daytona Beach's artistic side, and be sure to check out this itinerary for a self-guided tour of famous historical sites in Daytona Beach!
Day 4: Outdoor adventures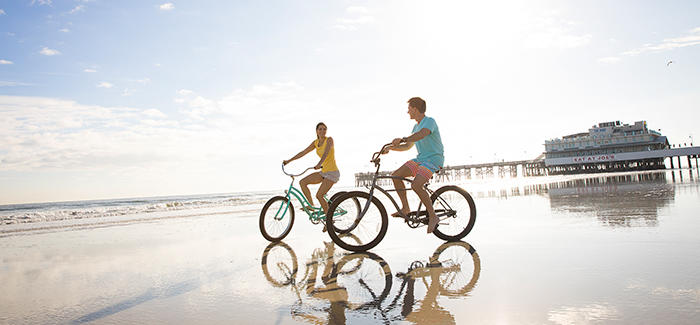 Outdoor adventures are endless in Daytona Beach — whether in, on or near the water, there are so many ways to enjoy the area's natural scenery. From state parks to fishing piers, find a place to truly unplug and enjoy your vacation.
Ride bikes! Whether you want to go for a leisurely family cruise along the beach or hit one of the nature trails, there are tons of great options for riding bikes in Daytona Beach. Check out the top bike trails guide here, and find a place to rent a bicycle here.
Go for a hike. If you're more into walking on two legs rather than riding on two wheels, you'll find no shortage of options for you here. Look for birds along the walking trail in Lyonia Preserve, make your way toward the manatees at Blue Spring State Park, or go for a sunset stroll along the beach. View more hiking trails here!
Tackle a morning of fishing with the family! Whether you rent gear and fish inshore, toss a line right from the shore, go on a daylong offshore charter, or hit one of the five best pier fishing spots, reel in new favorite memories whether you catch a fish or not.
Day 5: Taste of Daytona Beach
For those in your party who are over age 21, the Daytona Beach Ale Trail is a fun way to explore the area's vibrant, diverse brewery scene. With a wide variety of craft beers, artisan spirits, and delicious food offerings, the Ale Trail features a number of local microbreweries and tap houses. Try a one-of-a-kind local IPA, or sample a sour beer — this brewery trek is a fun way to expand your horizons.
Time it right, and you could end the day with a Tortugas baseball game! The team is a Cincinnati Reds Class A-Advanced affiliate, and they play their summer season home games at the historic Jackie Robinson Ballpark on the banks of the Halifax River. Enjoy America's favorite pastime on your next visit to the Daytona Beach area by taking the family to a Tortugas game!
Day 6: Ponce Inlet

Just a short drive down the road from downtown Daytona Beach is a charming fishing village called Ponce Inlet. There, you'll find many ways to spend a fun day together as a family. Activities include:
Climbing all 203 steps to the top of Ponce Inlet Lighthouse! As Florida's tallest lighthouse and originally built in 1835, it offers a 360-degree view of the Atlantic Ocean, the Intracoastal Waterway and the city of Daytona Beach.
For a chance to pet stingrays, see sea turtles up close in the rehabilitation hospital, view a variety of exhibits and meet the creatures of the artificial reef system, head to the Marine Science Center, which is located right around the corner from the lighthouse. It's a favorite destination for area visitors of all ages and an especially fun place to explore for those with children.
For those seeking a little action and adventure, Ponce Inlet has a variety of exciting activities to explore. Try flying high with parasailing, cruise the waterways by kayak, or even charter a fishing boat to go fish the massive artificial reef nearby. Cap off the day with a bite to eat at a waterfront restaurant nearby, and toast to your day of adventures.
For more ideas on what to do in Ponce Inlet, read our full itinerary for the ideal day!
Day 7: Departure day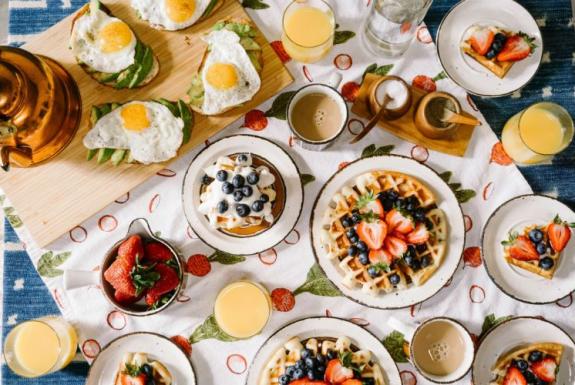 Alas, all good things must come to an end — even vacations! Spend the morning with a tasty breakfast, then soak up as many rays of sunshine as you can by the poolside or back at the beach. Then, take one last selfie and say your farewells to the beach until you meet again.