Welcome back to Polk County!
It's been a while – just about 18 months, to be precise – and a lot has changed in Central Florida's Polk County, Florida's Sweetest Spot. But not too much. Don't worry, it's still conveniently located between Tampa and Orlando. After seeing the best of Florida, you can then see the rest of Florida. Here's what's new.
Oinktastic!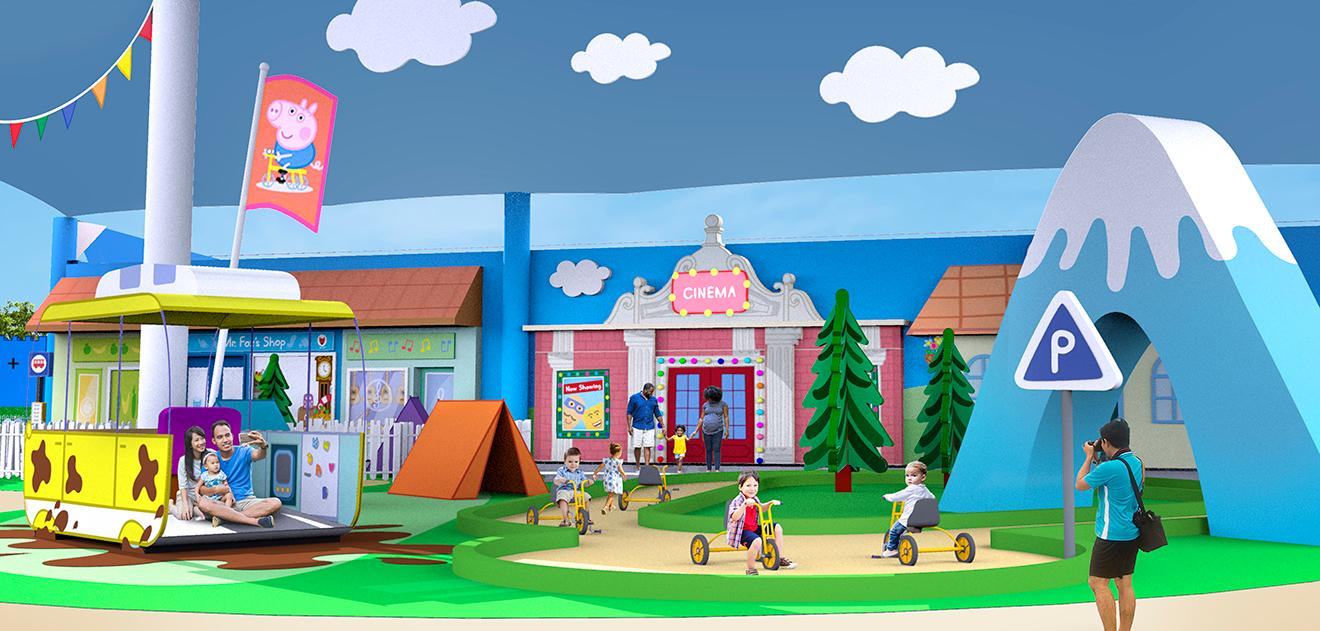 To begin with, Central Florida is preparing to welcome a certain young lady who loves mud puddles – and the rest of her clan – to their American home away from home! Opening in late February 2022, Peppa Pig Land will be the world's first Peppa Pig theme park. The park, right next door to LEGOLAND Florida Resort, is aimed at the preschool crowd. Featuring six rides and playscapes as well as a water area it promises to be an "Oinktastic" Adventure.
Among the attractions are the Pirate Island Sand Play, Peppa Pig's Treehouse, Mr. Potato's Showtime Arena, and what will surely be a favorite of every Peppa fan, the Muddy Puddles Splash Pad. Some of the rides to look forward to including Daddy Pig's Rollercoaster, Grampy Rabbit's Dinosaur Adventure, Peppa Peg's Balloon Ride, Peppa's Pedal Bike Tour, Mr. Bull's High Striker, and more.
Cabanas Galore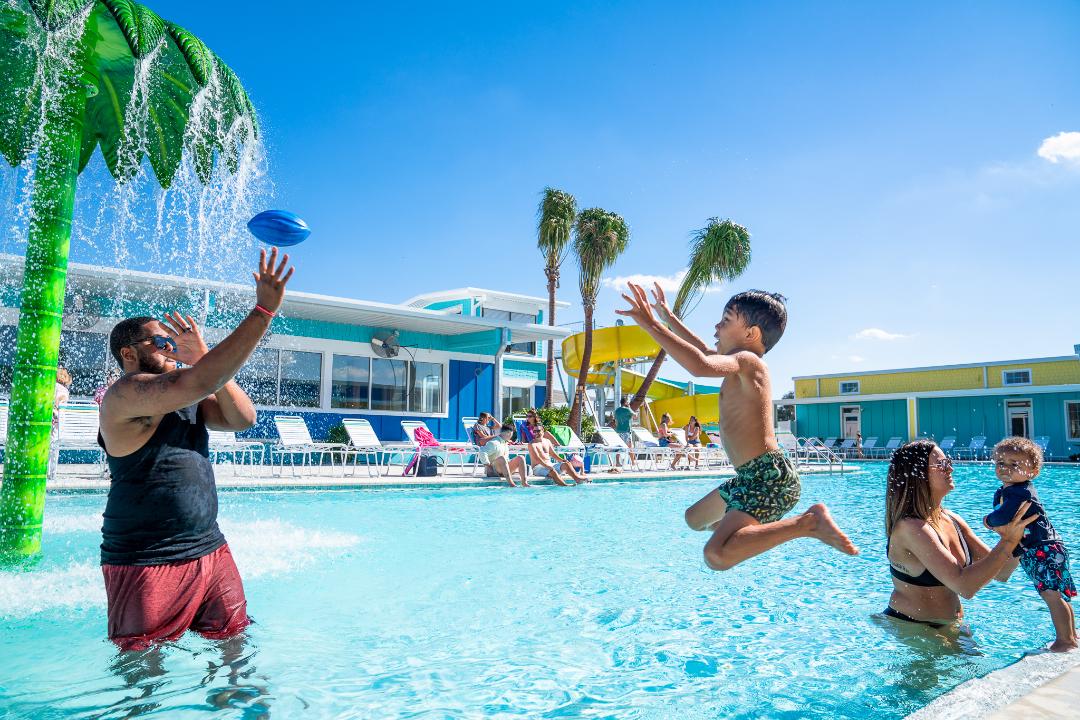 Not far away in Auburndale, one of the biggest lifestyle brands in the United States will soon plant a flag in Polk County.
The Cabana Club Resort will, in early 2022, become Camp Margaritaville RV Resort and Cabana Cabins Auburndale, and with it will bring the brand's iconic experiences, fun, and escapism to Florida's Sweetest Spot. The Margaritaville brand is based on the fabled hit beach-bum Jimmy Buffett tune.
Around the world, the Margaritaville brand is synonymous with a relaxing experience. At the moment, Cabana Club offers more than 175 RV and super-premium RV sites, a resort pool, Tiki Bar, entertainment stage, golf putting course, playground, dog parks, an arcade, and more. Coming soon will be a second, more serene lakeside pool and Tiki Bar, covered pickleball courts, beach volleyball courts, and more. Welcome back to Polk County indeed!
Enjoy Canopy Oaks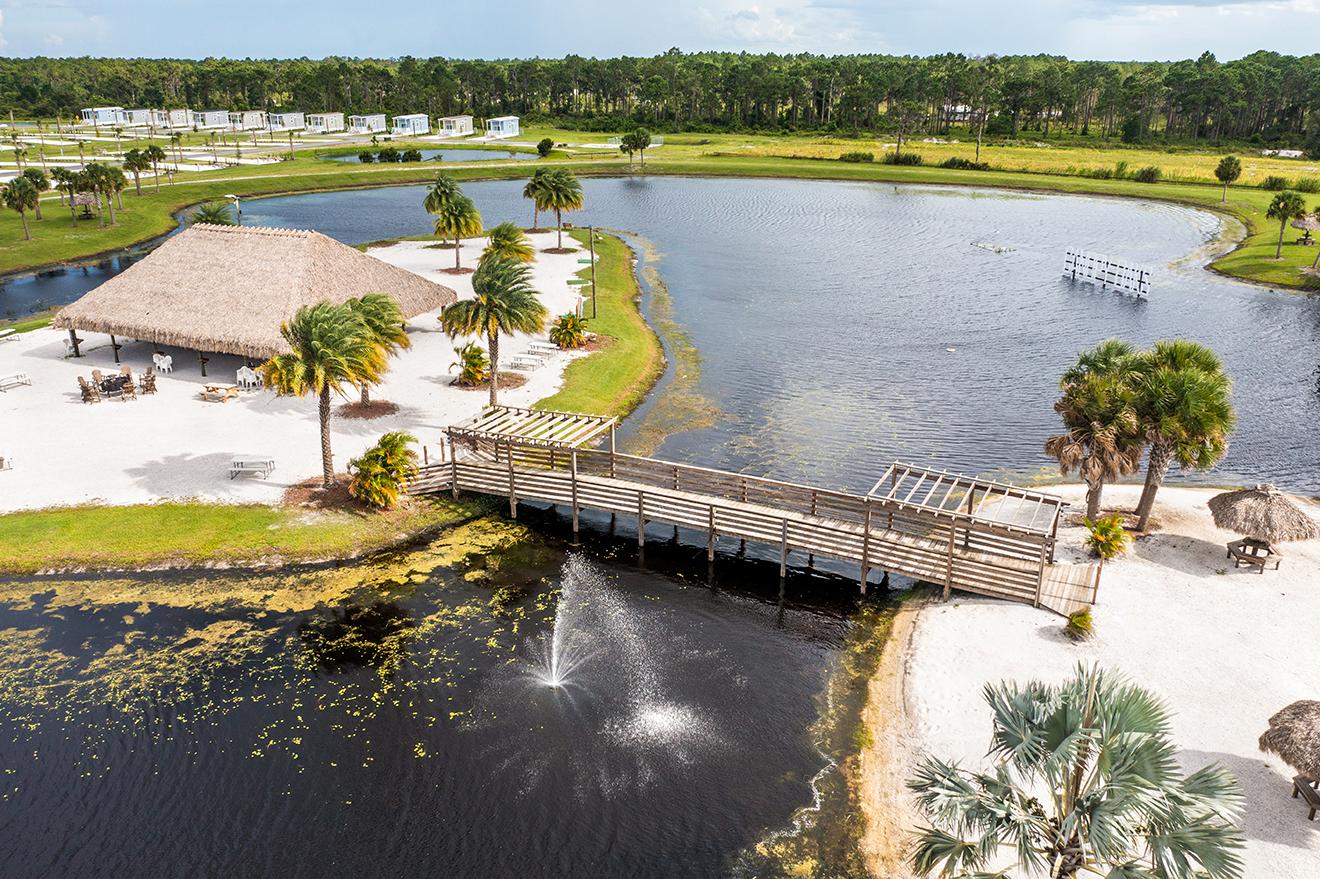 Over in Lake Wales, The Resort at Canopy Oaks offers an amenity-packed experience intermingled with more than 200 acres of countryside and lakes. Lodging includes a mix of RV sites and cabins. Once there, you'll have access to a spacious Tiki Bar area, a pool, and spa, a fishing pond, pickleball courts and there is even a golf course just across the street. If you feel like a quick bite without cooking, they even have a pizza and sandwich shop on the property.
New Restaurants are Here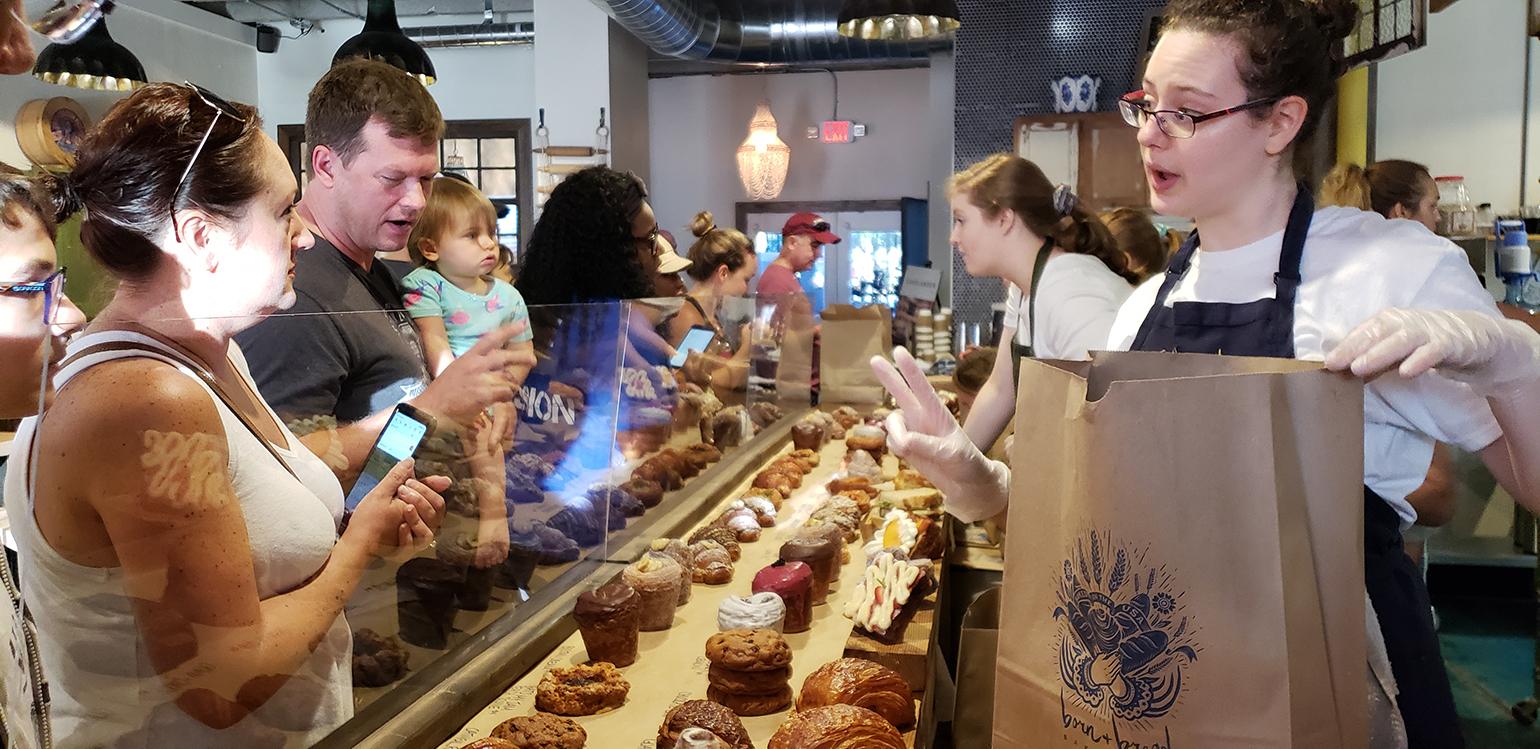 While you were away, Polk County's food scene added some worthy options as well.
Let's start in Lakeland at the Joinery, a modern food hall that is perfect for sharing. Featuring multiple dining options and a brewery – as well as a floral boutique – diners can choose from poke bowls to pizza, tacos to burgers, and just about everything in-between. Adults can also add a glass of wine, cocktail, or craft brew to the experience.
Also new to town is the basketball-inspired HomeCourt Sports Bar. Owned by homegrown former NBA great Tracy McGrady, HomeCourt features American comfort food featuring spicy jalapeno bites, fried pickle chips, a variety of sandwich options, including the signature Peanut Butter and Jelly Burger, and even sweets. There are plenty of kid-friendly options as well.
Right before the pandemic struck, Lakeland's most popular bakery, Born & Bread Bakehouse, expanded its hours to include Wednesday evenings. A year-and-a-half later, they are still only open two days a week – Wednesdays from 5 p.m. to 8 p.m. and Saturdays from 8 a.m. to 1 p.m. – thus, preorders are recommended. It'll also save you some time as the lines at this made-from-scratch bakery are often more than a city block long. It may have started as a booth at the Saturday Lakeland Farmer's Market, but the European style pastries and bread to cheesecakes, biscuits, and cruffins – a hybrid between a croissant and a muffin – have become a Central Florida staple.
What better way to say Welcome back to Polk County than with this amazing food. Also opening recently is a pair of restaurants that expand on offerings from elsewhere in the county.
Gaskins Barbecue and Lobster, a Winter Haven favorite, has opened a satellite eatery in Lakeland. Located within the Lakeside Village shopping area, Gaskins features five different kinds of lobster rolls, four different barbecue sandwiches, and multiple iterations of the burger. Can't pick? Family meals and combos are available.
Across the county in Winter Haven, Adler's Burgers has come to town. Their original location in Davenport on the northeast corner of the county was recently listed in Money magazine – thanks to all the positive Yelp Reviews – as one of the best burger locations in the nation. Family-owned and operated, the Winter Haven location opened in August of this year. While the Bourbon BBQ and Classic are favorites, make sure to try the fried Mac 'N' Cheese bites.
Winter Haven's food explosion hasn't stopped at burgers. Just around the corner in downtown is BL Sandwich, which features an array of Vietnamese finger food. Infused with flavors from classic French cooking, Vietnamese finger food includes sandwiches on fresh bami, a twist on the French baguette, boba tea, Pandan waffles, and sweet, crispy fried sesame balls.
If it is bread you seek, Honeycomb Bread Bakers should be your destination. Producing artisan bread and pastry – and even milling their own organic flour – they feature everything from sourdough bread to brioche donuts and their amazingly popular sticky buns. Keep an eye on their website for their weekly bread schedule or to order in advance.
With all this food to pick from, you might need a post-meal jolt. Also downtown is Haven Coffee Roasters, bringing not just the freshest but also a unique twist on coffee. Owner Jon Lane roasts all they serve. Grounds – from their own Haven blend to a Brazil Salmo dark roast – are available. If you'd rather just grab a hot cup of their latest hand-crafted creation and baked good, you can do that too. Locals try their new coffees sans sweetener or cream since the flavors tend to rise up on your palette after a sip passes your tongue.
If a cold adult beverage is more of your choosing, the newest offering, Front Page Brewing, is in Bartow in what used to be the offices of a local newspaper and printing press. From Bar'Tow Jam', a blackberry sour brew to the First Edition Coffee Porter and Weighted G.P.A. grapefruit pale ale, they offer a wide variety of Central Florida-inspired beers. While they don't serve food, they have an extensive lineup of food trucks that visit.
Get Wet and…Educated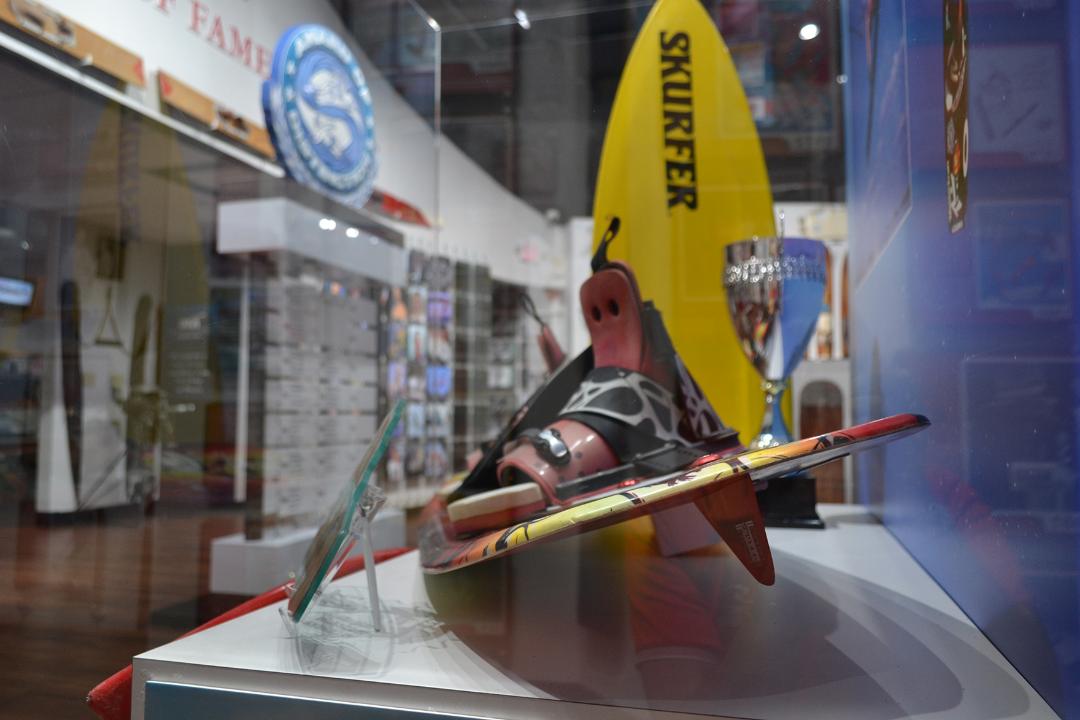 And lastly, the newest museum in town also happens to be the wettest.
In late August, the USA Water Ski and Wake Sports Hall of Fame and Museum opened inside the Central Florida Visitor Information Center in Davenport. Featuring all nine disciplines of the sport, the museum features memorabilia from the 100-year-long history of the sport, including a pair of sport inventor Ralph Wilford Samuelson's original water skis, a hydrofoil from Banana George, and various tools of the trade from water ski teams.
Welcome Back to Polk County! To learn about these locations or any of the other attractions that go into making Polk County Florida's Sweetest Spot, go to visitcentralflorida.org or call (800) 828-7655.