Distance yourself from crowds by taking to the trails on the Space Coast.
The Space Coast is unlike any other Florida destination. We pride ourselves on our thriving estuaries, diverse ecosystems, and untouched natural wonders. Wildlife refuges, scenic trails, and the Indian River Lagoon are native playgrounds for you and your family. The best part is, they're all open ready for you to experience the wild side of Florida. No lines, no crowds, no worries. Here are a few of our favorite ways to explore the trails of the Space Coast
Wildlife Refuges
The Space Coast is home to 2 National Wildlife Refuges to explore. The Merritt Island National Wildlife Refuge and the Archie Carr National Wildlife Refuge. Each protects a unique ecosystem and is lush with native plants and animals. Opportunities to learn and explore natural Florida abound in these national wonders.
Merritt Island National Wildlife Refuge
The Merritt Island National Wildlife Refuge is a significant portion of north Brevard County. It encompasses fragile wetlands including brackish marshes, freshwater rivers, and saltwater lagoons and is next to the Canaveral National Seashore,* which protects a pristine stretch of seashore for shorebirds and sea turtles. Because of these diverse ecosystems, you can expect to see hundreds of species of animals including, alligators, dolphins, manatees, and native and migratory birds while you're enjoying your trek through their natural habitats. Choose from biking, hiking, and driving trails as well as access to kayak and boat ramps for fishing and exploring.  Taking to the trails on the Space Coast has never been so beautiful.
*An additional fee is needed to enter the Canaveral National Seashore. It is currently opened with limited occupancy and hours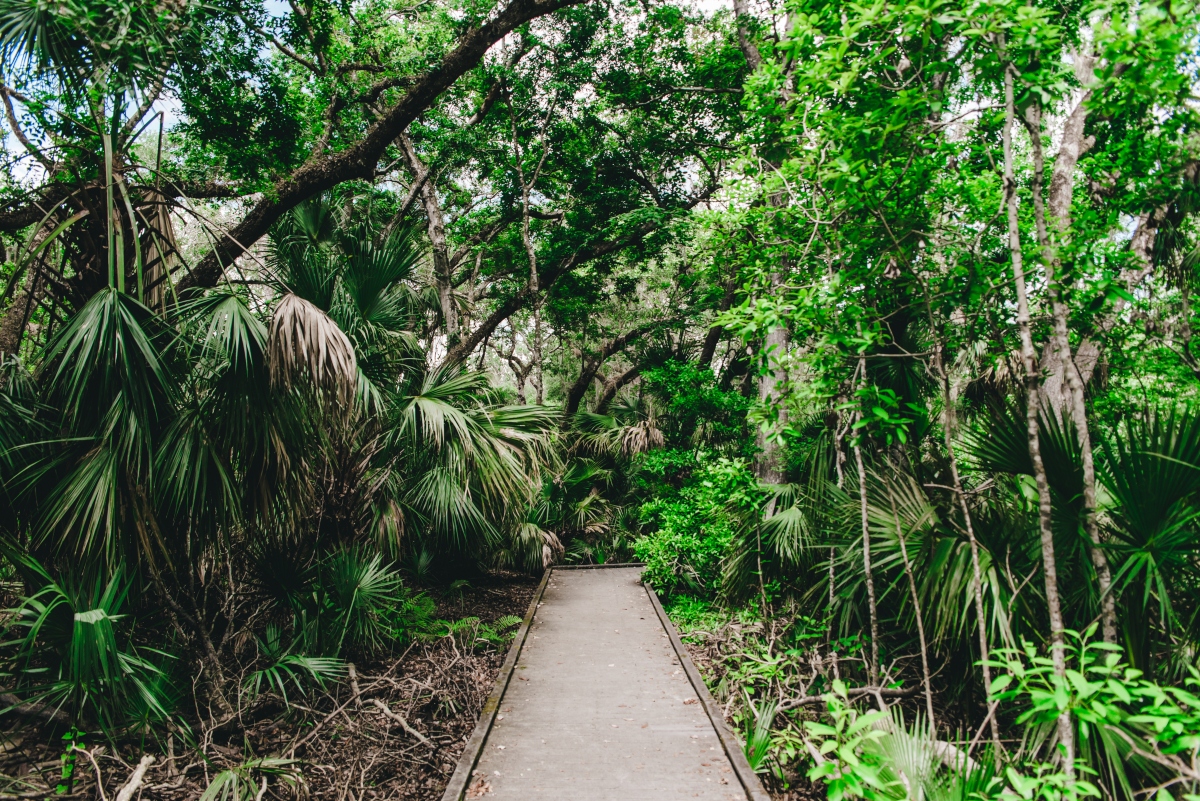 Archie Carr National Wildlife Refuge
The Archie Carr National Wildlife Refuge is a beachside refuge at the southernmost reaches of the Space Coast. It provides a sanctuary for thousands of sea turtles that return to the Space Coast to nest. Along with providing sea turtles a safe place to lay their eggs, the preserved habitat enables many endangered species of plants and animals to thrive undisturbed by society. Stop by the Barrier Island Sanctuary to learn more and take a stroll around one of the most important sea turtle nesting habitats in the Western Hemisphere with newly restored boardwalks over the dunes and beyond.
Take to the Trails in Titusville
Love to cycle? Titusville is the place for you. In Titusville, three major biking trails converge, the St. Johns River-to-Sea Loop, the Florida Coast-to-Coast Trail, and the Eastcoast Greenway.
The St. Johns River-to-Sea Loop has 4 phases and follows the St. Johns River north to St. Augustine and then down the coast back to Titusville. The Florida Coast-to-Coast Trail continues to be a work in progress, and when it is finished it will connect the Space Coast to the Gulf Coast! The East Coast Greenway is a monster trail that begins in Maine and ends in Key West. All three make up what we like to call the Titusville Trifecta. Not feeling like cycling that much but still want to get on a trail? The Space Coast has plenty of shorter trails to explore that are perfect for the whole family.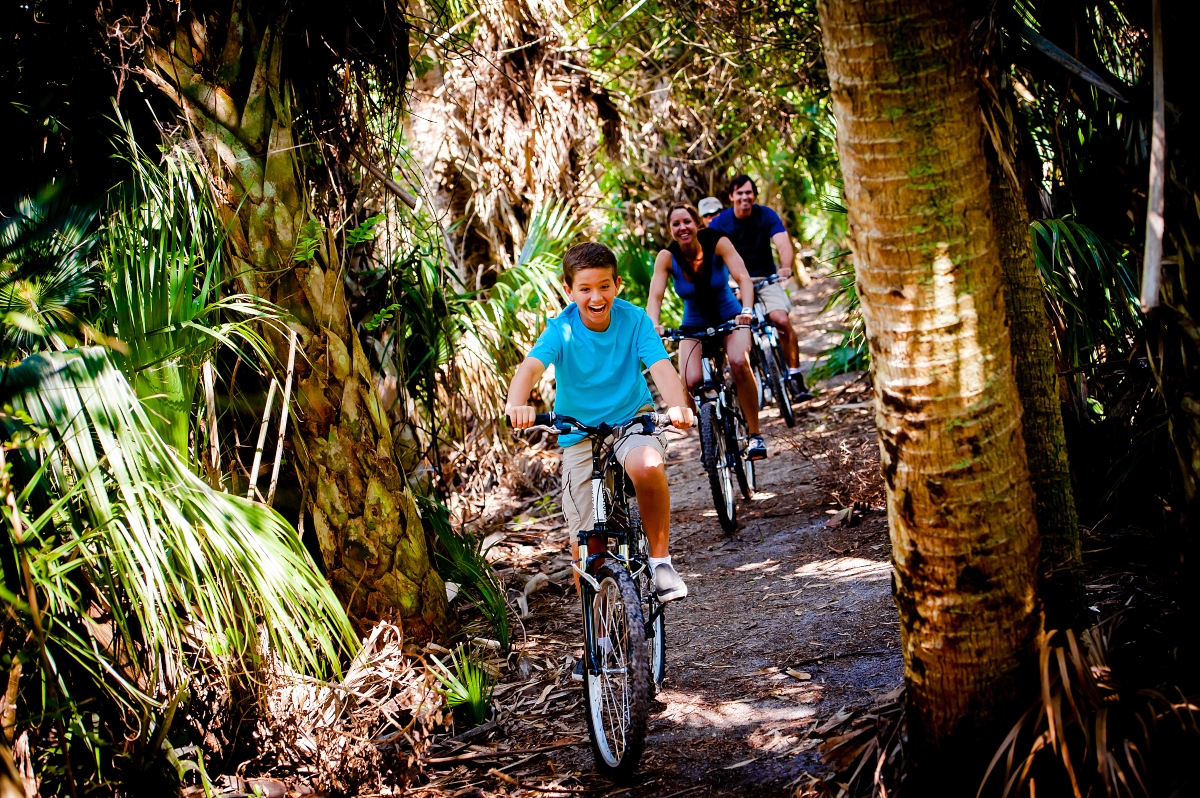 Water, Water Everywhere
The Indian River Lagoon, freshwater estuaries, and the roaring Atlantic Ocean afford many opportunities for you and your family to get some much-needed space on your vacation. From our Lagoon where you rent a boat or kayak to get up close with manatees in mangrove tunnels and paddle through sparkling bioluminescence in the moonlight, to the freshwater rivers and lakes where great herons soar and lazy alligators lounge in the sun, to the crystal-blue Atlantic where you'll reel in the catch of your life before serving it up on your dinner plate, you'll soon see why water isn't just a feature of the Space Coast, it's a way of life.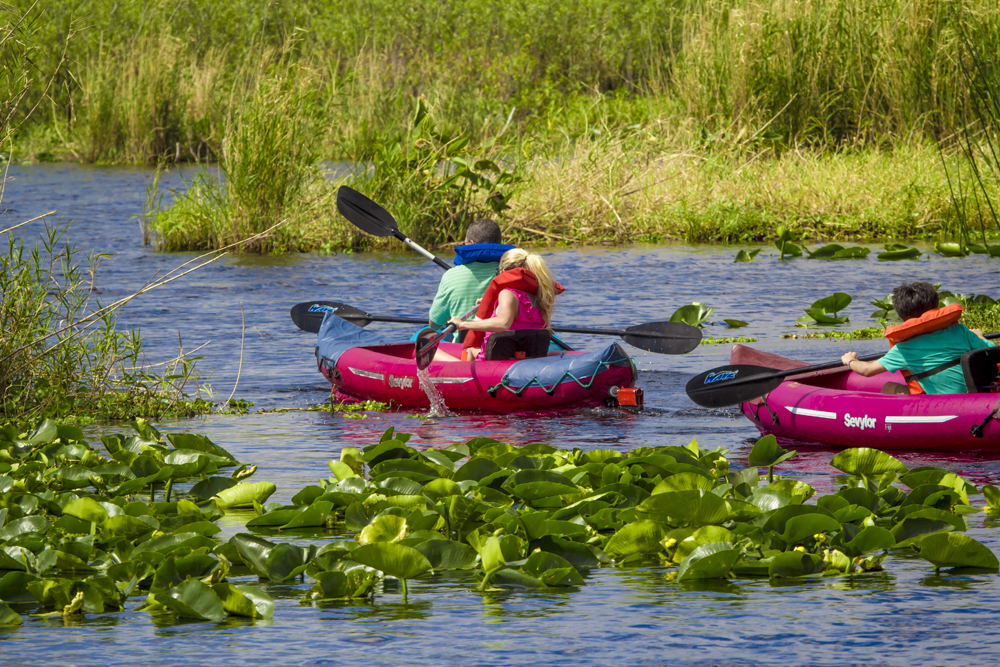 Boat & Jetski Rental
Don't worry about bringing your own boat to the Space Coast, just rent one when you get here! Take a spin on the Indian River Lagoon by renting a boat or kayak from one of these great rental locations!
321 Boat Rentals and Club
Cape Crossing Boat Rentals
Surf and Ski Watersports Inc.
Kayak and SUP Rental
Paddling around the Indian River Lagoon is a must-try on your Space Coast getaway. You'll make your way through mangrove tunnels, get up-close and personal with dolphins and manatees in their natural habitats, and experience the magic of bioluminescence. Check out everything you need to know about SUP and kayaking in the Space Coast and where to rent them here.
Fin Expeditions Kayak Rental
Paddling Paradise
A1A Outdoor Rental
Wildlife Watersports
If you love exploring nature and breathing fresh air away from crowds, there's plenty of space for you on the Space Coast. From exploring our wildlife refuges, cycling through the state, and finding your slice of paradise on our diverse waterways, there's plenty of ways to escape what's normal and reconnect with yourself and your loved ones on Orlando's closest beach.