Splish, splash! While many International Drive Resort Area attractions have paused operations during this difficult time, they will reopen when it is safe to do so… and after so much time spent indoors – it's safe to say that a day of play in the Florida sunshine will be long overdue! So, today we're looking to brighter days. Be sure to check out these 5 I-Drive destinations for a splashing good time! So get ready for some splashing around on I-Drive.
CoCo Key Water Resort

If all you want to do is kick your feet up and enjoy the summer sun with delicious food and ice-cold signature cocktails… CoCo Key is the spot! This hotel doubles as a water park with a 54,000 sq ft. canopy-covered outdoor water park that features 14 slides, 4 heated pools, on-site dining, and oh, did we mention the 6,500 sq ft. arcade!
Order up some delicious grub from the Tradewinds Restaurant or the Callaloo Grille, and stay hydrated at the Wet Rooster Tiki Bar. Get ready to swim, sunbath, and truly enjoy some needed rest and relaxation in the Florida sun!
FunSpot America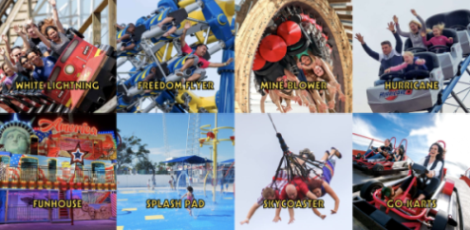 Got little ones? There is something to do for everyone at Fun Spot America. Whether you are a thrill-seeker who wants "Bigger! Faster!" or someone who prefers the lights and sounds of the arcade, you'll find exactly what you are looking for. But one of their most beloved attractions during the summer months is their new Splash Pad! Throughout your day of play, cool down at their state-of-the-art splash pad that features slip-resistant soft flooring, and over 30 interactive water toys and spraying elements!
Fun Spot America is going to be one of your family's new favorite ways to beat the heat.
Discovery Cove

Pick a day on your calendar and block out your schedule, because Discovery Cove is an all-inclusive day resort that will surely keep you having fun, making discoveries, connecting with nature, and splashing around in the sunshine – all day long!
If you've never been, this water park is unlike any other! Experience exciting animal encounters in a breathtaking tropical atmosphere. You can swim with bottlenose dolphins, feed tropical birds, snorkel through a saltwater reef and play inches from a family of otters – all in one day.
Between adventures, enjoy unlimited access to a fantastic selection of food and drinks all day long. We're sure that a day trip to Discovery Cove is just what you need to kick start a summer full of smiles and sunshine!
Aquatica

Speaking of splashing around on I-Drive, let's talk about Aquatica. So, if you did not already know, Aquatica is brought to you by SeaWorld, and really… when you see this whimsical, charming, and thrilling water park you'll see why only SeaWorld could pull this off!
Rivers range from relaxing to racing. Slides that spin and soak you and one of their most popular rides – two awesome, enclosed tube slides that send you speeding through a lively lagoon filled with playful black and white Commerson's dolphins. Enjoy waves ranging from serene-to-extreme in the double wave pools, and sunshine over their beach… this park offers fun in the sun for everyone.
Volcano Bay

Behold, one of the best sights to see on a summer day in Orlando, Florida: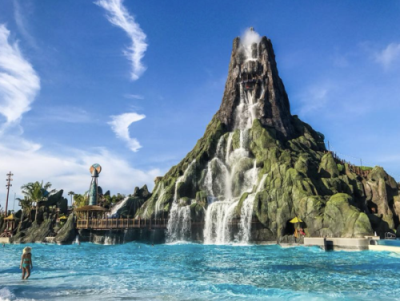 Splashing around on I-Drive wouldn't be complete without the past location. Embrace the carefree attitude of the fabled Waturi islanders on this Pacific Isle inspired park! If your perfect day of fun in the sun includes both thrills and relaxation, this is a must-see destination! You'll be transported to a place where thrills and relaxation flow in perfect harmony.
Plus, they're changing the way you wait! At Volcano Bay, the lines are virtual, so forget carrying rafts and sitting in long lines, and get ready to splash right into the fun that awaits you at Volcano Bay!
It's an all-new kind of paradise, just steps away from all of the attractions at both Universal and along all of International Drive, making it a perfect stop on your quest for summer fun!
As you start thinking about the I-Drive attractions you'll be visiting come summertime, be sure to plan some splashing around on I-Drive at these perfect summer spots.