So what's the latest scoop on  The Jurassic World VelociCoaster? As we approach the 'Summer' opening at Universal's Islands of Adventure some team members  were seen aboard the attraction this week. Universal Orlando's official blog also published a story this week featuring , the new ride's art director Gregory Hall, and Shelby Honea, the show producer revealing a few juicy facts not previously shared . So what do we know about VelociCoaster now that we didn't know before?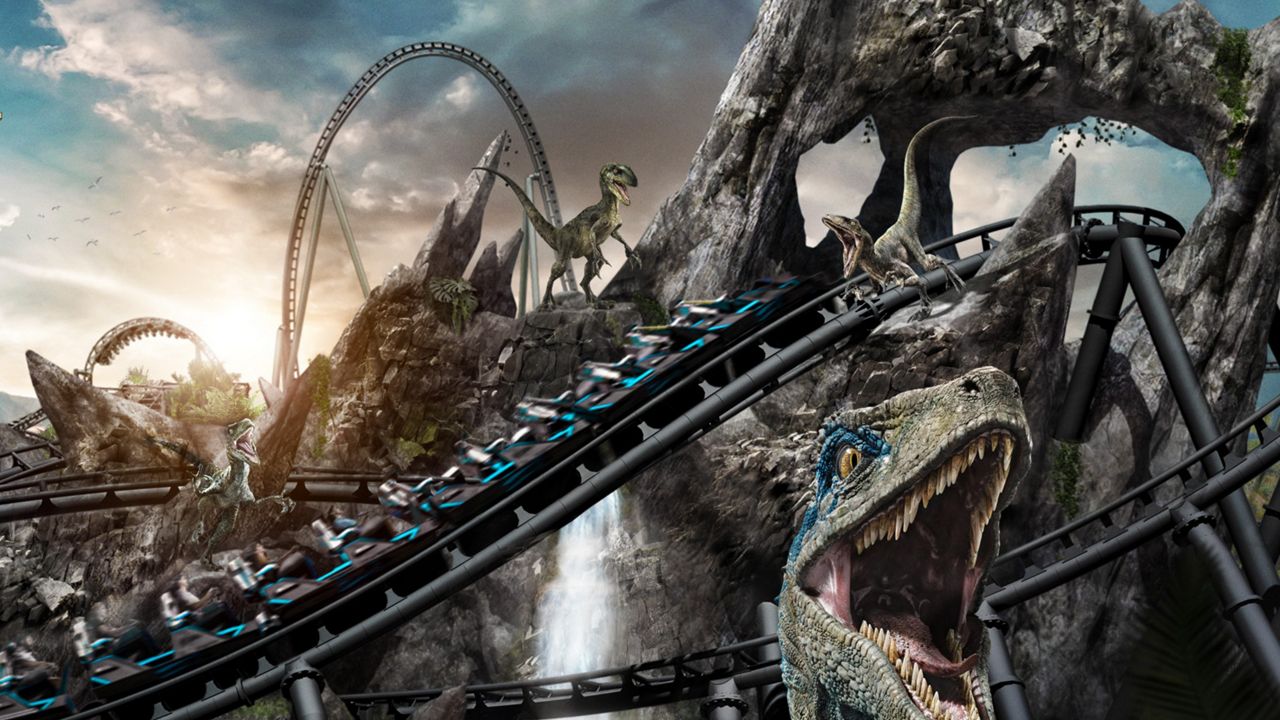 When Is The Grand Opening?
The latest blog post , makes reference to "just a few months between now and the opening of the coaster." Universal still is sticking with "summer 2021," so it's consistent with the announcement made in September.
Is Testing Nearly Finished?
 Although you might see some people aboard the coaster, you certainly can't wander up and get in line for it. There's still testing to be done. We're not even up to full-blown employee previews or passholder events, neither of which have been announced.
How High Is It?
 155 feet is the point where the "top hat" maneuver tops out, followed by a steep 140-foot drop at an 80-degree angle. The descent is definitely prompting screams from those onboard.
How Long Is This Thing?
 The rail is more than 5,100 feet long so you've definitely a decent amount of time to get to grips with it!
How Fast Will It Go?
 70 mph is what we've been told. The nearby Incredible Coaster is listed as a 68 mph ride, and Hagrid's Magical Creatures Motorbike Adventure, an OIA attraction that debuted in 2019, tops out at 65 mph.
What Surprises Does It Have In Store?
 You can expect 4 inversions (including an "inverted zero-gravity stall"), 2 launches, 12 moments of air time, sharp turns and a very interesting twist, above-water stretch!
How Will It Launch?
 The first launch will go from 0 to 50 mph in 3 seconds; the second will go from 40 to 70 mph in 2.4 seconds, according to an Instagram Story posted on Universal's account.
What's The Theming Going To Look Like?
 There will be some eye-to-eye moments with dinosaurs, cool lighting effects and some stellar rock work. An Instagram post by Universal says riders will enter the velociraptor paddock and "get REAL close to these natural born hunters."
What Are The  Ride Vehicles Actually Like?
 The train cars hold 24 riders apiece, arranged in rows of two. The design got an enthusiastic thumbs-up from Steven Speilberg, according to the Universal post, quoting him as saying "I absolutely love it. It looks so modern."
Wha's The Official Height Requirement?
That would be51 inches. That matches Hollywood Rip Ride Rockit at Universal Studios and is 3 inches less than for Hulk. The Hagrid ride sports a 48-inch height requirement.