The Shark Swim Program at Discovery Cove is back! Modified with enhanced health and safety measures, capacity will be further limited to create an even more exclusive experience for guests to learn about several species of sharks as they swim alongside them in The Grand Reef, and roam the spacious grounds of this peaceful all-inclusive resort. Enjoy new adventures with your family as the Shark Swim reopens at Discovery Cove.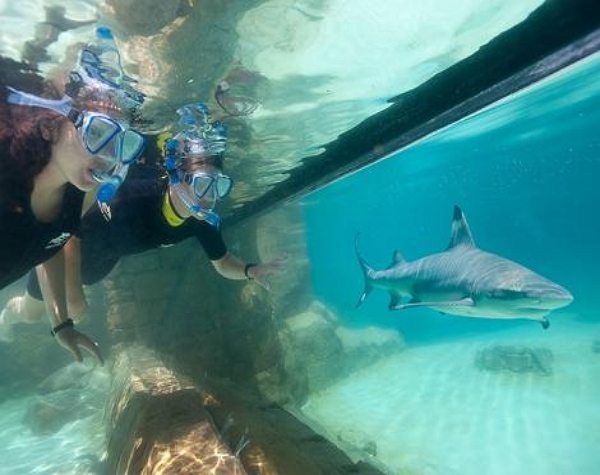 To manage capacity and maintain proper physical distancing between guests, as well as guests and trainers, the following adjustments have been made to this one-of-a-kind encounter:
This intimate experience is limited to no more than two parties per session
Guests will sit in a designated seating area with proper distance between the two groups for an educational overview and training session with Discovery Cove's expert aquarists
During this awe-inspiring encounter, guests will:
Enter the water with their party for an intimate shark talk and training session with Discovery Cove's expert Aquarists; and, with more than 20 sharks in the habitat at Discovery Cove – there is a lot to learn about!
Take the next step and don a sterilized snorkel and mask to enjoy a deep-water, free swim alongside blacktip reef, nurse, zebra, bonnethead sharks, not to mention the thousands of tropical fish who also reside in The Grand Reef.
Gain a better understanding of the uniqueness of each species of sharks, the care they receive at Discovery Cove and leave with the memory of an unforgettable experience.
Have the opportunity to get a photo taken with one of the sharks.
The Shark Swim Program is offered during Discovery Cove's normal operating hours (Friday-Monday) with only eight spots available per day. The Shark Swim Program starts at $129 per person and may be added onto both Signature Dolphin Swim and Day Resort packages. All participants must be at least 10 years of age. Space is limited so guests are encouraged to reserve their spots immediately. Discovery Cove donates five percent (5%) of the proceeds from the Shark Swim Program to the Guy Harvey Ocean Foundation, which conducts scientific research and hosts educational programs aimed at conserving the marine environment.
Safety
Discovery Cove is committed to the health and safety of the guests, employees, and animals in their care. The resort worked diligently with state and local health officials, outside consultants, and attraction industry leaders to enhance the already strict health, safety, and cleanliness standards. These protocols and guidelines will be modified based on evolving industry standards and methodologies, public health and governmental directives, and advancing scientific knowledge on the transmissibility of COVID-19.
Discovery Cove is excited to continue to provide its guests with fun, inspiring, and memorable experiences, while addressing important health and safety needs during this time. For detailed information about the measures that guests can expect when visiting the resort, including key operational changes, CLICK HERE.