Orlando Attractions Update – The Seven Dwarfs Mine Train has been a huge hit with riders big and small. Disney have once again hit the mark with outrageously detailed theming, live action character scened and of course the ride itself! Waiting in line for the new ride guests can spin lighted barrels of gems, match the gems on a touch-screen video game and play with a musical fountain (which of course has the added benefit of cooling off over heating families ).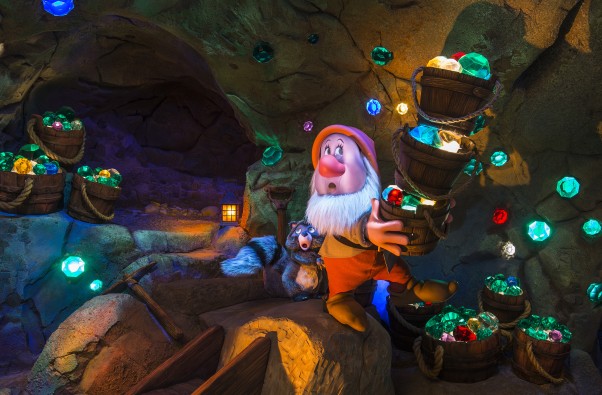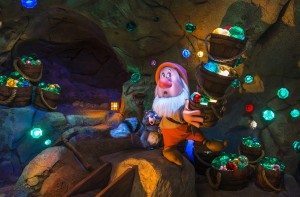 Guests are treated to an incredibly smooth, fast ride on this state of the art coaster with the  cars designed to rock smoothly during the turns, making for a nice change from the shaky, jerky rides of old. (Though we were always rather fond of that aspect!)
Once riders take a short ride up and then zoom down the track for about 20 seconds, the coaster enters a cave filled with gemstones. Lovable Dopey opens the scene, but all of the animatronic dwarfs make an appearance as they dig for gems within the mine. Doc starts the iconic "Heigh-Ho" song at the base of another hill with a call-and-response that encourages the riders to join in, and many will. Funny how people lose their inhibitions when the light go down!
After more  fun turns and plenty of speed down the track, the coaster glides to a stop outside the dwarfs' cabin, where Snow White dances inside while the evil Queen watches, cackling, from the window.
The Mine Train will delight riders with its combination of speed and story, and the ending scene, which comes straight from the animated film classic, helps children make the connection to the story. Riders get one last treat as they walk up the path to exit the ride, with a photo opportunity at the front of the dwarfs' cabin.
Here are the vital statistics in terms of rider height – kids must be 38 inches tall to ride and should be the hills and fast turns, which could upset little ones.
For those fearless kids, this will be something they will just keep on riding so parents get used to the idea – heigh ho it could be a lot worse!