Located between Orlando and Tampa, Central Florida's Polk County offers more than a place to lay your head between theme park destinations. From unspoiled lakes and wetlands to historic landmarks, citrus groves to – yes, we have theme parks – there is a reason many Floridians say that Polk County is Florida's sweetest spot. Plus, there are plenty of pedal-power options in Polk County.
If you are looking for outside adventures, Polk County offers ample opportunities. Home to more than 550 freshwater lakes and 25,000 acres of unspoiled recreational parks, there are ample ways to enjoy the great outdoors, including water skiing, air boating, kayaking, and world-class fishing.
And oodles of options for cycling. So many, in fact, that the first challenge to a Polk County cycling adventure is to figure out just what type of experience you want. From paved trails around beautiful bodies of water to off-roading through the wilderness and more than a few urban areas complete with quick dining or shopping options, Polk County has a ride that will match whatever you are looking to do.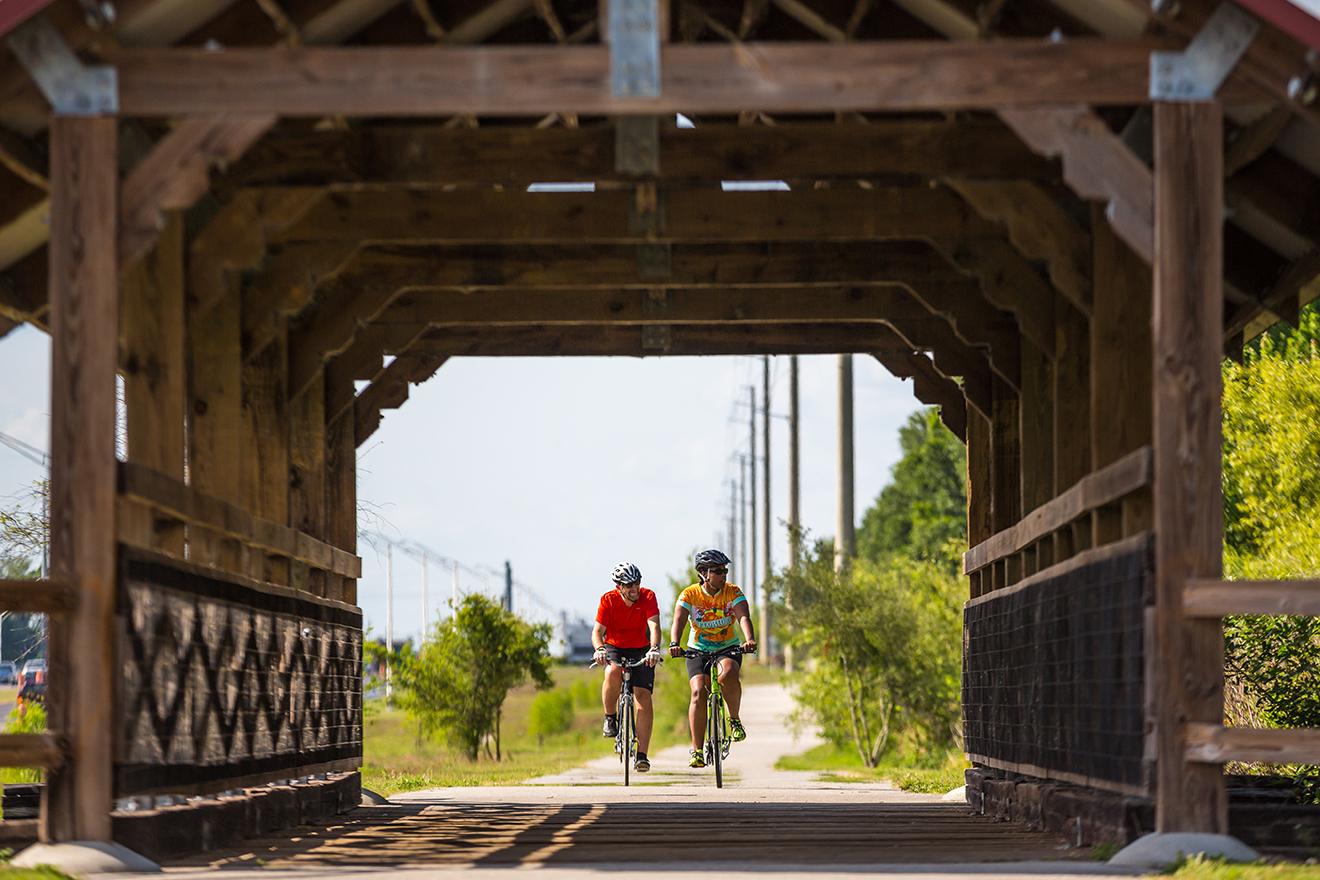 If you are looking for a paved trail, here are some options with plenty of pedal-power options in Polk County.
The Chain of Lakes Trail is 3.2-miles from Central Park in downtown Winter Haven to U.S. Highway 17/92 in Lake Alfred, all along a former railroad bed. The route provides views of many of the lakes in the northern Chain of Lakes, as well as parks, neighborhoods, and businesses. Trail users can park at any of the downtown Winter Haven parking lots.
The trail also runs parallel to numerous business districts within the city. You can ride into downtown for a quick bite or cup of coffee, or simply bike a short way up nearly any side road for a side adventure, from antiquing to donuts or nearly anything in-between.
The Fort Fraser Trail, a multi-use 7.75-mile trail runs parallel to U.S. Highway 98 between State Road 540/Winter Lake Road in Lakeland and State Road 60 in Bartow, with trailheads at Polk State College in Lakeland and in Highland City. All that remains of the fort, built in 1837 but decommissioned less than a year after being opened, is a marker along the trail. Cyclists on this trail travel through tree canopies, pastures, and populated areas. In total, there are five picnic shelters, six rest shelters, three trestle bridges, and plenty of spots to park or grab a bite along the trail.

Lake-To-Lake Bikeway Route
If your plan is to mix a little sightseeing and noshing in with your pedaling, this Lakeland route is the way to go.
This 26-mile urban cycling route includes scenic rides around lakes Parker, Wire, Morton, Mirror, Bonny, Hunter, Hollingsworth, and Beulah in Lakeland. Signs clearly mark the bikeway to keep you on the route, which is a mix of parks and urban areas. Parking is easiest along Lake Hollingsworth Drive in Lakeland.
As for food options, Lakeland is loaded with cycle-friendly options. Just up the hill from Lake Mirror in downtown Lakeland, where quick bite options range from pizza and sandwiches to open-air cafes. Or you can head the other way from Lake Mirror and stop at the Poor Porker for everything from beignets to brews.
But that's just the start of a pedal-powered Lakeland adventure. For one of a kind cultural ride, the largest single-site of famed architect Frank Lloyd Wright's work, Florida Southern College, is along the banks of Lake Hollingsworth. Feel like a cup of artisanal coffee and a quick bite? Just up from Lake Hunter, you'll find Concord Coffee, where caffeine craving Dixieland denizens get their java fix. If you are looking for neighborhood eateries and corner shops to add some local flavor to your bike ride, it doesn't get much better than Lakeland. Here are the pedal-power options in Polk County near one of it's most unique cities.
The Lake Wales Trailway, 2.3 miles from Scenic Highway to Buck Moore Road in Lake Wales, is accessed at Kiwanis Park, 1000 N. Lake Shore Blvd. Yet another trail created from an abandoned rail bed, the 12-foot-wide path is suitable for just about any fitness activity. The trail is ringed with a variety of flora and fauna, including butterflies, songbirds, and raptors, many of which can only be found along the Lake Wales Ridge. The trail also features scenic views of Lake Wailes and Bok Tower.
The TECO Auburndale Trail is a 12-foot-wide, 6.6-mile paved multi-use trail starting in Auburndale and leads to Polk City, where it connects with the General James A. Van Fleet State Trail. Make sure to stop at the bald eagle observation area – they have built a nest nearby – at the southern end of the trail. Full facilities are available at the Lake Myrtle Road Trailhead. Take Lake Myrtle Road east of the Polk Parkway and look for the trailhead.
For a quick bite, the Elite Cable Park and its dockside restaurant, Tantrums Lakeside Grill, is just a short walk from the Auburndale trailhead. The only waterfront dining location in the city, Tantrums offers fresh takes on seafood, including the ever-popular gator bites.
General James A. Van Fleet State Trail is a 29.2-mile paved multi-use trail that has a trailhead in Polk City. Take State Road 33 for 10 miles north of Polk City, turn left on Green Pond Road, and look for the Van Fleet Trail sign. Parking is on the right. This trail cuts through some of Florida's most scenic and rural landscapes as it dissects the heart of the Green Swamp, the source of most of the state's drinking water. The trail stretches from Polk City north to the town of Mabel on State Road 50. Some areas of the path are quite remote – you won't find a general store or even a gas station anywhere near the trail – so plan to take extra water and a snack.

Rugged trails
Loyce Harpe Park Trail, an 8-mile bike path, offers varied terrain including a technical trail to test the endurance of even the most experienced mountain bike rider. Once a phosphate mine, the main trail winds through the woods, around man-made ponds, and up and down hills and dales. If you wander off the main trails, the difficulty increases. But no matter where you are in the park, pay attention – one false move and you'll join the Swim Team Club in one of the ponds. Take State Road 37 south from Lakeland to Carter Road, turn right, and the park is on the right. The park is open every day from 8 a.m. to dusk.
Circle B Bar Reserve at 4399 Winter Lake Road is one of the most renowned nature parks in the nation, sure, but it also has trails for cycling. There is a mostly shaded, unpaved trail that is under a canopy of live oaks which follows along the edge of Lake Hancock, opening up in the historic Banana Creek marsh system. This former cattle ranch boasts a wide variety of plants and animals, from insects to wild hogs and the always popular, always plentiful alligators. From U.S. Highway 98, go east on State Road 540 (Winter Lake Road). The entrance is on the south side of State Road 540.
Lake Kissimmee State Park located at 14248 Camp Mack Road in Lake Wales. With 5,390 acres of natural Florida beauty, this park offers outstanding activities on 13 miles of beautiful paved and unpaved trails. White-tailed deer, bald eagles, sandhill cranes, turkeys, and even bobcats have been seen in the park. There is a fee for park entry.
To get here, from State Road 60, turn north on Boy Scout Road, then east on Camp Mack Road.
The SUMICA Trail in Lake Wales is 14.5 miles east on State Road 60 from U.S. Highway 27. SUMICA – an acronym for the business, Societe Universelle Mining Industrie, Commerce et Agriculture, that once occupied the area – was once a thriving lumber and turpentine town. It may look flat and open now, but that's only because the tall pines that once stood there became the building blocks of America – wood for homes as well as pine resin for not only turpentine but also to be used in the shipping industry to seal ships. Also gone is the town that, after all the pines had been harvested, faded away in 1927. If you bike SUMICA, you endeavor out on 6.2 miles of trails that follow an old railroad bed that, thankfully, stands above the surrounding wet prairies. The main trail is a 2.1-mile loop that leads to a wildlife observation area.
As you can see, there are plenty of pedal-power options in Polk County. For more information on cycling Florida's sweetest spot, see visitcentralflorida.org.