During your stay in Tampa, there are certain must-see attractions that you do not want to miss. Tampa's ZooQuarium is a terrific combo of TWO of the cities most popular visitor destinations. A dynamic duo covering land and sea – from across continents or beneath the waves they've got you covered and it's fascinating stuff!
Here's the latest from two of Tampa's best.
The Florida Aquarium
The 204,000-square-foot Florida Aquarium, located in the Channel District,  is home to a variety of sea life. It's perfect for a fun date, and it's right next to the new culinary dining destination for foodies, Sparkman Wharf!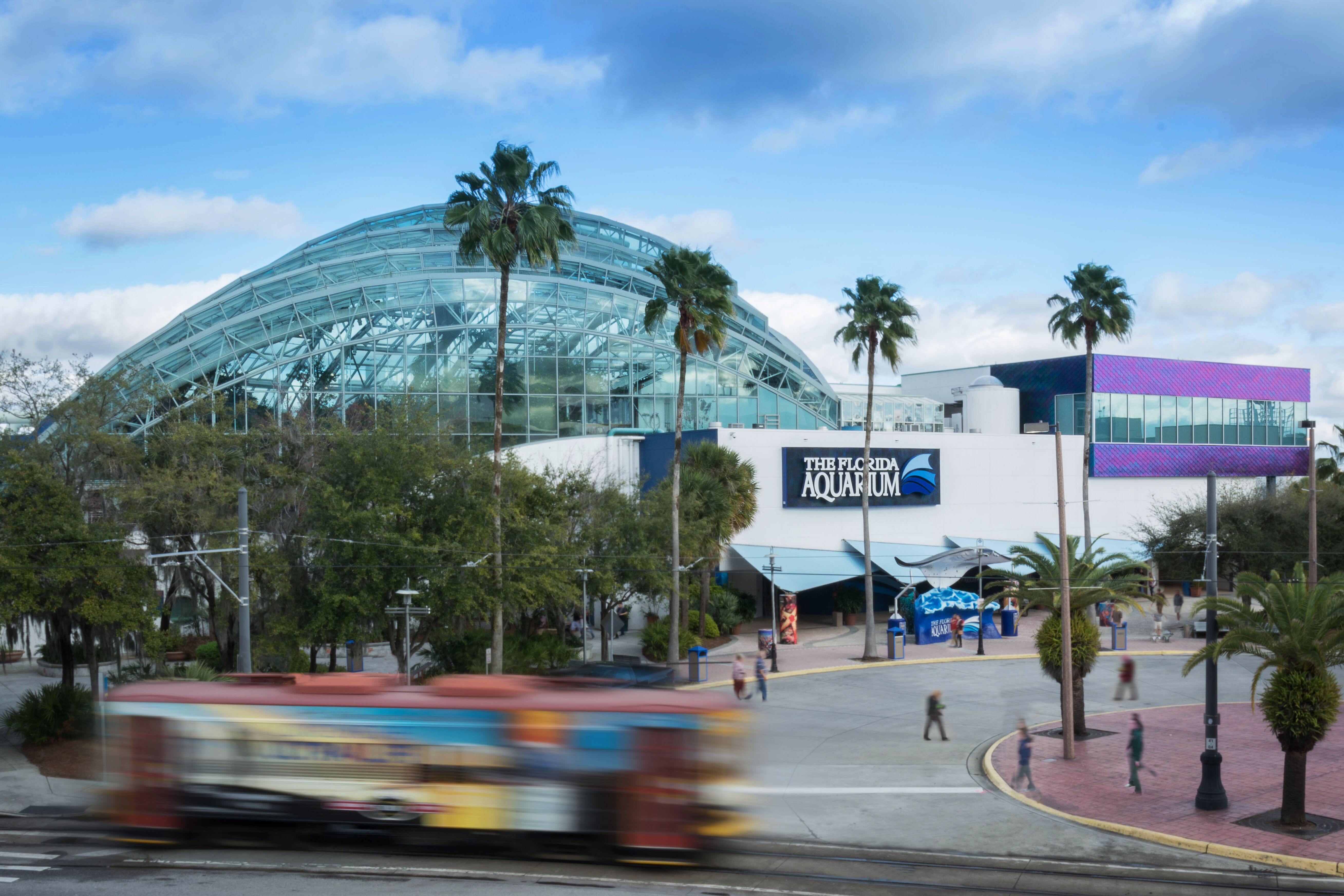 The Florida Aquarium in Tampa is widely regarded as one of the best aquariums in the United States. This year, The Florida Aquarium placed second in the nation in USA Today's 10 Best Readers' Choice Awards.
Go from tree level to sea level at The Florida Aquarium! With more than 14,000 animals and plants including sharks, alligators, seahorses and more, you're sure to have an amazing experience.
The Florida Aquarium experience is designed to take you on a journey, starting with a drop of water from one of Florida's many freshwater springs, all the way out to the open waters of the Florida Keys. Sights include a large simulated wetlands environment located under a tall glass atrium, shallow bays and beaches, and a coral reef ecosystem encompassed in half a million gallons of natural seawater.
You can begin your Aquarium adventure on our Florida Wetlands Trail. Winding through a vast mangrove forest, you'll encounter river otters, free-flying birds and native fish. Continue to the second floor of the Wetlands gallery and enter Journey to Madagascar. Filled with Ring-tailed Lemurs, hissing cockroaches and colorful chameleons, this exhibit captures the unique Island of Madagascar and the diverse animals that call it home.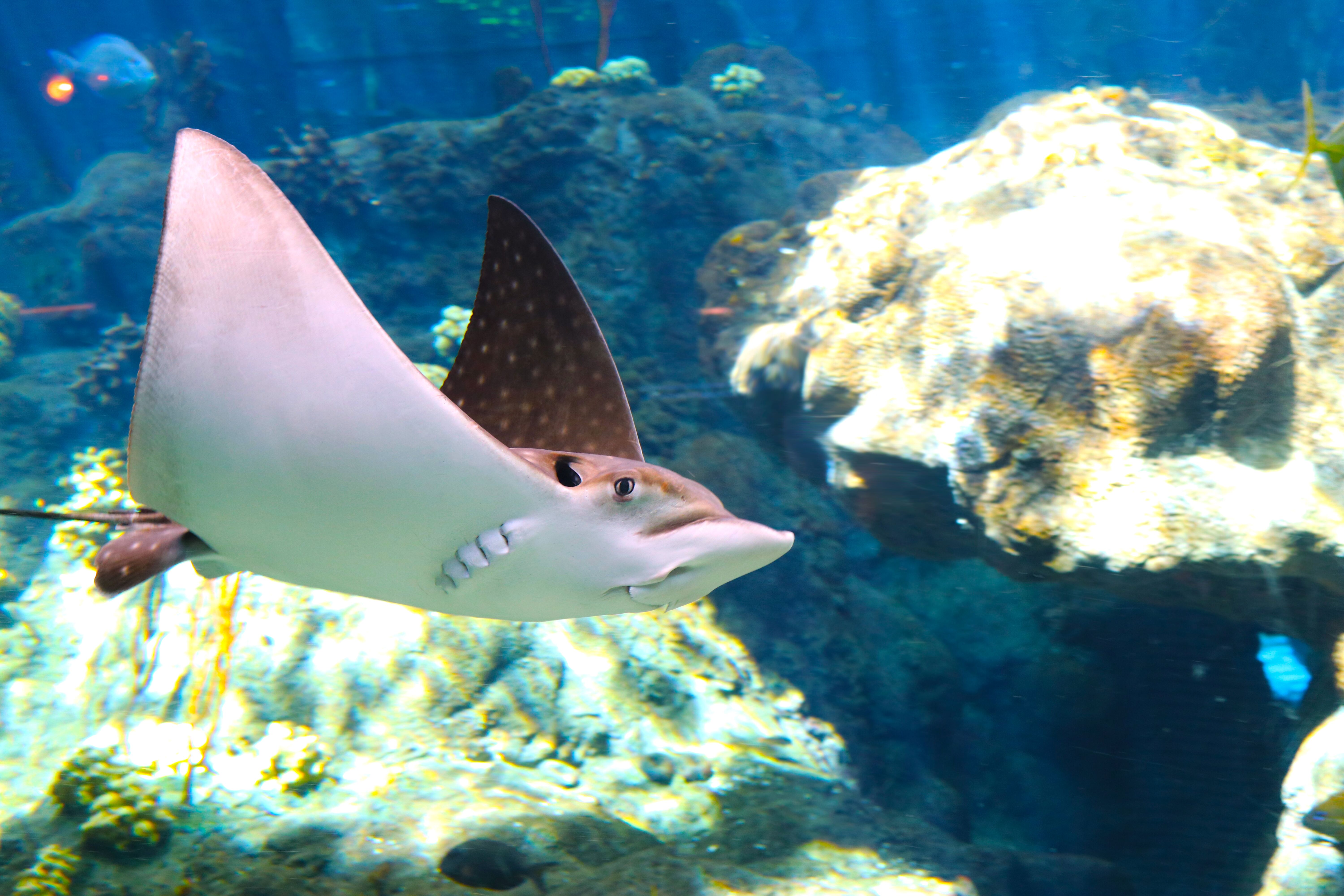 The next part on your journey will take you through Bays & Beaches where you'll discover a Goliath Grouper and other species that call Tampa Bay home. Be sure to make a stop at Stingray Beach where you can touch stingrays and sharks! As you travel onward you'll descend deeper into aquatic environments where you'll discover stingrays, reef fishes, sea turtles and our massive Sand Tiger Sharks!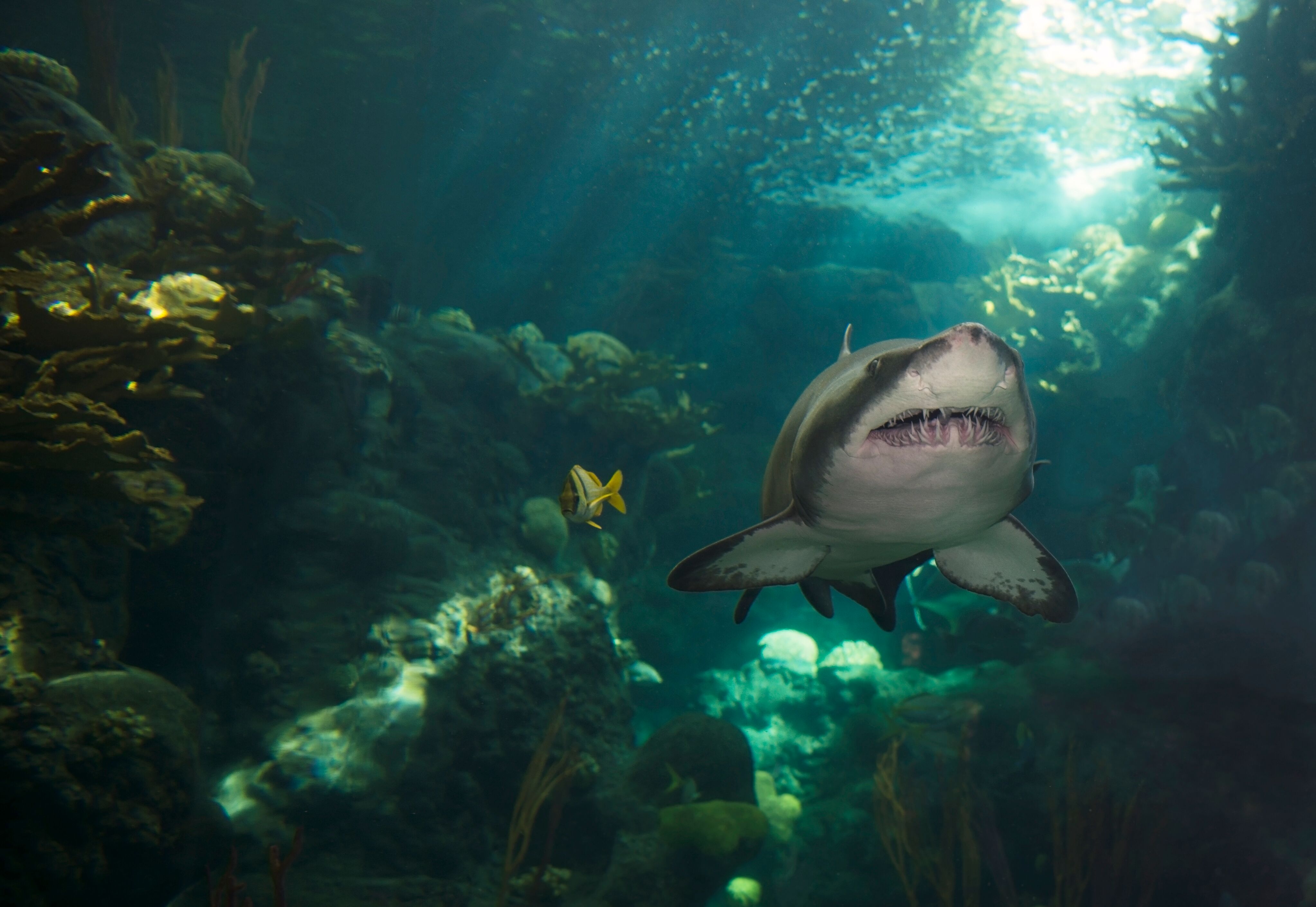 Want to get an even more immersive Aquarium experience? Take the plunge to swim or dive with our Sand Tiger Sharks or with thousands of colorful fishes with our Heart of the Sea swim program. (You must be six years or older to swim with the fishes and 15 years or older to swim with the sharks).
This summer, you can beat the heat at The Florida Aquarium! With an all-new exhibit, the Aquarium is sure to create an experience of a lifetime for guests of all ages. The Florida Aquarium will unveil an exciting new interactive experience, "Moon Bay," just in time for the 2019 summer season. This unique out-of-this-world touch experience officially opens on Saturday, June 8, 2019. The star of this touch experience, moon jellies, named for their translucent moon like circular bells, are sensational, mesmerizing and prehistoric.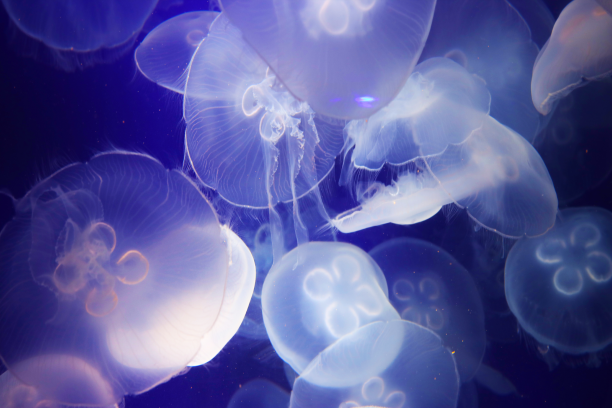 This unique experience – to gently interact with jellies – is only the fourth of its kind in the United States. Moon Bay will truly connect guests to these graceful animals that have inhabited our oceans for more than 500 million years. The Florida Aquarium's mission to entertain and educate guests, while inspiring them to protect and restore oceans and waterways, is forefront in this opportunity to touch moon jellies in the first-floor lobby of the Aquarium. This unique 2,000-gallon habitat will have two separate areas where visitors can touch the jellies. Guests will be guided through an interactive experience and learn fascinating facts about these animals, including the importance of moon jellies to our ocean planet, and why moon jellies and their relatives aren't "jellyfish." (The correct term is "jellies" as they aren't fish).
This is the second major exhibit to open at the Aquarium in the past year, following the debut of Heart of the Sea. Heart of the Sea is a renovated 100,000-gallon habitat and is the Aquarium's second largest aquatic display, second only to a 500,000-gallon Coral Reef habitat, where guests can see more than 400 animals, including endangered sea turtles, sharks, coral reef fishes, underwater coral trees and more. Connecting our guests to the underwater world and inspiring them to care about every animal in the ocean, including jellies, is core to our mission.  This exciting new touch experience will undoubtedly change perceptions of these fantastic animals, provide a rare opportunity for guests to interact with jellies, and enhance our world-class guest experience.
ZooTampa At Lowry Park
Planning family trips that are enjoyable for both parents and children can be stressful. At ZooTampa at Lowry Park, families can fill their day with adventure, memories, delicious food and more!
Check out the Zoo's latest babies – it's a cute fest!
Koala Joey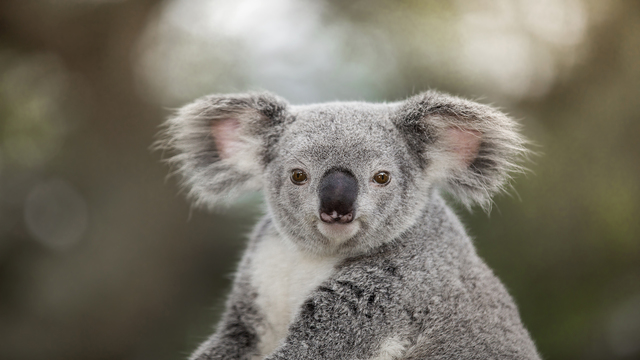 ZooTampa's first koala joey has arrived! Initially, a joey is blind and earless, relying on natural instincts and strong senses of touch & smell to find its way from the birth canal to its mother's pouch. Watch as the joey peeks out of its mother's pouch.
African Penguin Chick
At the end of March, ZooTampa welcomed an African penguin chick. African penguins are considered endangered in the wild due to food shortages from commercial fishing, oil spills, egg collection & fishing nets. Waddle on over and visit the colony.
Malayan Tapir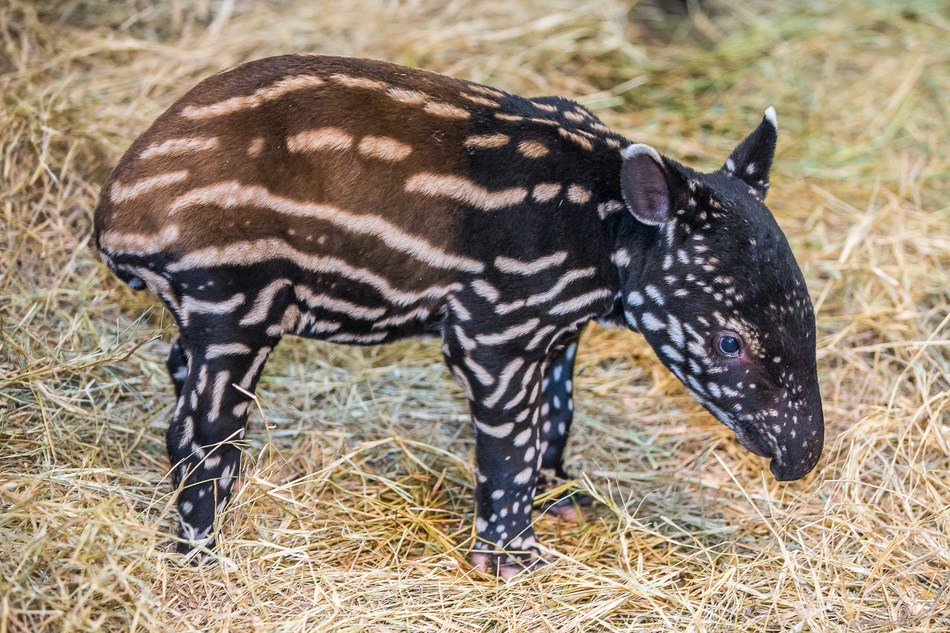 Christmas came early with the birth of a Malayan tapir! The new calf is the 12th Malayan Tapir born at ZooTampa. With less than 50 Malayan tapirs in human care in North America, this birth was critical to securing a safety net for a species facing extinction.
Marabou Storks
Meet the Royals! Marabou Storks, William and Kate, welcomed their chick Markle this spring.
You won't want to miss ZooTampa's newest habitat!
Located in the Manatee Mangroves, you will find the Cuban iguana habitat. The Cuban iguana, though not endangered, suffers from habitat loss and predation by introduced species.
Every visit helps ZooTampa in its mission to preserve and protect wildlife. ZooTampa participates in the AZA SAFE: Saving Animals From Extinction program, which focuses on having animal experts identify threats, develop action plans, raise new resources & educate visitors on animal conservation.

Tampa's ZooQuarium – Two Can't-Miss Attractions. One Low Price. Countless Memories.