Valentine's Day is just around the corner and love is in the air! If you're hoping to celebrate in Orlando's Most Dynamic Neighborhood with an unforgettable night out, there is no better place to be! There are so many destinations along I-Drive that are celebrating Valentine's Day by offering specials in the name of love.
Check out these Valentine's Day offers and plan a romantic evening on International Drive that will surely have your date feeling the love!
Wine & Dine
If you're hoping to wine and dine your significant other with some fine dining – dress in your best and head to these exquisite fine dining destinations for a special night out to celebrate the special love you and your partner share.
Rodizio Grill

This churrascaria, located in the heart of the action at Pointe Orlando, offers an authentically Brazilian Steakhouse Experience. Rodizio Grill is known for offering gourmet salads and sides, alongside rotisserie-grilled meats that are carved table-side by their very own Rodizio Gauchos!
If you're celebrating love with a spontaneous weekend trip to I-Drive, and are still unsure exactly where your weekend will take you, this could be the perfect option as they have multiple seating options.
Want to enjoy a special lunch before hitting the town? On Saturday the 11th and Sunday the 12th they are offering a full Rodizio lunch for just $39.99 per person.
On Saturday, February 11th, in addition to their lunch special, they will also be offering a complimentary Full Rodizio dinner with the purchase of one. So you and your significant other can start planning your next date night at Rodizio!
If you're looking for a romantic evening out, dinner is the way to go, and luckily they'll be offering a Full Rodizio dinner special on Saturday, Sunday, Monday, and Tuesday for Valentine's Day. This dinner includes an expanded menu featuring lamb chops, filets, grilled shrimp, and an unlimited selection of premium desserts! Get all the details here.
Rosen Shingle Creek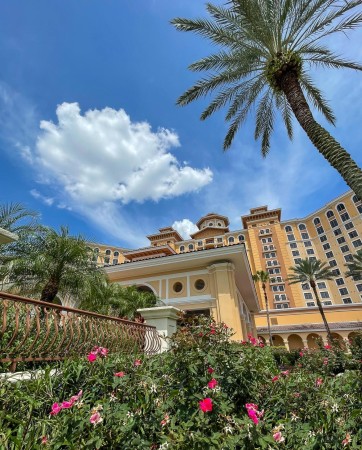 Pro Tip: You don't have to be staying at a Rosen Hotel to celebrate Valentine's Day with a true Rosen experience! (And if you know Rosen Hotels, you know the experience is always top-notch, down to every last detail.)
Rosen Shingle Creek's two award-winning on-site restaurants are offering Valentine's Day specials this year that you won't want to miss!
A Land Remembered

A Land Remembered offers a classic steakhouse experience, with a menu offering as diverse as Florida's history! Their skilled chefs are always cooking up the finest steaks from Harris Ranch, the freshest seafood served just the way you like it, and the finest wines to wash it all down.
Amaze your Valentine this year with an unforgettable prix fixe four-course dinner that has been carefully crafted for the occasions by the award-winning team at A Land Remembered! Things you can expect? Flawless dishes, locally sourced ingredients, and a lush dining room overlooking the marvelous views of Rosen Shingle Creek golf course.
This Valentine's Day offer will be available from February 12th through the 14th. See the full menu and make your reservations here.
Cala Bella

Also at Rosen Shingle Creek is an Orlando restaurant that embodies the true spirit of Tuscany with an offering of classic Italian and Mediterranean dishes and a diverse selection of fine wines. A meal at Cala Bella is always one to remember.
This year they've put together a mouthwatering prix-fixe four-course dinner that will have you and your significant other falling in love with the fine Italian-infused cuisine that features locally sourced ingredients in a stunning setting.
Get ready to sit back, relax, and enjoy the tastes of Tuscany with a romantic evening at Cala Bella this Valentine's Day!
This Valentine's Day offer will be available from February 12th through the 14th. Get the details and make your reservation today.
Dinner, Drinks, and an Experience to Remember.
This year for Valentine's Day, celebrate by taking your taste buds on a trip with a unique dining experience at these popular Orlando dining destinations.
Tapa Toro Orlando

Tapa Toro is known for bringing the flavors and feels of Spain to the heart of Orlando, and Valentine's Day is no different!
Allow the chefs at Tapa Toro to make this Valentine's Day an unforgettable experience with high-class dining and uplifting entertainment by flamenco dancers!
Order up a sangria, or something else from their full bar, and dig into a tasty four-course meal that will have you saying, "te quero mucho" in no time!
Their intimate Valentine's Day dinner for two features a special three-course meal (with a surf & turf option, because we all know that is a match made in heaven). This special meal will be available from February 10th through the 14th. See the full menu and make your reservation today!
Taverna Opa Orlando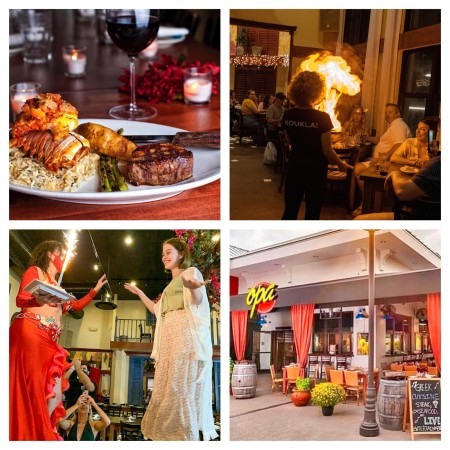 Let Orlando's favorite Greek restaurant take you on a trip to Greece with award-winning Greek cuisine and a fun dining atmosphere that can't be beaten!
Enjoy a romantic evening with your other half at Taverna Opa, dig into a delicious 4-course Greek feast and create unforgettable memories together. Whether you're tossing napkins in the air, dancing on the tables, or simply enjoying the belly dancers as they move through the restaurant, a romantic evening at Taverna Opa this Valentine's Day is sure to be one to remember for years to come.
The special four-course meal will be available from February 10th through the 14th. Get the details today!
Cuba Libre Orlando

Maybe a trip to an Old Havana courtyard, complete with exotic foliage, vintage decor, and a menu boasting authentic classic and contemporary Cuban cuisine is the perfect way to celebrate a special night in Orlando together.
This year for Valentine's Day, Cuba Libre is providing an extrasensory dining experience to share with your hunny! Plus, if you'll be dining out on Monday the 14th, enjoy a special treat! Or, if you'll be celebrating early, enjoy romantic dinner specials the entire weekend leading up to Valentine's Day. Get all the details here.
Party Time on I-Drive
Head out for a night out on the town in the heart of Orlando this Valentine's Day!
Mango's Tropical Cafe – Orlando's Premier Nightlife Destination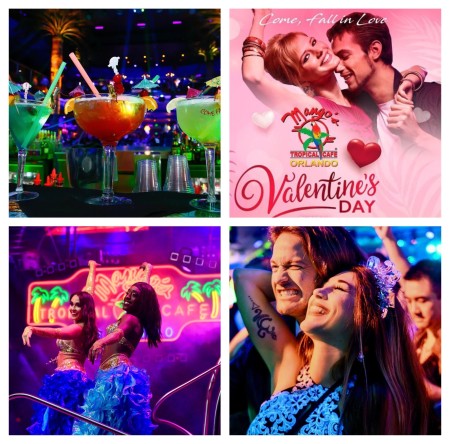 Mango's is best known for offering guests a uniquely Latin-themed experience with award-winning dining, entertainment, and nightlife.
This year they will be offering a gourmet 3-course dinner, as well as a Valentine's Day edition of their World Famous Dinner and a Show experience!
If you're hoping to enjoy an exciting night out full of delicious craft cocktails and a whole lot of dancing, Mango's is the place to be! Get all the details about their Valentine's Day celebration here, and be sure to wear your dancing shoes.
IceBar Orlando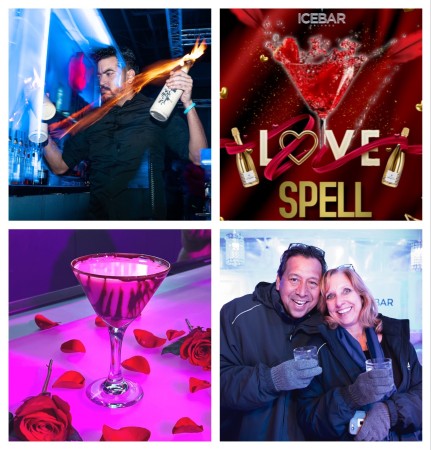 Want to bundle up and get cozy this Valentine's Day? Orlando's only IceBar is offering a Love Spell package that gives couples plenty to choose from to make for the perfect celebration!
Whether you're celebrating solo, hitting the town with your best gal friends, going on a date night, or want to knock it out of the park with your significant other this Valentine's Day – they have a package that will fit the occasion just right.
See the various packages being offered, and purchase your tickets today, quantities are limited!
Vampire Ball at Vault 5421

On Saturday, February 11th, head to Vault 5421 at 8 pm to kick off Valentine's Day with a fun and FREE event!
If you think Valentine's Day SUCKS, this is the Valentine's Day celebration for you. Enjoy vampire movies like Only Lovers Left Alive, Bram Stoker's Dracula, Interview with a Vampire, Lost Boys, Castlevania, What We Do In The Shadows, and more, playing on the big screens. Order up their special Fangbanger cocktail served in a reusable blood bag, and sip it to the sounds of dark tunes as Cosplay Cage dancers set the tone for the evening.
Take your blood-sucking celebration a step further and come dressed in fancy vampire attire to receive a free shot or soda with your first bar purchase. It's sure to be a night to remember at one of Orlando's most unique nightlife stops.
Every love is unique, and if you're searching for the perfect Valentine's Day experience to enjoy with your love this year, we're sure you'll find it on I-Drive!
See a full lineup of events happening on I-Drive this Valentine's Day and start planning a celebration of love that will no doubt leave your significant other smiling! Love is in the air on I-Drive.