Legoland Florida Resort has essentially doubled its capacity for overnight guests with the opening of its Beach Retreat.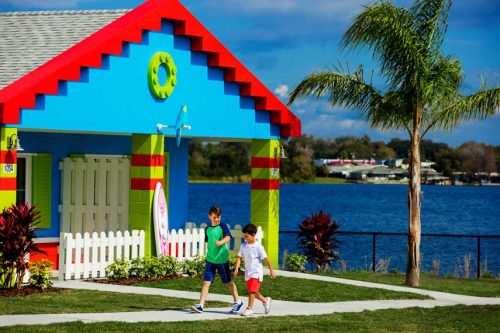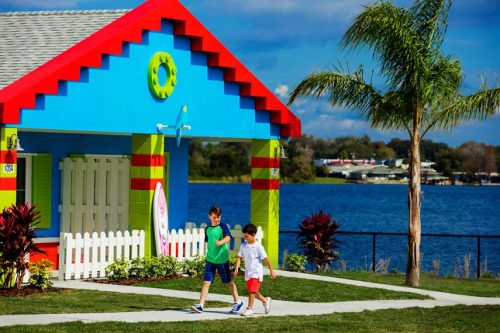 The retreat with 83 brightly colored bungalows, sporting two units apiece, is the second hotel option for visitors, following the 152-room Legoland Hotel that opened two years ago. Beach Retreat has a different emphasis, officials say.
"This one is a little more secluded. It's more focused on outdoor play," said Keith Carr, North American project director for resorts for Merlin Magic Making, the creative arm of Legoland operator Merlin Entertainments Group.
Beach Retreat is the first bit of Legoland Florida construction that's not on the original Cypress Gardens land where the theme park was built in 2011. Legoland Hotel is adjacent to the park's entrance; Beach Retreat is about a half-mile away. The new property is arranged in 13 coves with bungalows in a semicircle, most providing a view of scenic Lake Dexter.
"We want these coves to be positioned in a way where they're still interacting with the property but they're private enough where you can get away and have that escapism," Carr said.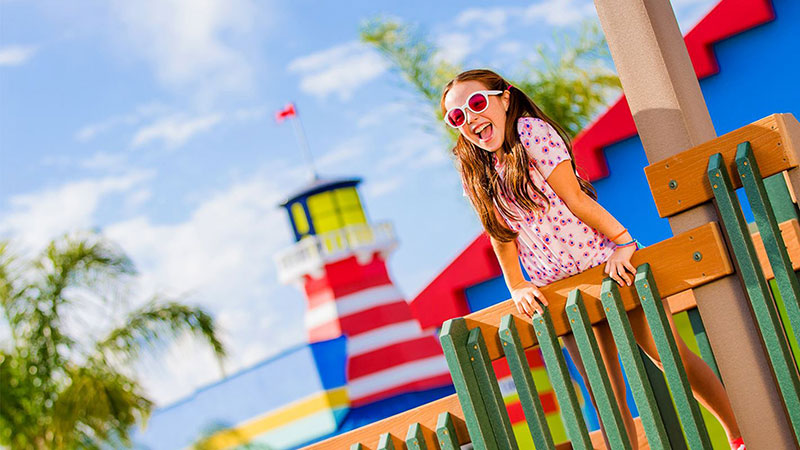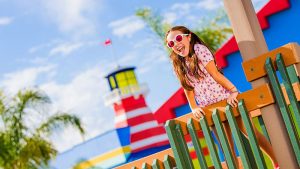 The starting price for a Beach Retreat room is $135 per night, but varies with the season and demand, a spokeswoman said.
Small playgrounds accompany each cove, so that parents can sit on the front porches of the two-unit bungalows and still keep an eye on the kids in the play areas.
The units were inspired by actual Lego sets such as the double holiday lodge and beach hut, Carr said.
"Kids feel like they're in an actual Lego box set," he said.
"Themed accommodation is something that's working very well for us," said Adrian Jones, general manager of Legoland Florida Resort. "I think that offering this entry-level accommodation with a different slant than the hotel is just complimenting what we do here at Legoland Florida, and gives guests something different to see, really."
Jones said he expects Beach Retreat to appeal to larger families and groups that want side-by-side accommodations.
"We're creating this Legoland community … and that's really kind of cool," Jones said.
Beach Retreat features a lighthouse centerpiece that houses a restaurant, bar, gift shop, guest services location and a spot where people can gather every day to make sand castles of Lego bricks. Block figures are spread across the property. Each cove is named for a beach-oriented minifigure such as seagull, hula dancer, mermaid and "shark-suit guy."
The original plan was for Legoland Beach Retreat to be done in two phases, Jones said.
"We knew this concept works very well in Europe, so we thought 'Let's do it. Let's do it in one swoop,'" he said.
More Legoland hotels are expected as there is land available.
"We will definitely do more hotels at the entrance," Jones said. "It's about when."
[ult_buttons btn_title="BUY TICKETS" btn_link="url:https%3A%2F%2Fwww.orlandoattractions.com%2Forlandoattractiontickets%2F|title:Book%20Now|target:%20_blank|" btn_title_color="#ffffff" btn_bg_color="#e524c2″ btn_hover="ubtn-top-bg" btn_bg_color_hover="#c0f1f7″ btn_title_color_hover="#358ee8″ icon="none" icon_size="32″ btn_icon_pos="ubtn-sep-icon-at-left" btn_border_style="solid" btn_color_border="#d023e0″ btn_color_border_hover="#26b9de" btn_border_size="1″ btn_radius="5″ btn_font_family="font_family:Nunito|font_call:Nunito|variant:700″ btn_font_style="font-weight:700;"]