Opportunities to explore the great outdoors abound when your itinerary includes the great outdoors of Daytona Beach.
Filled with family-style recreation, attractions, and entertainment, the Daytona Beach area has plenty to offer beyond our sparkling beaches and waterways. Whether you enjoy high energy activities or relaxing in the shade, you'll find something fun to do in the Daytona Beach area. If you love the great outdoors, the area is overflowing with lush parks, world-class golf, tennis, and local attractions.
Ideas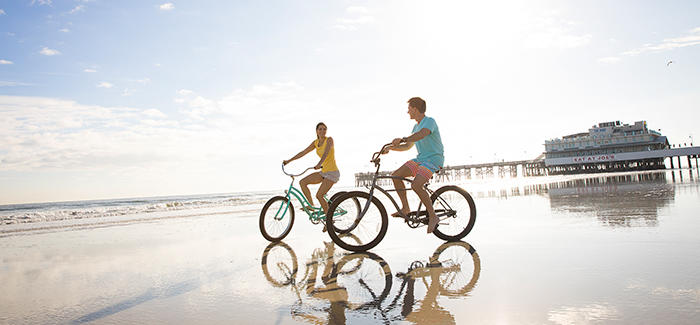 So if the great outdoors is something that's important on your vacation, Daytona Beach has something for you. From golf to paddleboarding, sports museums to birding trails, check out all the fun ideas that await you when your Central Florida itinerary includes the great outdoors of Daytona Beach. Just click on each link to explore some of the great ideas Daytona Beach has for your vacation.
DaytonaBeach.Golf
Ormond Beach Scenic Loop & Great Florida Birding Trail
Florida Tennis Center
Tuscawilla Preserve at Museum of Arts & Sciences
Three Brothers Paddleboards
Daytona Beach Racing and Card Club
Jackie Robinson Ballpark & Museum
Cracker Creek & Gamble Place Tours
Kayak Spruce Creek
Bicycle Rentals
Short on time? Click HERE to get your Daytona Great Outdoors itinerary all planned out and ready to go for your trip. If you like doing things yourself, you can create your own using My Trip Planner, a handly tool on the website that gathers everything you want to see in the great outdoors of Daytona Beach and beyond!
Daytona Beach is so much more than the Daytona 500. See why an itinerary that includes the great outdoors of Daytona Beach is so deserving of a spot on your vacation "must-do" list.