Explore top golf courses in the Naples and Marco Island area, and get valuable tips on everything from ideal tee times to the local terrain. An abundance of clubs and courses make Naples a golf lover's paradise. But you don't have to be a professional player to enjoy some golf on Florida's Paradise Coast. With more than 90 golf courses in the area, some private, there are plenty of places to play, and several tricks to the tee box.
RESORT GOLF COURSES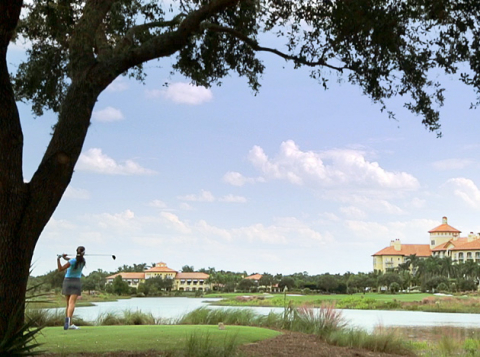 Simplify your golf game by scheduling a tee time through your resort. Hotel concierges are familiar with course schedules and specials. Booking through your hotel will give you a direct link to nearby courses, some of which may typically be limited to private play.
JW Marriott Marco Island Beach Resort has two courses: The Rookery, recently redesigned by course designer Robert Cupp, and Hammock Bay, designed by Peter Jacobsen and Jim Hardy. One course each day is selected as the private course for members and resort guests only, while the other is open for public play. Golf instruction is available from the Dennis Clark Golf Academy.
Tiburon Golf Club at The Ritz-Carlton Golf Resort, Naples has two courses, the Gold Course and Black Course, both designed by Greg Norman. Tiburon hosts both the LPGA Tour's CME Group Tour Championship and the PGA Tour's QBE Shootout. This beautiful semi-private course is open to public play, but private members and guests of both Ritz-Carlton resorts in Naples have priority for tee times.
The Naples Grande Beach Resort offers play for resort guests on the private Naples Grande Golf Club course designed by Rees Jones. The highly regarded par 72 course is both interesting and challenging. Instruction is available from the Durland Golf School. Guests of the LaPlaya Beach & Golf Resort play at the private LaPlaya Golf Club course designed by Robert Cupp, which is both scenic and challenging. Guests staying at the Marco Beach Ocean Resort play at The Creek Course at Fiddler's Creek.
TOP PUBLIC GOLF COURSES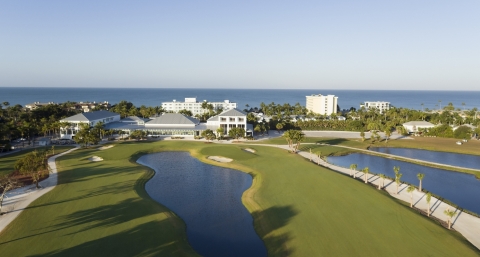 The Naples Beach Hotel & Golf Club's course is the oldest in Naples and is included in the Florida Historic Golf Trail. The course is open for play by the public as well as resort guests. The historic course recently reopened after an extensive upgrade and redesign led by golf legend Jack Nicklaus in collaboration with noted course architect John Sanford.
The Lely Resort Golf & Country Club has two popular public courses – the Mustang, a Lee Trevino design that balances playability with stunning natural beauty; and the Flamingo Island course by Robert Trent Jones, considered one of the nation's premier public courses. Flamingo Island is best known for Hole 5, a 200-yard par 3 that is surrounded by water.
TPC Treviso Bay brings the PGA Tour Network experience to Naples. Memberships are available, but the course is open for public play. It's difficult to get a tee time in the peak winter season, so plan accordingly. Designed by architect Arthur Hills and player consultant Hal Sutton, this course challenges your skills as a player and your ability to out-think the course and conditions. Each hole tests your ability to fit the shot to the situation, whether it is how to play a bump-and-run, high fade, lob shot, wind-cheater, or the straight drive. At TPC Treviso Bay, you'll need them all.
Arrowhead Golf Club has been frequently voted the best public golf course in Naples. The Gordon G. Lewis course allows for play that is both challenging and enjoyable.
Panther Run Golf Club at Del Webb Naples, also designed by Gordon G. Lewis, is in the community of Ave Maria a half-hour northeast of Naples. Watch for great deals for mid to late afternoon play.
Links of Naples is a popular public, 18-hole par 61 executive course at the edge of the Everglades on the southeast side of Naples. The Links is known for its friendly service and fun atmosphere, and it's the only course in the Naples area to feature stadium lighting for nighttime golf games. Night golf is available seasonally from November through April on Wednesday through Saturday nights until 11 p.m.
SEMI-PRIVATE GOLF COURSES & SUMMER SPECIALS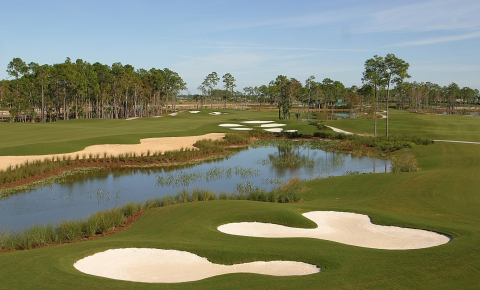 During the summer months (May–October), private "members only" courses normally welcome the general public. To take advantage of the elite fairways, head to The Rookery at Marco or to Vanderbilt Country Club. Green fees are also greatly reduced in the summer months to encourage more guests.
TIPS, TRICKS & THE 'REPTILE RULE'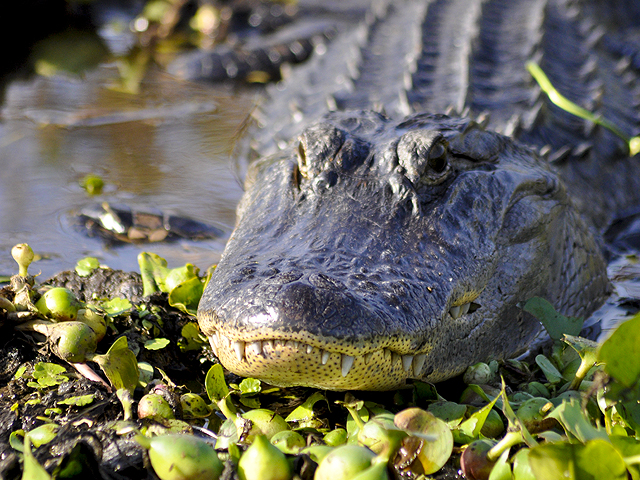 Many hotels that don't have their own golf course offer guests a golf package that combines hotel stay, golf at a nearby course and other amenities. These packages are mostly offered between May and December.
If your hotel or resort doesn't have its own course and doesn't offer a golf package with an area course, check with the concierge to inquire about bookings at the top courses in the Naples-Marco Island area. They'll help you choose between year-round public courses vs. private courses that might accept guests at certain times of the year.
Summer is the rainy season in Florida, but mornings are usually sunny and clear. Thunderstorms tend to pop up for an hour or so in mid to late afternoon. Morning tee times are recommended from June through September.
Because of the possibility of thunderstorms, summertime greens fees are greatly reduced. Some courses offer reduced rates overall, plus even greater reductions for afternoon play. So, check the weather and take advantage of significant savings in the afternoons when it doesn't rain.
Yes, there IS a Reptile Rule! Alligators are prevalent in Southwest Florida. Since so many courses feature natural freshwater lakes, these large reptiles can and do come into play. If your lie is in close proximity to an alligator, you can take a free drop from the nearest point of relief a safe distance away, as long as you're no closer to the hole. Always proceed with caution, and remember, alligators can run very fast – up to 25 mph – but only in short bursts. NEVER feed, taunt or strike an alligator or other wild animal. This is just what it's like to golf on Florida's Paradise Coast.
PARADISE COAST TERRAIN
For golfing visitors, courses reflect the native Floridian terrain and can pose unfamiliar obstacles to players. Before you take that first swing, keep in mind that the lush, green and relatively flat terrain of most courses in Naples and Marco Island can pose a challenging surprise with creative layouts, bunkers and water hindrances. Play target golf to avoid craftily placed hazards. While on the fairway, you'll also notice the unique, soft green turf. Florida's Bermuda grass grows differently than northern grasses and therefore you should not replace divots as the grass will die. Instead, fill the divots with sand from your cart.
Wildlife is abundant on courses in the area. Expect close encounters with birds and other wildlife during your game. If your ball ends up in the water, be aware of alligators and turtles. For any balls too difficult to salvage, consult the rules of the game and take a ball drop penalty.
TOURNAMENT TIME
Each November, Greg Norman hosts his annual "shootout," a PGA-sanctioned specialty tournament at his Tiburon Golf Club in Naples. Spectators can catch all of the action centered around The Ritz-Carlton Golf Resort, Naples.
TOP-QUALITY GOLF INSTRUCTION
If you're looking for some quality golf training and lessons, The Rookery at Marco is also home to the Dennis Clark Golf School and its 14-acre practice facility. Professional-level golf instruction is also available at the Impact Zone Golf Academy at Tiburon Golf Club alongside The Ritz-Carlton Golf Resort, Naples.
There you have it. a wonderful way to enjoy the outdoor and plan your next trip to golf on Florida's Paradise Coast.