Gatorland®, The Alligator Capital of the World in Orlando, Fla. pays tribute today to 70 years of success since the Godwin Family opened the park in 1949, with its new White Gator Swamp which opened just a few months ago. The White Gator Swamp is home to the largest community of rare white and leucistic alligators in the U.S. including adult gators Pearl, Moonshine, Cottontail, and Whiskey. The park also recently welcomed three new albino baby alligators, Sawyer, Huck and Ellie Mae who will be put out for public viewing sometime around their 2nd birthday. Because of their white coloration, white gators are extremely sensitive to direct sunlight and their new homes are designed to provide them with safe, filtered sunlight in natural exhibits complete with birds, fish, turtles, and frogs. So read on as Gatorland reflects on 70 years of success.
The brand-new area of the park honors the family of Owen Godwin, the original founder of Gatorland. Each of the special staging areas of the White Gator Swamp is a memorial to the second generation of the Godwin Family, all instrumental in the growth and success of Gatorland. Joann Vaughn Godwin was married to Frank, the youngest of Gatorland founders Owen and Pearl. Her fiery red hair gave her sass to marry into the family of 3,000 reptiles. She was a master gardener, farmer, and grower of all things. Owen Luther Godwin Jr. played harmonica in a cowboy hat, tie, and suspenders. He was a renaissance man who worked on the guidance systems of the Gemini rockets. Owen helped to build Gatorland along with his three younger siblings and parents. Sue Godwin Krause, the second eldest child of Owen and Pearl, was an amazing lady who wrote an essay in high school that won her a scholarship to study in Paris. She didn't go to Paris but went on to get her bachelor's and master's degrees in education. Sue was also a master gardener, took brick laying classes, sewed for charities and took great pride in her handmade quilts.
The park's iconic alligator open-jaw entrance was conceptualized and built-in 1962 by Frank Godwin, son of Gatorland's founder. Godwin took a taxidermy gator head home, set it on his kitchen table, studies it for weeks and ultimately built the mouth using steel beams, customized rebar, and concrete. The iconic entrance is 15-feet wide, 21-feet long and 14-feet high and has been featured in movies, newspapers, magazines, and TV worldwide.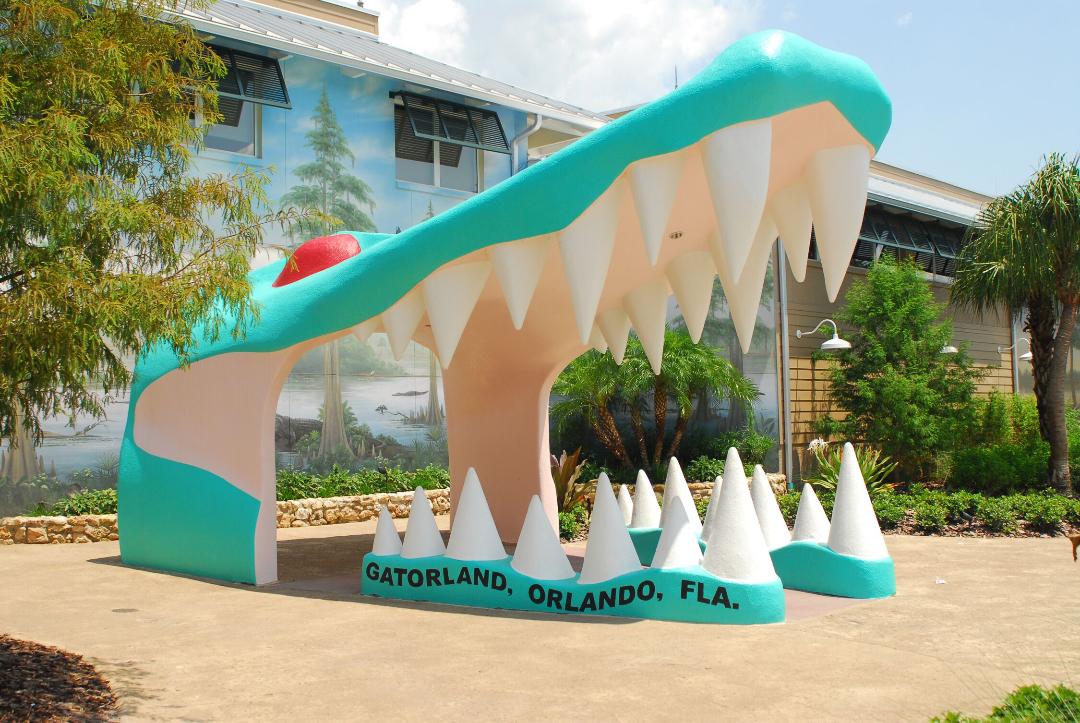 Over 50 years ago, the snake walkway throughout the park was laid by Frank Godwin when his daughter Diane (wife of Gatorland's current President and CEO Mark McHugh) and her brother were kids and they have their two baby footprints in the cement at the beginning of the walkway. In 1978, Gatorland's 2,000 foot Swamp Walk boardwalk premiered, meandering through exquisite Florida wetlands and serving as an alligator breeding marsh and wild bird rookery.
In 2017, Gatorland completed a $2 million dollar park expansion, the largest since opening in 1949, and featuring the Stompin' Gator Off-Road Adventure swamp buggy ride and the Gator Joe's Adventure Outpost, home base for reserving and purchasing all separately'-ticketed park adventures such as the Screamin' Gator Zip Line, Stompin' Gator Off-Road Adventure, Adventure Hour, Trainer For A Day and Gator Night Shine. All of these historic milestones have truly set the stage for what Gatorland has become today.
Gatorland is a 100-acre theme park combining Old Florida charm with exciting experiences, exhibits, and entertainment. Originally opened as a roadside attraction in 1949, today it provides affordably-priced family fun featuring thousands of alligators and crocodiles, breeding marsh with observation tower, free-flight aviary, nature walk, petting zoo, educational wildlife programs, award-winning gift shop, Florida's best train ride, Gator Gully Splash Park, on-site restaurant and one-of-a-kind shows including Gator Jumparoo and Up-close Encounters. Popular adventure experiences inside the park include the Screamin' Gator Zipline and Stompin' Gator Off-Road adventure.
For more Gatorland information, CLICK HERE or call 800-393-JAWS and join an Orlando staple as Gatorland reflects on 70 years of success.