As Florida fall nears at Gray Line Orlando minds turn to the upcoming sports seasons! Who will you be cheering on this winter? What is your favorite team? Do you have a preferred driver, baller, or hitter?
Central Florida is blessed to be home to some excellent sports teams.
Long before the city ever was 'purple' for the Orlando City Soccer Team, (whose season is just finishing), it was 'blue'. My favorite hometown heroes were the Orlando Magic Basketball Team. Gray Line started working together with them in 2001 back before they were even Gray Line, and they were the first company to help the Orlando Magic begin to work with tourism clients.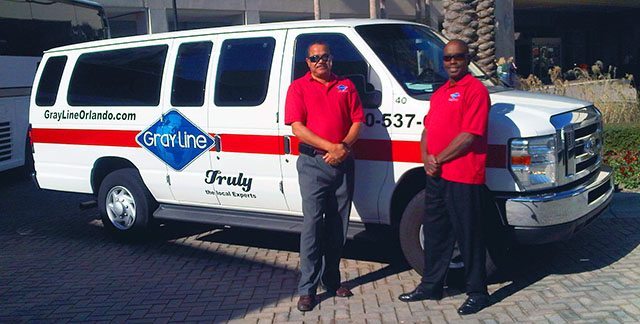 Over the years its fun to call the days of Tracey McGrady, Horis Grant, and Shaquille O'Neal. Did you know Shaquille O'Neal's Independence Day House Party had more fireworks than Disney LOL? The players really support our community by doing more than just playing ball.
The Orlando Magic just launched their new Statement Edition Uniform -this showcases an iconic design with bold new trends, inspired by legends. These new jerseys were created for the next legacy of the Magic basketball…… which begins on opening night Saturday 22nd October 2022. Don't miss out on attending the games, we have all games, including pre-season now on sale. Gray Line Orlando has excellent seat options for all budgets starting at just $18 per ticket for upper bowl seats.
Everyone should get to experience an Orlando Magic game whilst visiting Orlando. People really get to understand American culture when visiting a sports arena. From watching the jumbotron to the cheerleaders, the halftime shows, the t-shirt cannons, the high-scoring games, the winners (in most American sports, someone always wins), and the snacks, there is something just so Americana about watching live sports.
If NFL American Football is your choice of sport, none in Florida is finer than the Tampa Bay Buccaneers….. Orlando's friends just down the I4 corridor deserve much love -they have an excellent playing record the last few years, and Gray Line tours have been taking people to watch them for many years. With their recent Superbowl win tickets to see them play have become harder to come by, but Gray Line hopes to have tours running to them again next year.
As we collectively think about the new year, you cannot help but think about 'The Great American Race on Sunday 19th February 2023. This is the highlight of the NASCAR season at the Daytona International Speedway. Traffic and parking at the track are always intense, so come and ride the tour vehicle with Gray Line Orlando and let us worry about the crazy traffic, and prolific parking situations. The last few years the races have been wild, strewn with accidents, lots of drafting, and multiple wide racing at speeds of over 200 mph – it makes for real excitement. Add to that a celebrity signing the national anthem, and an Air Force Fighter Plane Flyover, at this is something special. The Daytona 500 is a bucket list event for thousands of people around the world, and we are so lucky to be able to help make this wish list item dream come true for people every year. Gray Line Orlando has tour buses that pick up in Kissimmee, Walt Disney World, International Drive, and Universal areas to take people to the NASCAR Daytona 500. We can also provide tickets to the race as well as Fanzone tickets. The UNOH fan zone is the place to be before the race starts. Whether you want to take a look in the garages from some of the top teams, want to watch the pre-race concerts of some great bands, see driver interviews, or even sign the start-finish line – the fan zone entrance ticket is what you need. Gray Line has limited tickets left for the race, so they recommend you purchase them soon, as these will sell out. No matter your team, Hendrick Motorsports, Joe Gibbs Racing, and Team Penske are all huge with the Gray Line team, and they can ensure you will have a fun day at the races.
Be sure to include a sporting event on your next visit with Gray Line Orlando.